Lesson 8: Part 2 of 3 (series: Lessons on Ephesians)
by John Lowe
(Woodruff, S.C.)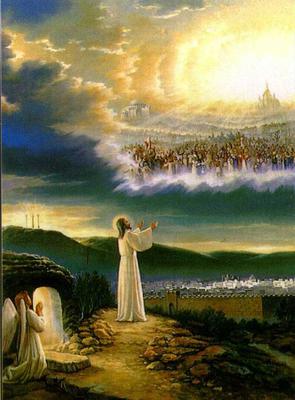 6 And hath raised us up together, and made us sit together in heavenly places in Christ Jesus:

"And hath raised us up together,"
…so that we no longer walk "according to the course of this world," but according to the life of Christ; we walk "in newness of life." That is, we are raised from the death of sin to the life of religion, in connection with the resurrection of Jesus, and by virtue of that. So close is the connection between Him and His people, that His resurrection made theirs certain―"having been buried with him in baptism, in which you were also raised with him through your faith in the working of God, who raised him from the dead" (Colossians 2:12; Romans 6:5).

This "newness of life" is the effect of almighty power, and of rich grace and mercy, and Christ is the cause of it, for He raises the dead in sin, and quickens whom He will. We are examples of the exceeding greatness of God's power, because when Christ rose from the dead, all his people rose in Him, and with Him. "Raised us up together" may be understood either as a further degree of spiritual life in the progress of sanctification granted to believers in this world; or rather, of the resurrection of the body, which is said to be raised together with Christ, because it is to be raised by the same power that raised him up.

"And made us sit together," together with him, that is, we share his honors. So close is our connection with Him, that we shall partake of His glory, and in some measure do now; compare Matthew 9:28, and Romans 8:17.

―"Jesus said to them, Truly I tell you, at the renewal of all things, when the Son of Man sits on his glorious throne, you who have followed me will also sit on twelve thrones, judging the twelve tribes of Israel" (Matthew 9:28).
―"Now if we are children, then we are heirs―heirs of God and co-heirs with Christ, if indeed we share in his sufferings in order that we may also share in his glory" (Romans 8:17).

Just as God placed Jesus at His right hand in heaven, so He has placed His people with Him in heavenly places; i.e. places where the privileges of heaven are dispensed, where the air of heaven is breathed, where the fellowship and the enjoyment of heaven are known, where an elevation of spirit is experienced, as if we were already in heaven. We have not only our spiritual enlivening in Christ when restored to life, but actually begun in ourselves in our effectual calling; but the resurrection of our bodies, and our sitting in heaven, has not as yet actually been fulfilled in ourselves, yet we have it in Christ our Head, who rose for us and we in Him, and sits in heaven for us, and we in Him may be said to sit there too, by reason of our union with Him, and being members of Him

"In heavenly places"
See the notes at Ephesians 1:3. The meaning is that He has gone to the heavenly world as our Head and Representative. His entrance there is a pledge that we shall also enter there. Even here we have the anticipation of glory, and are admitted to exalted honors, as if we sat in heavenly places, by virtue of our connection with Him.

"In Christ Jesus"
Through our connection with Him we are exalted, and filled with joy and peace. The meaning of the compete verse is this: "We are united to Christ. We die with Him, and live with Him. We share His sufferings, and we share His joys. We become dead to the world in virtue of His death; we become alive unto God in virtue of his resurrection. On earth we are exalted to honor, peace, and hope, in virtue of His resurrection; in heaven we shall share His glory and partake of His triumphs."

7 That in the ages to come he might shew the exceeding riches of his grace in his kindness toward us through Christ Jesus.

"That in the ages to come"
"In the ages" which are beginning," that is, the blessed ages of the Gospel which supersede "the age of this world" (*Eph 2:2), and the past "ages" from which the mystery was hidden (Col 1:26, 27). "The age of this world" (literally, "the age," compare Galatians 1:4), or present system of this world (1Co 2:6, 12; 3:18, 19, as opposed to "the ages to come") is alienated from God, and loyal to the wicked one (1Jo 5:19). These good ages, though beginning with the first preaching of the Gospel, and thereafter continually succeeding one another, are not consummated till the Lord's coming again (compare Eph 1:21; Heb 6:5). The words, "to come," do not exclude the time then present, but imply simply the ages following Christ's "raising them up together" spiritually (Eph 2:6). This is the end of God's permitting sin, in which men are morally dead; and of His permitting them to go on in sin, in a state of unregeneracy; and of his quickening them with Christ, and raising them up, and causing them to sit together with Him.

"he might show the exceeding riches of his grace"
"Riches" added to "grace," denote the great value of it, as well as its abundance; and also the freeness and liberality of God in giving it; and likewise the enriching nature of it; and these riches are "exceeding"; they exceed the "riches" of this world, in the immensity of them, being unsearchable; and in the inexhaustible supply of them, for though such large treasures have been expended upon such a huge number of persons, yet there is still the same quantity remaining. As for the duration of them, they last forever; and in the profit and satisfaction they yield, when other riches fade away, are not profitable or satisfying; and they exceed the conception, knowledge, and comprehension of men.

"in his kindness towards us through Christ Jesus"
He has been very kind to us; let me count the ways: in providing Jesus Christ as a Savior for His people; in His mission into this world; in not sparing Him, but giving Him up as a sacrifice to justice for their sins; and blessing them with all spiritual blessings in Him. All this was designed by God to be the message in the ages to come; meaning either the ages following to the end of time, and not from the ages that were past: hence it appears, that the world was not expected to immediately come to an end; and that the writings of the New Testament were to be continued, and the Gospel preached unto the end of time, for a day of grace will never be over, as long as the Gospel of grace is preached; and that the instances of grace through Christ in the times of the apostles, are encouraging to men in succeeding ages; and that the same grace that was displayed then, is shown us today. He has appointed ages enough for them to enjoy it in; but their riches lie in another world, and are in some measure hid. They are the product of the grace of God, and these exceeding riches will become discernible, when it will appear that God's giving grace to men, is not only with a view to His own glory, but is an act of kindness to them; and that eternal happiness will be heartily and freely bestowed upon them through Jesus Christ their Lord:

8 For by grace are ye saved through faith; and that not of yourselves: it is the gift of God:

"For by grace are ye saved"
In the New Testament, "grace" (156 times) takes on a special redemptive sense in which God makes available His favor on behalf of sinners, who actually do not deserve it. There is tremendous emphasis in the New Testament upon the fact that human salvation is the result of Heaven's grace. This beautiful truth should never be minimized. At the same time, it must not be perverted. Grace is a mere favor. It is not given because you deserve it; it is not because you have any legitimate claim on it. It is not because you belong to a certain church and not because you do good deeds and are a good person. This is a favorite doctrine of Paul, as it is with all who love the Lord Jesus; compare *Romans 1:7; *Romans 3:24.