Lesson 8: Part 4 of 4 (series: Lessons on Ephesians)
by John Lowe
(Woodruff, S.C.)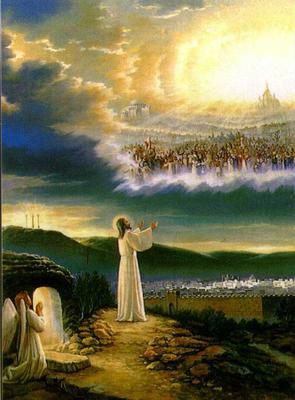 "Created in Christ Jesus"

The phrase "Created in Christ Jesus," evidently means to be united to Christ by faith; or to be in Him as the branch is in the vine―that is, so united to the vine, or so in it, that it derives all its nourishment and support from it, and to be sustained entirely by it. John 15:2, "every branch in me." John 15:4 "abide in me, and I in you." "The branch cannot bear fruit of itself except it abide in the vine; no more can ye except ye abide in me." See also John 15:5-7. To be "in Christ" denotes a more tender and close union; and implies that all our support is from Him. All our strength is derived from Him; and denotes further that we shall partake of His fullness, and share in His bliss and glory, as the branch partakes of the strength and vigor of the parent vine. The pronouncement here is universal, "if any man be in Christ;" that is, all who become true Christians undergo such a change in their point of view and feelings that it becomes proper to say of them that they are new creatures. No matter what they have been before, whether moral or immoral; whether infidels or tentative believers; whether good-natured, or disagreeable, sensual and polluted; yet if they become Christians they all experience such a change as to make it proper to say they are a new creation.

"Unto good works"
This clause is a reference to living a holy life; or, the purpose for which we have been created in Christ is, that we should lead a holy life. The primary object was not to bring us to heaven. It was that we should be "holy." Paul held perhaps more firmly than any other man, to the position that people are saved by the mere grace of God, and by a divine force acting upon the soul; but it is certain that no man ever held more firmly to the view that people must lead holy lives, or they could have no evidence that they were the children of God.

"Which God hath before ordained"
The words "before ordained" as they are used here, means to "prepare beforehand," then to predestinate, or appoint before. It follows then that the proper meaning of this clause is, "God has predestinated us, or appointed us beforehand, "to perform good works"; "that we should walk in them." The word used here occurs in the New Testament nowhere else except in *Romans 9:23, where it is rendered "prepared in advance." It involves the idea of a previous determination, or an arrangement made beforehand for securing a certain result. The previous preparation referred to here, was the divine intention; and the meaning is, that God
had predetermined that we should lead holy lives. It agrees, therefore, with the declaration in *Ephesians 1:4, that he had chosen his people before the foundation of the world and that they should be holy: see the notes at that verse.
"That we should walk in them"
The word "walk" is often used in the Scriptures to denote the course of life or the manner of conduct; Romans 4:12; Romans 8:1; 1 Corinthians 5:7; 1 Corinthians 10:3; Ephesians 2:10; Ephesians 4:1―"Therefore we are buried with him by baptism into death: that like as Christ was raised up from the dead by the glory of the Father, even so we also should walk in newness of life" (Romans 6:4).
"In them" refers to that which Paul has been talking about, "good works."The Apostle John (the beloved disciple) gave us this information about Jesus―"Jesus answered them, Many good works have I showed you from my Father; for which of those works do you stone me?"(John 10:32).Jesus did many good works, such as healing the sick, and all manner of diseases; dispossessing devils, cleansing lepers, giving sight to the blind, causing the dumb to speak, the deaf to hear, and the lame to walk; which were not only works of power, but of mercy and grace; and therefore are called good works, as well as great and miraculous.
Scripture References
*Romans 1:7―"To all in Rome who are loved by God and called to be his holy people: Grace and peace to you from God our Father and from the Lord Jesus Christ.
*Romans 3:24―"and all are justified freely by his grace through the redemption that came by Christ Jesus."
*Romans 3:27―"Where, then, is boasting? It is excluded. Because of what law? The law that requires works? No, because of the law that requires faith."
*Romans 4:17―"(as it is written, "A FATHER OF MANY NATIONS HAVE I MADE YOU") in the presence of Him whom he believed, even God, who gives life to the dead and calls into being that which does not exist."
*Romans 9:23―"What if he did this to make the riches of his glory known to the objects of his mercy, whom he prepared in advance for glory."
*Ephesians 1:4― "According as he hath chosen us in him before the foundation of the world, that we should be holy and without blame before him in love."
*Ephesians 2:2―"Wherein in time past you walked according to the course of this world, according to the prince of the power of the air, the spirit that now works in the children of disobedience."
*Hebrews 9:14―"How much more, then, will the blood of Christ, who through the eternal Spirit offered himself unblemished to God, cleanse our consciences from acts that lead to death, so that we may serve the living God!"