Lesson: III.C.8: Sixth Trumpet Four Angels With an Army of Two Hundred Million, Killing A Third of Mankind page 3 of 4 (Lessons on Revelations)
by John Lowe
(Woodruff, S.C.)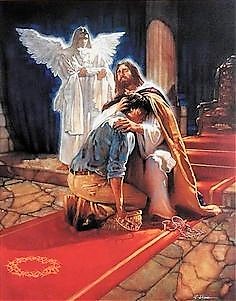 These three plagues mentioned here are literal plagues. The fire is literal, the smoke is literal, and the brimstone is literal. The same thing took place at the destruction of Sodom and Gomorrah. I believe this world during the Great Tribulation Period will actually be worse than Sodom and Gomorrah. People talk about homosexuality attaining respectability in our day. Well, it was the accepted life-style in Sodom and Gomorrah, but homosexuals went out of business—God put them out of business. If you think God is going to permit mankind to go into eternity as an unnatural creature, you are wrong.


The consequence of this massacre is that a third of mankind is wiped out. If the figure is to be taken literally, then a third part of the earth's population is killed in this war. The earth becomes the graveyard for a billion people, indicating that far more are affected than the number enrolled in the actual army, vast as that was.

I believe I can truthfully say that in our day most people (even Christians) do not read Revelation, because they say it is too hard to understand. They pass over it and hope that someday the preacher will explain it; but, the actual problem is not with the language or the interpretation of John's vision. The problem is with men who come to Revelation saying that it is difficult to understand and impossible to interpret, and that they do not believe it. If you simply believe it and read it, it is very clear. Hellish forces will be at work during this period.


19 For their power is in their mouth, and in their tails: for their tails were like unto serpents, and had heads, and with them they do hurt.

This destruction came from the mouths of the millions of horses with their heads of Lions. This was demonic power, a huge army sent out to destroy. But the destruction came not from the riders but from the horses. They had power to kill in their mouths and with their tails they inflicted injury. Their tails were like snakes and had heads, that is, they are intelligently guided. Throughout history, snakes have often been closely associated with demons (12:9; Genesis 3:1). John's description pictures the demon's ability to vent their destructive power in both directions.

The entire depiction in this vision is horrifying. What a ghastly place this earth will become when hell is let loose! However it is but a sample of the torment that believers must endure in hell forever. There is much symbolism in these descriptions. The main point to remember is that God released these demonic hordes to kill their own followers. This should warn those who refuse to repent.

Demon worship and idolatry are twins and have been the prevalent form of worship among men since the days of Nimrod. Under the reign of the beast, idolatry will become the only legitimate form of worship, since the various forms of idolatry practiced around the globe will fit hand in glove with the worship of demons and the beast. Paul had suggested that pagans worship demons instead of God (1 Corinthians 10:20). The difference between demon worship and idolatry is that in the former, one worships an evil spirit or an imaginary one, and in the latter he worships his own handiwork.


20 And the rest of the men which were not killed by these plagues yet repented not of the works of their hands, that they should not worship devils, and idols of gold, and silver, and brass, and stone, and of wood: which neither can see, nor hear, nor walk:

Verse 20 transitions from the plight of the cavalry to a description of those who survived the plagues. The fire, smoke, and brimstone are so deadly that they are now called plagues. This outpouring of judgment upon the earth was a final attempt by God to bring people to repentance. You would think that after this terrible slaughter there would have been a period of repentance and turning to God; but if you will carefully read 2 Thessalonians 2:8-12 you will learn that people who have had the opportunity to be saved before the Rapture will be sent a strong delusion, they will believe "the lie," and they all will be damned. They had the chance to turn from their evil deeds but, unfortunately, they did not. They saw what was occurring but still refused to turn to God, desiring instead to continue to worship demons and idols. So they were completely given over to the devil. These people were spiritually blind . . . they could not see. They were sent strong delusion, they
did believe the lie. They had reached the perfect standard of ungodly living. Their cup of sin was full and running over.
God proved to them His awesome power and authority over their idols that neither see nor hear nor walk. The uselessness of idols is a common theme in the Bible, but idols were a constant problem and temptation for God's people (see also Deuteronomy 4:28; psalms 115: 5-7; 135:17). Idolatry is demonic; it is worship of Satan: "But I say, that the things which the Gentiles sacrifice, they sacrifice to devils, and not to God: and I would not that ye should have fellowship with devils" (1 Corinthians 10:20). Demons hate the very people who worship them, torturing and killing them, yet people still prefer those demons over God. They did not
7
repent and turn to God. For example, in the occult today, people worship demons. Their practices include sacrifices of babies, murder, mutilation, and sacrifices of animals. These people are worshipping very destructive powers. With the popularity of the occult in books and movies, the church must strongly teach about the destructive and hateful power of demons.
It is the conviction of the Biblical writers that the worship of idols was nothing less than devil worship and that it was bound to emerge in evil and immorality. Mankind will be breaking the first two Mosaic commandments by making and worshipping idols. In their murders, they will violate the sixth commandment, and in their thefts, the eighth. By their fornication, they will break the seventh commandment. It will be and age of lawlessness with "every man doing that which is right in his own eyes" (see Judges 21:25). The most frightening thing about Revelation 9 is not the judgments that God sends but the sins that men persist in committing even while God is judging them.
21 Neither repented they of their murders, nor of their sorceries, nor of their fornication, nor of their thefts.
In those last days immediately preceding the second coming of Christ to earth, punishment will not of itself lead men to repent. The severest of God's judgments upon guilty men do not soften rebellious hearts. Even in hell itself men and women will manifest bitter defiance against all that is holy. While it is true that in hell there will be "whaling" (Matthew 13:42, 50) and "weeping" (Matthew 22:23; 24:51; 25:30), there shall also be "gnashing of teeth," an expression of the hatred of the unregenerate heart of man. God's judgments upon Pharaoh did not soften his heart, it only made the Egyptian monarch become more defiant.
This is why there has to be eternal punishment. God does everything He can do to draw people to Himself, but these people want to continue in their idol worship and live out what that worship leads to—murders, witchcraft, immorality, and thefts. They have chosen their side and so must remain there. God does not want anyone to perish (2 Peter 3:9); however, when God's call is consistently rejected, then judgment must fall. There is no wonder that all hell literally breaks out on earth—but thank God, those of us who are born again will not be here. We will not go through this terrible time of suffering and chaos. But if you are not a believer, you may be here! You may witness the invasion of the 200,000,000 demon monstrosities.
There is a lack of repentance among bad men. John tells us, "Neither repented they of their murders, nor of their sorceries, nor of their fornication, nor of their thefts." What a picture of a crime-oriented culture! Man has finally arrived at his goal—a government and culture in which permissiveness is the accepted norm and where all kinds of deviation and misbehavior are applauded and encouraged, a government presided over by a fascinating but foul individual called the man of sin (2 Thessalonians 2:3).
The word rendered
6
"sorceries," incidentally, literally means "use of drugs" and it is derived from the Greek word from which we get our English word "pharmacy." The word is primarily used to signify medicine, drugs, spells, then poisoning and sorcery. Drugs were used in sorcery, generally accompanied by incantations and the use of various charms. Today's world is fast becoming a drug-and demon-oriented world.
The failure of the survivors to repent is astonishing to John. The power of idolatry is illustrated both to John's readers in the first century and in the twentieth. The world crumbles because of internal decadence, wars, and the judgment of God. Man clings to his idols, his modern version of demon worship, and his sophisticated techniques for murder, sorcery, sexual immorality, and legal or illegal stealing. He still does not repent!