Lesson III.D: Faithfulness Directed. (9:6-15) -- Page 3 (series:Lessons on 2 Corinthians)
by John Lowe
(Woodruff, S.C.)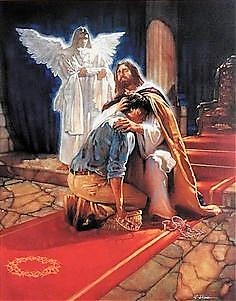 13 while, through the proof of this ministry, they glorify God for the obedience of your confession to the gospel of Christ, and for your liberal sharing with them and all men,


In addition to the normal advantages that come through Christian giving (see 9:11, 12), Paul hoped that the Jerusalem collection would have extra benefits: He hoped that through this gift from Gentile Christians, Jewish and Gentile believers would be drawn closer together in Christian fellowship. Also, it has well been said that is difficult to preach the Gospel to a hungry man (see James 2:15, 16). "Let your light shine before men," said our Lord, "that they may see your good deeds and praise your Father in heaven" (Mat. 5:16). This is one of the beauties of church giving: no individual gets the glory that belongs only to God.

For what would the ancient Jewish believers give thanks? Of course, they would praise God for the generosity of the Gentile churches in meeting their physical and spiritual needs. But they would also praise God for the spiritual submission of the Gentiles, their obedience to the Spirit of God who gave them the desire to give. They would say, "Those Gentiles not only preach the Gospel, but they also practice it!"

During the early decades of the Christian church, Jewish Christians had grave doubts about whether the Gentiles' faith was sincere. Even the Apostle Peter was surprised that God wanted him to break Jewish ceremonial law in order to preach the Gospel to Cornelius, a Gentile centurion (see Acts 10:1-33). But He did; Cornelius and his household not only came to faith in Christ but also received the Holy Spirit (10:34-46). This development wasn't welcomed by some of the Jewish believers in Jerusalem: "So when Peter went up to Jerusalem, the circumcised believers criticized him and said, "You went into the house of uncircumcised men and ate with them" (Acts 11:3). Only after Peter had defended his actions did the believers in Jerusalem agree that salvation had been extended to the Gentiles also: "When they heard this, they had no further objections and praised God, saying, "So then, God has granted even the Gentiles repentance unto life" (Acts 11:18). Unfortunately, this wasn't the end of the controversy. Later, some Jewish believers from Judea went to Antioch to inform Gentile believers that they had to be circumcised: "Some men came down from Judea to Antioch and were teaching the brothers: "Unless you are circumcised, according to the custom taught by Moses, you cannot be saved" (Acts 15:1). Even Peter quietly joined in the hypocrisy because he was afraid of what this group would say (see Gal. 2:11-13). The controversy that erupted out of this was resolved at a meeting in Jerusalem. There the leaders of the early church agreed that salvation was only through faith in Jesus, not through the Law (see Acts 15:6-19; Gal. 3:6, 7, 13, 14; Eph. 2:8). Even though the issue had been resolved, it kept coming up. Jewish legalists misled the Gentile believers in Galatia (Gal. 3:1-5); and apparently, decades after Peter's first meeting with Cornelius, there were still Jewish believers in Jerusalem who doubted the genuineness of the Gentiles' faith.

Paul viewed the collection for the destitute Jerusalem believers as concrete evidence that the Gentile believers were obedient to the good news of Christ. One of the directives of the Jerusalem council was that Gentile Christians shouldn't forget the poor: "All they asked was that we should continue to remember the poor, the very thing I was eager to do" (Gal. 2:10). The Gentiles' generous gift to the Jerusalem poor was proof that they were obeying this directive. Paul never viewed the Jerusalem collection as a rite of initiation for the Gentiles. He was always perfectly clear that salvation came only through faith in Jesus: "You are all sons of God through faith in Christ Jesus" (Gal. 3:26). Giving back to God, however, is one of the many signs that a person's faith is authentic (see also James 2:14-18)


14 and by their prayer for you, who long for you because of the exceeding grace of God in you.

The collection for the Jewish believers would not only demonstrate the sincerity of the Corinthians' faith, it would also tie the Christian community of faith closer together. Jewish believers would view the monetary gift as an indication of God's wonderful grace working in the Corinthian's lives. Why would any Gentile—whether a Galatian or a Greek—give generously to the Jews in Jerusalem? Many of the Jews were not even citizens of the Roman Empire. They were a poor, minority group within the empire, without much clout. Only
God's undeserved grace in their lives could motivate them to give: "I am not commanding you, but I want to test the sincerity of your love by comparing it with the earnestness of others. For you know the grace of our Lord Jesus Christ, that though he was rich, yet for your sakes, he became poor, so that you through his poverty might become rich" (2 Cor. 8:8, 9).
Some Jewish Christians in the first century still found it difficult to accept Gentiles into the community of faith. This generous gift might be the one thing that would prompt these Jews to start praying for Corinthian believers for the first time. Just as the Corinthians' prayers for Paul made them partners with him in sharing the Gospel (1:11), so these prayers of Jewish Christians would make them partners with Gentile believers. Through the Jerusalem collection, Jesus would begin to unite Jews and Gentiles into one body, the church: "There is neither Jew nor Greek, slave nor free, male nor female, for you are all one in Christ Jesus" (Gal. 3:28). They were all becoming part of Jesus' body; each was dependent on the other. The Gentiles had relied on the Jews to tell them the wonderful Good News of Jesus, while the Jews were relying on the Gentiles to support them financially (see Paul's explanation of the offering at Romans 15:26, 27). Through this, the entire community of faith—Jewish and Gentile Christians—would be built up in love.
Giving is a grace. We are not commanded to give a tithe. It is not something to be done under Law. It is grace. God asks us to give as a grace according to our circumstances. Some Christians should be giving much more than a tithe. Other Christians are not able to give at all. We are to give as we "are able." Now Paul caps the whole subject of giving by saying:
15 Thanks be to God for His indescribable gift!
Paul ended his appeal for giving with fervent praise to God. The source of all this—the ability to give, the desire to give, even the reconciliation that would occur between Jewish and Gentile believers—was solely from God's hands. God is the ultimate giver. In Jesus Christ, all human distinctions are erased, and we no longer see each other as Jews or Gentiles, rich or poor, givers or recipients. "There is neither Jew nor Greek, slave nor free, male nor female, for you are all one in Christ Jesus" (Gal. 3:28).
Regardless of how much you are giving, you cannot give as God gives. He has given an unspeakable gift. No man can approach the gift that God gave in giving His own Son to die. Think of this for a moment. We are back to what was said in chapter8, verse 9. Though He was rich, He left heaven, left all the glory, and came down as a missionary to the world. He came not only to live but to give His life in death for you. He came to die on a cross. He came to be brutally killed in order that you and I might have eternal life. He made His soul a sacrifice for you and me. We are told in Hebrews that He did this "for the joy that was set before Him" (Heb. 12:3). Oh, my dear reader, He is the wonderful, glorious Savior! Don't ever bring Him down to a low level. He is the Bright and Morning Star. He is the Son of God who has redeemed us. He is the unspeakable gift to you and me. That is the very apex of giving. No one can go beyond that kind of giving.
This verse may be saying that the whole process from the giver to the recipient is an indescribable gift from God, the gift of righteousness: "But the gift is not like the trespass. For if the many died by the trespass of the one man, how much more did God's grace and the gift that came by the grace of the one man, Jesus Christ, overflow to the many!" (Rom. 5:15). Paul was certainly thanking God here for Jesus' gift of salvation. That God freely saves all those who believe in Jesus is truly an "indescribable gift." God's indescribable gift of salvation should motivate you to give generously to others. A man first gives himself to the Lord (2 Co. 8:5) and then he gives what he has. His gift is a symbol, as it were, of the surrender of his heart. Spend time meditating on how much God has given you. Then evaluate your generosity in light of God's generosity to you.