Lesson: IV.A.4: The Lamb and the 144,000 on Mount Zion - Part 3 (series: Lesson on Revelations)
by John Lowe
(Woodruff, S.C.)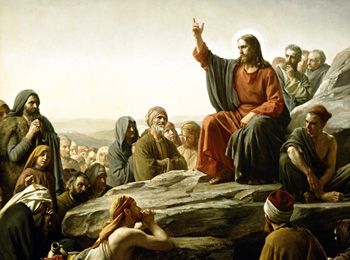 I should point out that some scholars have suggested that this vision of John's represents the gathering of God's army in anticipation of holy war since soldiers who engaged in holy war were expected to abstain from sexual activity during military service. Others have argued that sexual abstinence is consistent with their role as priests in this heavenly observance. Still, others have suggested that the virginal state of the 144,000 should be viewed as a metaphor for their refusal to participate in the emperor cult since Jewish and early Christian writings often describe idol worship in terms of prostitution and adultery. Whether one or all of these meanings are intended, we can be quite sure that it should not be taken literally, so as to saying that only celibate Christians are redeemed.


These verses say that the company is made up of men and women who are exemplary in five ways; verse 4 offers three excellent characteristics of these worshippers (Verse 5 will add two.)
Sexually Pure. First, they are exemplary in their conduct. John says, "These are they which were not defiled with women; for they are virgins." This may be a figurative reference to their separated, sanctified spirituality, for no doubt these people will be marked by lofty standards of separation from the world and by spiritual sanctity. However, there is more than a figurative reference to spirituality here. These witnesses have separated themselves absolutely, in a practical, purposeful way from the Babylonish, worldly religious system of the beast. The religion of the beast, in common with so many pagan religions, will have at its base vile immorality which will openly pander to every lust of the human heart. With the man of sin enthroned, lust will be applauded. It will be considered an act of worship as it was by the ancient Canaanites and has been in fertility cults ever since. This company sets itself apart from all that. Perhaps the best meaning of this first sentence is explained to some extent by the sentence which follows, namely: "These are they which follow the Lamb whithersoever he goeth."

Dear reader, perhaps someone reading this will ask, "Does it describe those who have remained celibate? The days soon came when the Church glorified virginity and held that the highest Christian life was possible only for those who renounced marriage altogether. But that idea didn't last long since it is far from the teaching of the New Testament. Jesus glorified marriage, saying that for this cause a man left his own family and was so closely united to his wife that they were one flesh, and warning that what God has joined no man may put asunder (Matthew 19:4-6). In his highest teaching, Paul glorified marriage, likening it to the relationship of Christ to His Church (Ephesians 5:22-23). The writer to the Hebrews may say it best: "Let marriage be held in honor among all" (Hebrews 13:4).

Devoted to Jesus. Second, they are exemplary in their consecration. We are told, "These are they which follow the Lamb whithersoever he goeth," indicating that they had followed Him exclusively—referring to following Christ's instructions and His example. The Apostle Mark wrote: "Then he called the crowd to him along with his disciples and said: "Whoever wants to be my disciple must deny themselves and take up their cross and follow me. For whoever wants to save their life will lose it, but whoever loses their life for me and for the gospel will save it" (Mark 8:34-35; NIV). Their reward for such conduct while on earth will be to accompany Him as His constant companion in heaven. Absolute devotion to Christ is the driving force behind their godly lives on earth. Like Caleb, their testimony is that they wholly follow the Lord. They allow no rivals, no refusals, and no restraint to mar their dedication to Him. Does He need someone to stand upon the steps of the Vatican and cry out against the marriage of Christendom to the beast? There are a hundred and forty-four thousand ready to go! Does the Lord need someone to seize the beast at some high function of state and roundly denounce him, his policy, his statecraft, his religion, his economic boycott, his mark, his ministers, and his alliance with Satan? There are a hundred and forty-four thousand eager to go! Does the Lamb need evangelists to proclaim to the untold millions the gospel of the coming kingdom of God? To climb the highest Himalayas, to cross the desert sands, to blaze evangelistic trails through steaming jungles or to mush huskies across wide arctic waste? There are a hundred and forty-four thousand ready to go! And though the beast's Gestapo dog their footsteps and wreck his direst vengeance upon their converts, yet on they go undaunted and undeterred. That was the very spirit of their consecration as they followed the Lamb whithersoever He led them on earth, and their
reward in heaven is great.
Purchased as Firstfruits. Third, they are exemplary in their calling. John says, "These were redeemed from among men, being the firstfruits unto God and to the lamb." "These were redeemed from among men" means that Christ had bought them with His blood (5:9; 7:14; 12:11; 19:13). The price of people's sin was paid on the cross—it is a free gift for believers.
Israel kept an annual feast of firstfruits. Each year the farmer went into his fields of swiftly ripening grain and cut out one sheaf. This sheaf was then presented to God as an act of worship, indicating that the worshipper understands that all things belong to God. It was not the whole harvest, but it represented the whole. It was a token of a work well done. On the Feast of Firstfruits, the priest waved the sheaf before the Lord as a sign that the entire harvest belonged to Him (Leviticus 23:9-14).
This company makes up the firstfruits of those who throughout the tribulation will make their calling and election sure. I believe that they will occupy a unique place in the millennial kingdom. These men will be set apart for special service to God (Deuteronomy 26:1-11). Some see the firstfruits as the first large group of redeemed Israel, saved much earlier and representative of more converts to follow (Romans 16:5; 1 Corinthians 16:15), the firstfruits of a redeemed Israel (Romans 11:1-5, 11-15, 25-27). They evidently will be the Vanguard with the Lamb when He returns to set up the kingdom as we will see in chapter 19.
5 And in their mouth was found no guile: for they are without fault before the throne of God.
Verse 5 offers two characteristics of these worshippers.
Righteousness. When the text states that no lie is found in their mouths, it means that because their hearts are righteous, their words and actions are righteous as well. To say a person speaks no lie is the same as saying that his or her heart is governed by truth. It follows from this that they are commendable in their conversation. John made a simple statement, "and in their mouth was found no guile (no lie)." The simple meaning is that they did not participate in the big lie of the Beast when he used lying wonders. They didn't fall for his lie. Remember that the Lord Jesus said that if it were possible to deceive the very elect, they would be deceived. But they will not be deceived. When preaching the gospel, they do not conceal from their hearers that faith in Christ will be followed by swift retribution from the beast. They tell the truth, the whole truth, and nothing but the truth. Others are mouthing the slogans of the beast, chanting the vile creeds of his new world cult, and hailing him as the revealer of secrets, the savior of mankind, but these victorious believers refuse to pay lip service to him. They refuse to sing the praise of the beast. In their mouth is not found the lie. In contrast to the evil world that loves "to live a lie" (22:15; NLT), these people were blameless because of their faith in Christ.
It is a wonder that these one hundred and forty-four thousand are said to be truthful, for the tribulation period in which they live is particularly one where deceit and falsehood reign. The Antichrist will come in the power of Satan with "lying wonders" (2 Thessalonians 2:9), so that the multitudes shall "believe a lie" (2 Thessalonians 2:11). Satan being "a liar, and the father of it" (John 8:44), and his man, who is the Antichrist, will appear in the tribulation as "the liar" (1 John 2:22).
Blameless. The final characteristic is that these Jews are blameless; they are exemplary in their character. This means that these people live lives that are beyond reproach. To be righteous is to have a heart that is pure before God, and to be blameless means that your life is pure before the world. John says, "For they are without fault before the throne of God." They have entered into the truth of Jude 24, "Now unto him that is able to keep you from falling, and to present you faultless before the presence of His glory with exceeding joy." They have entered fully into the righteousness of Christ of whom we read that He "offered himself without spot (faultless) unto God" (Hebrews 9:14). The word implies they are without blemish just as the Old Testament sacrifices were without blemish. Animals offered on Jewish altars were scrutinized to make sure that they were perfect. Here, then, is a company of God's people who are saved, sealed, separated, sanctified (not sinless, but sanctified), and spotless! Yet we, in this age, members of the body of Christ, are of a higher and holier order than that! What manner of people should we be!