Lessons From the Outsiders: Part 2 of 2
by John Lowe
(Woodruff, S.C.)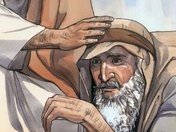 2. THE CENTURION

The centurion was an outsider because he was a Gentile. Worse than that, he was a commanding officer in the occupying army of the Romans. One would think that this man was a hated man by all who knew him. However, this was not the case. He was loved by the Jewish people. Why? Because he helped them build their synagogue. However, that was only in the town in which he lived. There were people here that were following Jesus just to trap Him. So there were people in the crowds of people who didn't know anything at all about this centurion or what he had done for the synagogue in their area.

What was the centurion's problem? He had a servant that he deeply cared about that was ill to the point of death. Over in the book of Luke we are told that the elders came to Jesus on behalf of this man and his servant. Jesus was willing to help, and as a matter of fact, He was willing to go into the house of this Roman Centurion to heal the servant. Think of the stink that this would have caused. I can just hear those holier-than-thou Pharisees say something like this: "Some Messiah, huh, He is not going to rid Israel of the Romans, look He is helping them."

Listen again to what the Roman centurion said: "Lord, I do not deserve to have you come under my roof. But just say the word, and my servant will be healed. For I myself am a man under authority, with soldiers under me. I tell this one, `Go,' and he goes; and that one,`Come,' and he comes. I say to my servant, `Do this,' and he does it."

The response of Jesus was astonishment at such great faith. There are only two times in the Word of God in which it says that Jesus was astonished at something. Here at the faith of the centurion and in Mark 6:5 at the lack of faith within His hometown.

The centurion had faith that Jesus was the very person who could help him out. So he laid aside the cultural divide! He laid aside the spiritual divide! He laid aside the pride that could divide! And He approached Jesus, the one who could make a difference.

What lesson do we have in the centurion? It is that faith is more than believing.
FIRST, faith is about asking and receiving!
The Centurion asked and He received. Over in Matthew 21:22, Jesus says these very inspiring words. "If you believe, you will receive whatever you ask for in prayer."

Now, I don't want you to think that I am standing up here this morning telling you that if a prayer is not answered it must mean that you don't have enough faith. However, I do think that there are times in which we pray not believing what we have prayed for is going to happen. If we are praying for something that we believe to be in God's will, then we just need to trust Him.

SECONDLY, there is Saving Faith!
How many times have you heard the expression "Saving Faith"? These are words that we hear when someone is talking about being made right with the Lord. The Bible tells us that we are saved by faith. Ephesians 2:8-9 says, "For it is by grace you have been
saved, through faith--and this not from yourselves, it is the gift of God, not by works, so that no one can boast." Does that mean that all we have to do is to believe? No! The demons believe! Satan believes!
Faith must be shown by our obedience to what God's Word says. The Centurion, no doubt, believed that Jesus was the person he needed to see in order to have his servant healed. However, do you think that the servant would have been healed even if the centurion had not come to see Jesus?
We too can believe what the Bible says is true. We can believe that Jesus is the Christ the Son of the Living God. However, we must also be obedient to what the Bible says our faith should cause us to do.
- Repent
- Confess
- Be Baptized
- Live A Faithful Life Of Obedience
When our faith moves us to obedience then it becomes a saving faith.
THIRDLY, Jesus is pleased with faith!
The Bible tells us in Hebrews 11:6, "And without faith it is impossible to please God, because anyone who comes to him must believe that he exists and that he rewards those who earnestly seek him." To all of those people who are looking for something or someone to believe in, the Roman Centurion tells us to place our faith in Jesus Christ.
3. PETER'S MOTHER-IN-LAW
Now, this is one where you might be asking, "Why is she considered to be an outsider?" Why? Because she is a woman! I know in our politically correct society that this is a very unpopular thing to say. And I agree that it is senseless to look down on anyone for anything, especially for the gender that the creator decided that they were going to be formed in. However, the truth of the matter is that women in the Middle Eastern Cultures of this time were looked down upon as second-class citizens.
- They were not allowed to speak in public to other men, unless their husbands were with them.
- They were not allowed to worship in the same area of the synagogue where the men were.
They were mistreated and un-respected.
We don't know for sure how Jesus knew she was sick. Probably, Peter asked Jesus to help her, and He did. What happens after that contains our lesson. SHE GOT UP AND SHE SERVED HIM. I hope you see the pattern I am trying to communicate!
Like the leper, we are all plagued with the horrible disease of sin. We all need to courageously approach the throne of grace. Like the centurion, we have to place our faith in the only person who can save us from that plague; and in obedience to God's Word give our lives to Him. Like Peter's Mother-In-Law, once we have become obedient unto salvation, we must serve Him. You see, Christianity is not a give and take relationship. In a give and take relationship, you wait for someone to give something and you take it. You give something and they take it. No! Christianity is a receive and give relationship. We receive:
- Forgiveness
- Hope
- Purpose
- Family
- Heaven
We give:
- Our lives
How well do you serve? The leper took a courageous step to the Lord! The centurion took a leap of faith! Peter's Mother-In-Law made a step to serve!
Amen!