LIFE'S BIG MIRROR
by CharlesRobey
(Trussville AL, USA)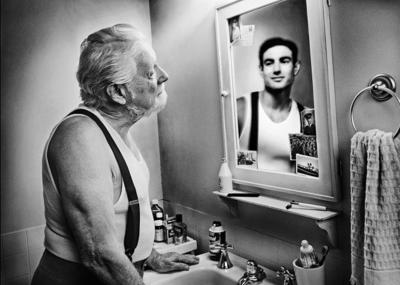 BOY, AM I GOOD LOOKING
I looked when in my prime
I looked to see some rhyme
I looked to hear some chime
I looked and felt life's grime
I looked and saw the crime

I looked at all life's slime
I looked and all's sub blind
I looked and saw no sign
I looked and did not find
I looked and did not climb

THEN

I looked to wish for time
I looked with open mind
I looked and life was kind
I looked and I now am fine
I looked and its all mind

I looked on bended knee
I looked and gave my plea
I looked and trusted Thee
I looked and now I'm free
I looked and now I can see


Life's mirror can sometimes be unkind and a bit feisty. For a mirror reflects us, as we truly are (Proverbs 27:19). We may hide our thoughts, our unjust deeds, our sinful acts, or our hypocrisy, under a cloak. But God see's us as we really are (James 1:23-25). Either a sinner (Romans 3:23), or a sinner saved by grace (Ephesians 2:8-9).

Thank God, He has make a way of escape for us. A way for the unbeliever (John 3:16). And a way for believer, as well (1 John 1:9).

So, what do you see, when you peek into that mirror of life ? Do you see your faults ? Do you see your failures ? Do you see your short comings ? Do you see your unjust ways ?

Or, do you see a way of escape, through the love of God. You see, We serve a loving God, Above all, He is ready and willing to forgive and forget (Isaiah 55:1-2). So, just put Him to the test.