Like Enoch Walked Part 2 of 2
by John Lowe
(Laurens SC, USA)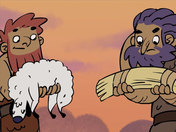 Christian, if you are walking with God, there will be a very sharp contrast between you and the world. Jesus said that at the end it would be as it was in the days of Noah, and folks, we are seeing those days. You will be criticized, you will be despised, and you will come under persecutions of various sorts, when you walk with God. Because they can't see Him, but they see you, and since they hate Him, the more you are like Him, the more they will seek to stop you.

What God took Enoch from was evil and the presence of sin. What He took Enoch from was destruction and wrath. And Enoch is our type. Sin is a thing that will die with this world. It has this world and those who belong to this world in its evil grasp, and it won't let go. But it's like the monkey, who reaches in the jar and grabs the handful of marbles and then can't pull his hand back out because he won't let go of the marbles, so he is caught. Sin has its clutches on this world, and when it passes away with an intense heat, so will sin. Enoch was taken away to a place where sin cannot follow, and believer, he is our type.

Do you struggle? Are you often grieved in your spirit, because you recognize how far short you fall of what you think you really should be in Christ? Do temptations surround you? Do addictions hound you? Past sins continue to goad your conscience like a cattle prod, and you can't seem to find rest for long before it all hits you again? Jesus is going to take you to a place where sin cannot follow. And He is going to take you there before the destruction, because you are in Christ and you please Him.

I find it interesting that the only quote we have from Enoch's prophesying recorded in scripture, the one I read earlier from Jude, refers to the second coming of the Messiah, and that he, makes reference to the church in it, when he says, "…the Lord came with many thousands of His holy ones…" That is a picture of the coming of Christ followed by all His saints at the battle of Armageddon, as recorded by John in Revelation 19:11-16 Before that scene, there will be much suffering and destruction as God's wrath is poured out on this world in the great tribulation.

But let's talk about when God took Enoch, and what it means for us. If you look once more at Genesis you will see that Enoch is mentioned in the middle of chapter 5, but it isn't until chapter 6 that Moses begins telling us about the prediction of the Flood and God's instructions to Noah. Doing a bit of calculation and with the help of some of my resources, I figured out that Enoch was taken up approximately 680 years before the Flood came. Now that may sound like a lot, but it's really only a couple of guys long, since people lived such a long time then. Point is, it was well before the destruction, and it was long enough before, that no one can possibly argue that he was taken up from the midst of the destruction. In fact, his son, Methuselah, and his grandson, Lamech, died within 5 years of each other, and just a couple of years before the Flood, but they were not in any part of it either. They were taken away from the evil to come, as is promised in Isaiah 57:1,2: "The righteous man perishes, and no man takes it to heart; and devout men are taken away, while no one understands. For the righteous man is taken away from evil. He enters into peace…"

There are those who argue that there is scriptural evidence that the church will undergo the first half of the tribulation; the first three and one-half years, and then be raptured. Personally, I don't see it. I have heard it argued that those who believe in a pre-tribulation rapture are arrogant and presumptuous. Because what right do we have to think we will escape at least some of the punishment that will come on the world? They say that is the thinking of Christians who are always seeking the easy way. Avoidance of trials. Not wanting to be taught through trials, and always crying out for deliverance without looking for growth.

Well, I preach also that our trials are to teach us, and that we should seek to grow, trusting God, and the deliverance will come in time. I agree with that part. But hey, it's gotta stop sometime! If God is going to take us home to Heaven, there has to come a point where He takes us out of this world. That's the only way we're going to get there. If I want to drive to California, I have to go West and keep going. If I drive in circles around Laurens, I'm not going to ever get there. So the argument that we're seeking to escape trial by believing in a pre-trib rapture really has no basis.

Whether I go through the first three and one-half years of the tribulation or not, I am certain that I will experience trials up until I go home, whenever that may be. So taking me up before the tribulation begins is not helping me avoid trials; it will be taking me from the evil to come. The tribulation is a seven-year period before Christ's coming, which will be the outpouring of God's wrath on a sinful, Christ-rejecting, God-hating world. It will be progressive, as He gives His last warnings and offers as many opportunities as possible for people to repent and believe. There is no wrath for the Christian. His sins were taken away at the cross, and buried in the depths of the sea forever. "For what the law could not do, weak as it was through the flesh, God did. Sending His own Son in the likeness of sinful flesh, and as an offering for sin, He condemned sin in the flesh" (Rom 8:3)

If you are a believer in Christ all your sins for all time were judged in the body of Christ as He hung on that cross, and when He died he took them all away. He was punished for you. It is over. You will never suffer God's wrath, not for a moment, not to any degree. To stress this point, see the contrast between two types, Enoch and Noah.

Where Enoch is a type of the church, which will simply 'not be', for God will take it, Noah and the ark typify the Jews, who will go through the tribulation, but will be kept safe by God through it and brought through safely at the end. Those suffering the outpouring of His wrath will still see the Jews, as the drowning people in the deluge undoubtedly saw the ark floating above them. But they will not see the church, for she will, like Enoch, be gone.

How much more then, knowing these things, should we be motivated to walk with God? With deliberation and determination and diligence, seeking to know Him better. Steeped in His Word. Saturated with prayer. Seeking out the fellowship of believers whenever an opportunity arises, and encouraging one another day by day with admonitions to not give up. To fight the good fight. To fix our eyes on Jesus and follow. And reminding one another often, that soon, very soon, Jesus is coming for us in the clouds, and He will call us up to meet Him in the air.

People listen to me. There are no signs to watch for. There is nothing that has to happen. There doesn't have to be any certain battle first, or anything built first. No particular political climate needs to exist, and no world economic condition needs to be established. There does not first have to be the implementation of computer chips in people's hands for banking purposes or tattoos on their foreheads; there does not have to be a certain number of countries represented in the common market or the United Nations. God's plan is not dependant on man's time schedule, and He will not ask our permission to do what He has determined to do of His own accord and according to His own power and wisdom since before creation began.

He who is coming will come. "For the Lord Himself will descend from heaven with a shout, with the voice of the archangel, and with the trumpet of God; and the dead in Christ shall rise first. Then we who are alive and remain shall be caught up together with them in the clouds to meet the Lord in the air, and thus we shall always be with the Lord." (I Thess. 4:16,17) Just like Enoch.

You Christian, because of Who made you to stand in His own righteousness, are pleasing to God. And you have entered into grace by the same faith that Enoch knew. And one day, unless He calls you home before then, you and all who know Christ Jesus our Lord will hear His voice and the trumpet will sound, and you will not be here, for God will take you. In the time it takes for a ray of light to flash off your eye, you will be with Him. So in the meantime, the best counsel I or anyone can give you is, walk like Enoch walked. Walk with God. He has made you new, He has sent His Spirit to give you Life and power, and He is never apart from you for a moment. Acknowledge His presence daily. Constantly.

Develop your spiritual muscles with a lifestyle of prayer and listening to Him and seeking His face. Let Him draw you so close to Him that when people look at you they can only see Jesus. Because just like Enoch, one day He's going to say, 'let's go home'; and there you will walk with Him in glorified bliss, away from the presence of sin and evil, forever. Walk like Enoch walked, for this is pleasing to God.