"Maintaining the Unity" Page 2 of 3 (series: Lessons on Ephesians)
by John Lowe
(Woodruff, S.C.)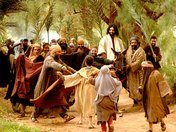 "and meekness,"

The second of the great Christian virtues is what our text calls "meekness" and what some would translate "gentleness." Aristotle, that great Greek thinker and teacher has much to say about meekness. It was his custom to define every virtue as the mean between two extremes. On one side there was excess of some quality, on the other defect; and in between there was exactly its right proportion. Aristotle defines meekness as the mean between being too angry and never being angry at all. The man who is meek is the man who is always angry at the right time and never angry at the wrong time. To put that in another way, the man who is meek is the man who is fired up by indignation at the wrongs and the sufferings of others, but is never moved to anger by the wrongs and the insults he himself has to bear. So, then, the man who is (as in the King James Version), meek is the man who is always angry at the right time but never angry at the wrong time. The man who is meek is the man who has every instinct and every passion under perfect control. It would not be right to say that such a man is entirely self-controlled, for such self-control is beyond human power; but it would be right to say that such a man is God-controlled.

Those who are gentle are so God-controlled that they are continually kind and gracious towards others. They are people who often deny themselves, and people who have the Spirit of God living within them in all of His humility. Paul said, "I am crucified with Christ: nevertheless I live; yet not I, but Christ liveth in me: and the life which I now live in the flesh I live by the faith of the Son of God, who loved me, and gave himself for me" (Galatians 2:20). This is Paul's personal testimony, which may be repeated by every believer in Christ. He is saying that when he believed in Jesus, the old nature was crucified, but the new man that he has become in Christ, is living. The new believer is crucified with Christ, yet he is spiritually alive, because he possesses life through Christ who lives within him.

Here then is the second great characteristic of the true member of the Church. He is the man who is so God-controlled (meek and gentle) that he is always angry at the right time but never angry at the wrong time.

"with longsuffering,"
The third great quality of the Christian is what the King James Version calls "long-suffering." This word has two main meanings because it endures to the end, and will reap the rewards. Its meaning can best be seen from the fact that a Jewish a writer used it to describe what he called "the Roman persistency which would never make peace under defeat." In their days of greatness the Romans were unconquerable; they might lose a battle, they might even lose a campaign, but they could not conceive of losing a war. In the greatest disaster it never occurred to them to admit defeat. Christian patience is the spirit which never admits defeat, which will not be broken by any misfortune or suffering, by any disappointment or discouragement, but which persists to the end.

But "longsuffering" has an even more characteristic meaning than that. It comes from the normal Greek word for patience with men. Chrysostom defined it as the spirit which has the power to take revenge but never does so. Lightfoot defined it as the spirit which refuses to retaliate. To use a very imperfect analogy—it is often possible to see a puppy and a very large dog together. The puppy yaps at the big dog, worries him, bites him, and all the while the big dog, who could annihilate the puppy with one snap of his teeth, bears the puppies impertinence with a "long-suffering" (forbearing) dignity. Longsuffering is the spirit which bears insult and injury without bitterness and without complaint. It is the spirit which can deal with unpleasant people with graciousness and fools without irritation.

The thing which gives "longsuffering" its best meaning of all is that the New Testament repeatedly uses it as an attribute of God. Paul asks the unrepentant sinner if he despises the patience of God (Romans 2:4). Paul speaks of the perfect patience of Jesus toward him (1 Timothy 1:16). Peter speaks of God's patient waiting in the days of Noah (1 Peter 3: 20). He says that the forbearance (patience) of our Lord
is our salvation (2 Peter 3:15). If God had been a man He would in sheer irritation have wiped out the world long ago for its disobedience. The Christian must have the patience toward his fellow men that God has shown to him.
Perhaps we can think about patience like this. It's the spirit that has the power to take revenge, but never does so. Patience is the spirit that puts up with insults without becoming bitter or complaining. This is the opposite of being short-tempered. The old nature is so quick to be offended that we need longer fuses. The new life in Christ allows us to endure, without retaliation, any wrong that we have suffered, and then, to turn the other cheek. Paul also says that to promote Christian unity, we must be magnanimous. As Christians, we must make allowances for one another; we must be magnanimous towards others when their faults are revealed. After all, wasn't God being magnanimous to us when He forgave our sins. But remember, God could be magnanimous only because Jesus paid the penalty for our sins.
"forbearing one another in love;"
The fourth great Christian quality is "love." Christian love was something so new that the Christian writers had to invent a new word for it; or, at least, they had to employ a very unusual Greek word—agape.
In Greek there are four words for "love." There is eros, which is the love between a man and a woman and which involves sexual passion. There is philia which is the warm affection which exists between those who are very near and very dear to each other. There is storge which is characteristically the word for family affection. And there is agape, which translates sometimes as love and sometimes charity.
The real meaning of agape is unconquerable benevolence. If we regard a person with agape, it means that nothing that he can do will make us seek anything but his highest good. Though he injure us and insult us, we will never feel anything but kindness towards him. That very clearly means that this Christian love is not an emotional thing. This agape is a thing, not only of the emotions, but also of the will. This agape is the ability to retain unconquerable goodwill toward the unlovely and the unlovable, towards those who do not love us, and even towards those whom we do not like. Agape is that quality of mind and heart which compels a Christian never to feel any bitterness, never to feel any desire for revenge, but always to seek the highest good of every man no matter what he may be.
We are able to bear with one another, through life's difficulties and problems, out of Christian love, not because we have a lot of grit and determination. The Bible teaches that "love conquers all." Though there are four Greek words for love, the word Paul uses in verse 2 when he says, "bearing with one another in love," is the highest. It means that we must love others so much that nothing they do or say will keep us from loving them and wanting to do good things for them. Even though they mistreat and hurt us, we will feel only kindness toward them.
3 Endeavouring to keep the unity of the Spirit in the bond of peace.
These four great virtues of the Christian life—humility, meekness, patience, love—give rise to a fifth, "peace." It is Paul's advice and urgent request that the people to whom he is writing should eagerly preserve "the sacred oneness" which should characterize the true Church.
"Peace" may be defined as right relationships between man and man. This oneness, this peace, these right relationships can be preserved only in one way. Every one of the four great Christian virtues depends upon the obliteration of self. So long as self is at the center of things this oneness can never fully exist. In a society where self predominates, men cannot be anything other than a disintegrated collection of individualistic and warring units. But when self dies and Christ springs to life within our hearts, then comes the peace, the oneness, which is the great hall-mark of the true Church.
Lastly, Paul says that Christian unity is marked by being peaceable. We have peace with God only by accepting His Son as our Savior. We can feel at peace and live peaceably with others when God's Spirit within controls us. We have seen that the characteristics of Christian unity are: living lives that reflect our calling as Christians, humility, gentleness, patience, generosity, love, and peace.