MAKE A JOYFUL NOISE
by Charles Robey
(Trussville AL)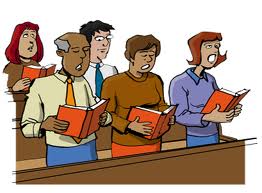 Amazing Grace, How Sweet The Sound
"O come, let us sing unto the LORD: let us make a joyful noise to the rock of our salvation. Let us come before his presence with thanksgiving, and make a joyful noise unto him with psalms" .( Psalm 95:1-2)

What has happened to our " Ole time" church congregational singing? The singing of those "old time "hymns and choruses, and letting the " hallelujahs" roll ? Why, I have even known pastors to build sermons around such old time hymns.

You may call me a "dinosaur", if you like, but I've noticed that a number of our modern "praise and worship" segments seems to be turning into a modern rock concert. The musicians will stand in front of the congregation, singing words only they know and the music ( noise) volume will be deafening. The congregation will chime in clapping and swaying with the music, maybe even jumping up and down. Is this type worship pleasing to our Lord ? ( Amos 5:23)

Don't get me wrong, I still believe in the old time religion and praising the Lord in song ( Psalms 105:3-6). And don't forget those old fashion revival services, where the "Amen's" and the "Hallelujah's" echoed, as the spirit led. (Habakkuk 3:10 )

You see God is not a God of confusion ( 1 Cor 14:33). He still demands our genuine praise. However, just make sure, after all that jumping around, that you still walk straight when you hit the ground.1 Cor 10:31) Amen !

A bit of history. Before the Reformation, laypersons were not allowed to sing in the church, as sacred music was performed by professional priest and cantors, played on complex instruments ( pipe organs ) and sung in an obscure language. ( Latin) However, these reformers gave worship back to the people, in the form of congregational singing. Simply tunes were composed with lyrics that people could easily memorize. Then came the printing press, which lead to the onset of congressional singing. Now, we have the computer controlled projection screen, making hymnals obsolete.

In the early days, some of the church tunes came out of the taverns and were adapted to Christian lyrics. In fact, General Booth, founder of the Salvation Army, often said," the Devil has had the music long enough. It's now time we gave these tunes the true gospel message". The famous " Amazing Grace" may even be sung to the tune" The House of the Rising Sun"

Also, in the early day churches, it was rare to find members of any congregation who could read music. Thus, the hymnals had no printed music, only the words to the tunes. As most church attendees could not read music, they would simply sing-along with the leader. This same concept, of not reading music, still holds true today, Most current hymnals, however, now have the printed music. Just think, how many of your fellow church members actually read the music. .

Singing in the Bible times was only natural, as singing has always been a way of praise. when the Israelites went into battle (Old Testament) they sent the singing praises ahead of them.

The book of Psalms is nothing but a songbook dedicated to our Lord. Singing was an important part of the Jewish temple worship, as the Levites would sing on the temple steps. Even the disciples of Jesus also sang hymns.

And even in the Pauline letters, believers were encouraged to sing to each other in worship and the playing of instruments, as the music was used to teach the gospel. ( Col 3:16) and to admonishing in the faith. ( Eph 5:19)

I had many pleasant memories, growing up as a PK ( preachers kid) and being involved with the church worship music. Only then, this portion of the service was simply labeled the song service. As a part of this activity, often times spontaneous testimonies would be mixed with the songs.

We were lucky, to have a large group of young people, in our congregation, and as the "PK', I had my pick of "Puppy Loves". We would sit in church and silently send "Puppy Love" messages back and forth, by pointing to hymn titles, only to be called down from the pulpit by Dad's persuasive facial expressions.

I remember years ago, as a young adult, I would drive our church van when taking the young people to various church functions. And it never failed, while traveling someone would always burst out in the singing of chorus. All would then join in for miles and miles. Sometimes we would resort to singing in parts. Why, we would even make up gospel lyrics to the current popular secular music. What has happened to those " good ole days"?

One church, which I attended, really went all out singing hymns and choruses. One of my most cherished memories was our 5th Sunday " singings and carry in dinners". And in another of our churches, during our Sunday night informal services, we would have the chorus of the month. Each service would open by singing the chorus several times, which seemed to set the "praise and worship" mood. Oh for those " old time religion" services. I really miss them. Have we became too " stiff and formal" in our worship ? I certainly hope not.

One good point of "praise and worship" singing is that singing will confused the enemy. Satan hates praise as much as prayer. He hates those who choose to praise and worship the Creator and he fights against them (I Peter 5:8). He is especially concerned when believers gather together for corporate times of praise (2 Chronicles 5:13-14) ( Acts 2:1-4).

Satan delights in Christians having a critical spirit, especially when the criticism surrounds the gospel in the form of good praise music. You see Satan knows when we criticize each other it grieves God's Holy Spirit. ( Ephesians 4:29-31)

I know a local church that unintentionally evolved into this Satanic mold. The older members wanted only to sing hymns and the younger members rebuffed by only singing the modern day contemporary songs. Neither would give, causing the church to go through several music directors before they reached a compromise, less many members later.

Focusing on good Christian music fosters a humble heart that attracts the favor of God (James 4:6) Yes, God dwells in the praises of His people. If you haven't all ready, get some praise CDs and learn the songs. You can even have your own praise service at home. Good way to get your prayers answered. This good "faith based" music is the kind that will take you straight to Heaven.

I can still here my father-in-law sing his favorite chorus:

I know the Lord will make a way for me.
I know the Lord will make a way for me.
If I live a Holy Life, Shun the wrong and do the right.
I know the Lord will make a way for me.

And when Dad would get discouraged within his ministry, he would go the old piano and sing to the top of his voice, " The Love Of God' . And what a Tenor voice he had.

Both my parents and my in-law parents are now singing in Glory Land. And they all are still enjoying their first day of Heaven, as a day with the Lord is only a thousand years( 2 Peter 3:8 ). You see there are no calendars or watches in Heaven. Amen!

I have so many chorus, it's hard to decide. Here's one of mine:

It's my desire to be like Jesus.
It's my desire to be like Him
His Spirit fill me, His love whelm me
It's my desire to be like Him.

So what's your favorite chorus, beloved ? Just sing it out right now. Boy, what a voice you have !