Making Ready Part 1
by John Lowe
(Laurens SC, USA)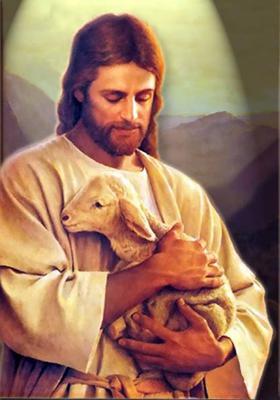 7-19-04
Title: Making Ready--A Communion Message

Text: "And the disciples did as Jesus had directed them, and they prepared the Passover."
(Matthew 26:19)


Bible Reading: Matthew 26:17-29

17 Now on the first day of Unleavened Bread, the disciples came to Jesus, saying, "Where will you have us prepare for you to eat the Passover?"
18 He said, "Go into the city to a certain one, and say to him, 'The Teacher says, My time is at hand; I will keep the Passover at your house with my disciples.'"
19 And the disciples did as Jesus had directed them, and they prepared the Passover.
20 When it was evening, he sat at table with the twelve disciples;
21 and as they were eating, he said, "Truly, I say to you, one of you will betray me."
22 And they were very sorrowful, and began to say to him one after another, "Is it I, Lord?"
23 He answered, "He who has dipped his hand in the dish with me, will betray me.
24 The Son of man goes as it is written of him, but woe to that man by whom the Son of man is betrayed!
It would have been better for that man if he had not been born."
25 Judas, who betrayed him, said, "Is it I, Master?"
He said to him, "You have said so."
26 Now as they were eating, Jesus took bread, and blessed, and broke it, and gave it to the disciples and said, "Take, eat; this is my body."
27 And he took a cup, and when he had given thanks he gave it to them, saying, "Drink of it, all of you;
28 for this is my blood of the covenant, which is poured out for many for the forgiveness of sins.
29 I tell you I shall not drink again of this fruit of the vine until that day when I drink it new with you in my Father's kingdom."

Introduction

In the early days of our country, the Quakers were ridiculed and considered strange because of the ways in which they quietly, in prayer and meditation, conducted their periods of worship.
They sat quietly until someone in the group felt moved by God to sing a hymn or deliver a message.
This was their way of preparing themselves for an encounter with God, for an experience of worship.
They understood and practiced the proclamation of the prophet Habakkuk: "The Lord is in his holy temple; let all the earth keep silence before him" (Hab. 2:20).
This is not the model most Bible believing Christians follow today, however.
Today, everything that's done in a church service is planned ahead of time.
People don't like to change the way it's always been done.
However, this stifles the Spirit of God, who wants to lead us in worship.
We have confused laughing and joking with joy—and there is all the difference in the world.
There is a time and season for everything according to the writer of Ecclesiastes—a time to laugh and a time to cry, a time to keep silent and a time to speak.
A "holy stillness" is a special time filled with anticipation.


Today, we have come to the Lord's Table.
Probably nothing Jesus did with the disciples before his crucifixion was more deeply moving, more unforgettable than His last supper in the upper room.
And part of the reason for the impact it made on the disciples was that it was prepared for.
Jesus had told His disciples to "make ready" for it, and they did.
There are three basic preparations Christians ought to make before they come to the Lord's Table.
FIRST, THERE SHOULD BE PHYSICAL PREPARATION.
Jesus obviously made previous arrangements privately for the Passover meal with His disciples.
He told them that as they entered the city, they would see a man carrying a pitcher of water.
They were to follow him to a house, and they were to go to a particular "upper room."
Jesus made sure that the proper physical preparations were made.
That's what we need to do before we partake of the Lord's Table.
We have the bread and wine, and my good friend and a deacon in my church are here to help distribute the elements.
But, there's something else needed; the right attitude.
This is a serious occasion and we must be reverent and have a worshipful attitude.
Now, you may not feel that way, and I have to admit that there have been times when I came to the Lord's Table unprepared.
The morning may have begun with me having yelled at my children to hurry up and get ready for church, or Sierra and I may have argued about something very trivial.
And sometimes we don't feel good and we might be depressed.
Whatever the problem, let's try not to think about those things for a few minutes.
Taking communion is a command for all Christians.
When we do it, we are being obedient to Jesus' command.
That obedience fosters closeness with Him.
But, we need to keep in mind that the Lord's Table doesn't have any redeeming value, and it's meaningless to the non-believer.
Communion is only for the child of God
So, I would advise you to refuse the bread and juice, if you are not saved.
The only prerequisite for anyone taking communion is that they are a child of God.
THE SECOND PREPARATION THAT CHRISTIANS OUGHT TO MAKE, BEFORE COMING TO THE LORD'S TABLE IS MENTAL PREPARATION.
The prophet Isaiah gives us one of the most precious promises in the Bible in regard to one's relationship with the Lord: "Thou wilt keep him in perfect peace, whose mind is stayed on thee; because He trusteth in thee" (26:3).
The promise we are given here is a peace that goes beyond human understanding.
It is a peace that really is a peace.
To have one's mind stayed means to "lean upon," or to be "sustained."
Here the term is used in parallel with trust, indicating that when a person does, in fact, trust the Lord totally, he or she will lean upon Him entirely and be sustained by Him alone.
God's great promise is that those who will put their trust in Him will be completely secure.
Notice also that the object of our faith or trust is as important as the act of trusting.
Here the object of faith is the Lord.
The apostle Peter was talking about preparation when he said, "Therefore gird up the loins of your mind…" (1 Peter 1:13).
When you and I come to the Lord's Table, our minds are to be focused on the Lord Jesus.
How often have you had the experience, before or during our worship time, of having your thoughts wander into some area of concern for you?
Perhaps you had a misunderstanding with another resident and that person is seated across the way.
Immediately you become uncomfortable.
You start to remember certain things that have happened.
Soon you are unhappy or upset and totally unable to enter into the spirit of worship.
How can we overcome such experiences?
Isaiah told us.
He said, "We must stay our minds on the Lord Jesus."
One way to do it is to open God's Word and let it speak to you.
It is sharper than a "two-edged-sword."
And the Holy Spirit will use it to remove those offending thoughts and prepare you mentally to worship God at His table.
THE THIRD TYPE OF PREPARATION THAT CHRISTIANS OUGHT TO MAKE, BEFORE COMING TO THE LORD'S TABLE, IS SPIRITUAL PREPARATION.
In 1 Corinthians 11:26-32, Paul speaks about the Christian's conduct in regard to the Lord's Table.
Listen as I read what he said.
26 For as often as you eat this bread and drink this cup, you proclaim the Lord's death till He comes.
27 Therefore whoever eats this bread or drinks this cup of the Lord in an unworthy manner will be guilty of the body and blood of the Lord.
28 But let a man examine himself, and so let him eat of the bread and drink of the cup.
29 For he who eats and drinks in an unworthy manner eats and drinks judgment to himself, not discerning the Lord's body.
30 For this reason, many are weak and sick among you, and many sleep.
31 For if we would judge ourselves, we would not be judged.
32 But when we are judged, we are chastened by the Lord, that we may not be condemned with the world.
Here, Paul deals plainly with our spiritual preparation.
He tells us that the ordinance of the Lord's Supper is not a meaningless, mechanical "ritual" in the church.
It should never be just something that we tack on to the end of a service.
So what do we do?
Paul says in verse 28 that we should examine ourselves.