Marriage and Calling - Page 2 of 5 (series:Lessons on 1st Corinthians)
by John Lowe
(Woodruff, S.C.)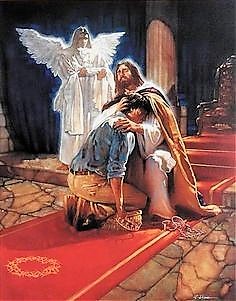 but the keeping of the commandments of God.
This is the reason why circumcision and uncircumcision should be treated with indifference. They are nothing; they have no influence either favorable or unfavorable on our relationship to God. No man is made better or worse for being either circumcised or uncircumcised. The Gospel has raised men above all such things. Paul says here that what is important to God is that you keep his commandments; and we can add to that—Loving God with all the heart, soul, mind, and strength; but it is impossible to love, obey, and serve God unless you have a circumcised heart. However, like circumcision and uncircumcision, these things are useless to those who want a relationship with Jesus Christ, because he only fellowships with Christians. "Keeping the commandments of God" will not save you, and neither will "loving God;" "For by grace are ye saved through faith; and that not of yourselves: it is the gift of God…Not of works, lest any man should boast" (Eph 2:8-9; KJV). After a man has been converted, the Holy Spirit enters into the heart, and begins the work of birthing a new creation and the process of sanctification. Then and only then can this man love God and keep His commandments, receive the reward of grace, have peace of mind and peace with God, and enjoy the presence of God.

The principle in view here is: External observances without internal piety are like nothing.


20 Let every man abide in the same calling wherein he was called.

Let every man abide in the same calling
There is nothing in this passage that would deny any man his right to make every effort to better the circumstances of his life; but what is forbidden is any thought that such "better circumstances" may possibly indicate a higher spiritual condition. For instance, a slave could be just as noble and successful a Christian as anyone else. Furthermore, many Christians have destroyed their spiritual lives, or greatly damaged them, through an extreme desire to improve their economic or social status. In Paul's letter to Timothy there is something that is applicable to this discussion: "But godliness with contentment is great gain. For we brought nothing into this world, and it is certain we can carry nothing out. And having food and raiment let us be therewith content" (1 Tim 6.6-8; KJV). The believer is to be "content" which is great gain. Too many marriages have gone on the rocks because this principle was violated. Many couples are strained financially, putting enormous pressure on their marriage. Contentment, when coupled with godliness, brings great pleasure and harmony.

"In the same calling" means in the same occupation, profession, or status of life. We use the word calling to represent the occupation or profession of a man. Probably the original idea which led men to designate a profession as a calling was the belief that God called every man to the profession and rank which he occupies; that is, that it is by God's arrangement (his will or plan), or providence, that he has that rank; he did not do it on his own. In this way every man has a call to the profession in which he is engaged, in the same way as ministers of the gospel are called by God; and every man should have as clear evidence that God has called him to the sphere of life in which he lives, as ministers of the gospel should have that God has called them to their profession. This declaration of Paul's, that everyone is to remain in the same occupation or status they were in when they were converted, is to be taken in a general and not in an unqualified sense. It does not intend to teach that a man may not seek to change his profession when an opportunity to do so emerges. It may be that God has opened a door for advancement; but any change should be preceded with much prayer, meditation, and counsel. But, by remaining in the same occupation the Christian can show that religion is the friend of order; that it did not disregard or disturb the affairs of social life; that it was competent to produce contentment, a humble walk, and to prevent bellyaching by those who think someone is more blessed by God and happier than they are. It becomes clear from the next verse that the Lord did not intend to prevent all change. Some of the circumstances in which a change of circumstances, or of calling, may be proper when a man is converted, are the following:
1. When a man is a slave, and he can obtain his freedom.
2. When a man is engage in a wicked calling or course of life when he was converted, even if it is lucrative, he should abandon it as quickly as possible. For example, if a man is engaged, in the slave-trade, as John Newton was, he should leave it immediately. If he is engaged in the manufacture or sale of illegal drugs, he should quit at once, even if it means great personal sacrifice. There is no way to justify continuing in a course of life like this after a man is converted.
3. Where a man can increase his usefulness by choosing a new profession. The usefulness of many men has been improved by his leaving an agricultural or mechanical employment; or by his leaving law enforcement, or the business profession, and becoming a minister of the gospel. In such situations, religion not only permits a man to change his profession, but it demands it; and God will not smile upon him, or bless him, unless the change is made. An opportunity to become more useful imposes an obligation to change the course of life.

wherein he was called.
The man of God should stay in the same occupation and circumstances he was in when he was called by the grace of God, provided that his calling, status, and occupation is lawful, honest, and has a good reputation; otherwise he should not stay where he was, but he should take up another occupation like Matthew and Zacchaeus did when Jesus called them, leaving the scandalous employment of a publican. Furthermore, the apostle's desire is that a man who is making an honest living stay where he is at and not change unless he believes it is God's will for him to do so. When a man changes his status or occupation it must not be done rashly and unadvisedly, and without wise and good reasons; but the principle aim of the apostle is to teach contentment in every condition, and station of life, and that persons should not be uneasy and restless in it, and seek to modify their lives when there is no good reason to do so. He may particularly have in mind, either the different condition of married and unmarried persons, since he had been speaking on that subject (see 1 Corinthians 7:27), or to the different circumstances of Jew and Gentile, whether they should be circumcised or uncircumcised, which was the subject of the previous verse; or to the different situation of bond and free, servant and master, in the following verse; and persuades them to remain undemanding and satisfied, since the Christian religion does not necessarily require a change in a man's civil circumstances of life.


21 Art thou called being a servant? care not for it: but if thou mayest be made free, use it rather.

Art thou called being a servant?
In that day there were slaves and freemen. Half the populations of the Roman Empire at this time were slaves. Athens, for instance, had, in her best days, twenty thousand freemen, and four hundred thousand slaves. Thousands of the early Christians were in this condition. Slavery flourished in Greece, and in every part of the heathen world. It was a very important topic of discussion among the believers in the Corinthian Church, and they argued about what ought to be done in those instances where the man who was converted was a slave. Many slaves who had been converted might argue that the institution of slavery was contrary to the rights of man; that it destroyed their equality with other men; that it was cruel, and oppressive, and unjust; and therefore they should not submit to it; that they should burst their bonds, and assert their rights as freemen. In order to prevent restlessness, uneasiness, and insubordination; in order to preserve the peace of society, and to prevent religion from being regarded as creating disorganization and disorder, Paul states the principle on which the slave was to act. And by referring to this case, which was hotly debated, he probably planned to instill within the Christians at Corinth the conviction that it is their duty to maintain order and contentment in general, and also, in all the other relations in which men might be when they were converted.

Were you called while a slave? Do not be concerned about it; but if you can become free, go for it, because the man who is called in the Lord while a slave is the Lord's freedman. Likewise he who is called while free is Christ's slave. Brethren, let each one remain with God in that state in which he was called. Remember: You were bought with a price, so do not consider yourself the slave of a man, but of God and Jesus Christ. Do everything as if Jesus was your Master, which He is. Paul's advice for servants is: If a servant was converted, let him not be distressed over his humble state; but if he had the means of becoming free, let him choose freedom. The state a man is in when he is called by grace is not important, and should not even be a consideration

The principle here is: If a person was a slave or a servant of a man, He was not to think that God wanted him to be freed from his master, and he was not to try to get released from that state.