Marriage and Calling - Page 4 of 5 (series:Lessons on 1st Corinthians)
by John Lowe
(Woodruff, S.C.)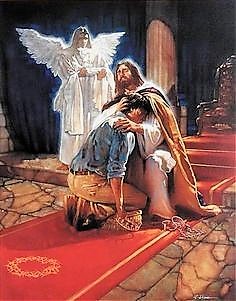 is the Lord's freeman:

He is made free and endowed with liberty by the Lord. This is said to comfort the heart of the slave, and to make him content with his circumstances. The sense is this: "You are blessed with freedom from the bondage of sin by the Lord. You were formerly a slave to sin, but now you are liberated. That bondage was more dreadful, than the bondage of the body. But from that long, dreadful, and oppressive servitude, you are now free. Your condition, even though you are a slave, is far better than it was before; you are now the true freeman, the freeman of the Lord."
• "Not now as a servant, but above a servant, a brother beloved, specially to me, but how much more unto thee, both in the flesh, and in the Lord?" (Philem 1:16; KJV).
• "Being then made free from sin, ye became the servants of righteousness…But now being made free from sin, and become servants to God, ye have your fruit unto holiness, and the end everlasting life" (Romans 6:18, 22; KJV).

He is the Lord's and he is free:
a) He is free from sin, not from being sinful, but from the servitude, guilt, and damning power of it: "If the Son therefore shall make you free, ye shall be free indeed" (John 8:36; KJV).
b) He is free from Satan, not from his temptations and insults, but from his dominion and captivity; he is ransomed from him, by the redemption of Christ, and is turned from his power by conversion; he does not have the influence over him he had before; and he is so safe and secure from him, that he can never be destroyed by him, and in a short time Satan will be bruised under his feet.
c) He is free from the law, the observance of the ceremonial law; and from the moral law, not from obedience to it, but from the bondage, curse, and condemnation of it: "For the law of the Spirit of life in Christ Jesus hath made me free from the law of sin and death" (Romans 8:2; KJV).
d) He is free to use all things, provided it is done in faith, the peace and confidence of weak brethren is protected, and the glory of God preserved.
e) He is free to receive all the privileges of the house of God, and he has access to the throne of grace, and he can come any time he wants; and though a servant, in another sense he is a very happy man.
f) His spirit is free; while those who are not slaves, and perhaps his masters, are under a more severe and detestable bondage than his.
g) He is free to enjoy peace with God, the presence of Christ, joy in the Holy Ghost, fellowship with saints, and a well grounded hope of glory.
h) He is not only called to the liberty of grace, which he enjoys, but will be delivered into the glorious liberty of the children of God; and therefore he has no reason to be uneasy with his servitude.

Freedom from sin is the highest blessing that can be conferred on men; and if that is yours, you should have little regard for your external circumstances in this life. You will soon be admitted to the eternal liberty of the saints in glory, and will forget all your toils and hardships in this world. Love makes Christ's service perfect freedom: "For, brethren, ye have been called unto liberty; only use not liberty for an occasion to the flesh, but by love serve one another" (Gal 5:13; KJV).

likewise he that is called, being free,
He that is a free man (his own master), when called by the grace of God, with a holy and effective calling, though he may be the master of others in a civil sense, is Christ's servant, in a spiritual sense.

is Christ's servant.
He is bought by Christ with the price of his precious blood; and therefore He has a right to him, and a claim to his service; and he becomes a voluntary servant to Him, through the power of his grace that rests upon him; and though he serves his Lord Christ without mercenary yearnings, freely, readily, and cheerfully, from a principle of love and gratitude, he will not fail to receive a reward of grace. He will be honored by God, approved of by men, and he will receive the reward
of the inheritance: Christian liberty, and the service of Christ, are not at all inconsistent; nor should we entertain any other notions of liberty, but what are consistent with serving the Lord; whatever liberty contradicts that, is not true liberty; though it may look like it, it is nothing but bondage: "Let the brother of low degree rejoice in that he is exalted…But the rich, in that he is made low: because as the flower of the grass he shall pass away" (James 1:9-10; KJV).
One that is called while he is a servant is the Lord's freed-man; but one that is free when called is the Lord's servant. Although he is not discharged from his master's service, he is freed from the dominion and enslavement of sin. He may not be enslaved to Christ, yet he is duty-bound to yield himself up entirely to his pleasure and service; and yet that service is perfect freedom. Note, Our comfort and happiness depend on what we are to Christ, not what we are in the world. The goodness of our outward condition does not discharge us from the duties of Christianity, or the badness of it bar us from Christian privileges. He who is a slave may also be a Christian freeman; he who is a freeman may be Christ's servant, as well: "O LORD, truly I am thy servant; I am thy servant, and the son of thine handmaid: thou hast loosed my bonds" (Psalms 116:16; KJV).
23 Ye are bought with a price; be not ye the servants of men.
Ye are bought with a price;
You (that is, all Christians, bond and free) were "bought with a price." If you are a Christian, then you were purchased by Christ with his most precious blood: "Forasmuch as ye know that ye were not redeemed with corruptible things, as silver and gold, from your vain conversation received by tradition from your fathers…But with the precious blood of Christ, as of a lamb without blemish and without spot" (1 Peter 1:18-19; KJV). You belong to Christ; you are his slaves, and you should act accordingly.
Brothers and Sisters, I hope you know that Jesus paid a terrible price for you! At one time, You and I stood under the judgment of God, because the Scripture says "… the soul that sinneth, it shall die" (Ezek. 18:4). That law still stands, since God has never revoked it. Here's something you can be certain about: God never changes; He is the same yesterday, today, and forever. The immutability (unchangeableness) of God is difficult for unbelievers to deal with—if they give any thought to it at all. You may have heard it said that we are living in a new age, and people have new thoughts, morals, and values—that may be true, but God has not changed. Why would he? He has a plan for mankind, he is working his plan, and He knows the ending. In fact, He knew the end before he created man, so there would be no reason for Him to change. And I doubt that he learned anything when He read the morning newspaper or listened to the television newscaster this morning. He didn't hear anything He didn't already know, because He knows all things—past, present, and future. And God has not changed His verdict that "the soul that sinneth, it shall die." That brings up a very important question, "What can you or I do today to redeem ourselves?" Unfortunately, the answer is, Nothing! Then how can we be redeemed? There is only one way, "With the precious blood of Christ." Simon Peter was a fisherman, and I doubt that he had much in the way of education, but I can hear that rugged fisherman say that the blood of Christ is precious. I am ashamed to say it, but the blood of Christ is not mentioned in some religious circles. The words have been removed from the hymnals of many liberal churches. Their reasoning is that the blood is crude, and some people may be offended. Well, I disagree, I don't think it is crude, at all, and Simon Peter didn't think so either; he said it was precious. And he said that we were not redeemed with corruptible things, like silver and gold, "but with the precious blood of Christ, as of a lamb without blemish and without spot." This is an objective statement of our salvation. This is what God did for you and me; don't you love Him for that?