Marriage and Calling - Page 5 of 5 (series: Lessons on 1st Corinthians)
by John Lowe
(Woodruff, S.C.)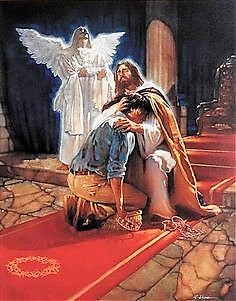 The rest of the verse is "be not ye the servants of men." Does this sound like a contradiction; I don't think so? I'll explain with an example. A cocktail waitress was converted by hearing the gospel on the radio. Everything about the Bible was brand new to her. She asked a Christian friend a question about whether she should give up being a cocktail waitress because she just didn't feel right about it. She answered, "It is up to you." It is a decision that you must make. If you have a conviction about it, then give it up. If you want to know what I think about it personally, I think you ought to give it up. However don't give it up because I say so, but give it up if that becomes your conviction." She did give it up and found another job within a couple of weeks. She had been bought with a price; she was not to be a servant of man.


Friends, you have been redeemed by the blood of Jesus Christ: "For ye are bought with a price: therefore glorify God in your body, and in your spirit, which are God's" (1 Cor 6:20; KJV).

be not ye the servants of men.
That is, "Do not consider yourselves the slaves OF MEN. Your lot in life may be a humble one; you may even be considered a slave by the law of the land; but you were purchased by Christ, therefore consider yourself the servant of God. Obey Him and serve Him even as you serve your earthly master, since all those who are bought with a price—all Christians, whether bond or free—are in fact the servants (slaves) of God. Continue in the state you were in when you were redeemed; but think of yourself as the servant of God, bound by his laws, subject to him, and really serve him, while at the same time being obedient to your master.

By this, the apostle does not intend to persuade any who are believers in Jesus Christ to leave their master, like Onesimus left Philemon by running away, because this would contradict what he has said here and other places, where he wholeheartedly urges servants to continue in the service of their masters, and to perform all aspects of their work vigorously and cheerfully, and with great sincerity and integrity. But his meaning is, that since they were redeemed by the blood of Christ, they should not be servants to the desires of men, or obey them when their commands are wicked and sinful, since that would be contrary to the Gospel, and unlawful according to the word of God, and it would go against the command of their Lord and Master Jesus Christ. Moreover, as far as religion and Christianity is concerned, they should not submit to the authority of men, or be subject to the doctrines and directives of men; whether they relate to Jewish ceremonies, or Gentile superstitions. They were to call no man on earth master, or allow anyone to lord it over them as the false teachers did in the Corinthian church; but, instead, they are to acknowledge Christ, who had bought them with His own precious blood, as their only Lord and Master.

The whole point here is that the slave of one master cannot be the slave of another. Anyone who is redeemed by Christ, who feels that he belongs to him, that his will is the supreme rule of his life, and who performs all his
duties, not as a man-pleaser, but as if he is serving the Lord, not men—"Not with eyeservice, as men pleasers; but as the servants of Christ, doing the will of God from the heart…With good will doing service, as to the Lord, and not to men…Knowing that whatsoever good thing any man doeth, the same shall he receive of the Lord, whether he be bond or free" (Eph 6:6-8; KJV)—he is inwardly free, whatever his external conditions may be.
24 Brethren, let every man, wherein he is called, therein abide with God.
Brethren, let every man, wherein he is called,
The apostle repeats the advice given in verses 17 and 20, but he begins it with that tender and affectionate term, "brethren", perhaps to get them to listen more closely as he proceeds to communicate to them that whatever difference there might be in their social state and condition, there were no differences that have to do with their religion; they were all brethren, they were Paul's brethren, and they were even the brethren of Christ. With that in mind he says, "Let every man remain in the domestic and social condition he was in when the call of God found him."
therein abide with God.
He sums up his advice to the Corinthian believers: Let every man wherein he is called abide therein with God. By this he means the state a man is in when he is converted to Christianity. No one should use religion or his faith as an excuse to change their social status. He should stay in the condition he was in when God called him (that is the will of God, who knows all men, and what is best for them), and continue to serve his master and do a good job of it, because now he can do all things (well) through Christ.
Note, The special presence and favor of God are not limited to our outward condition or performance. He may bless those who are circumcised as well as those who are uncircumcised; the servant as well as the free man. In this respect "there is neither Greek nor Jew, circumcision nor uncircumcision, barbarian nor Scythian, bond nor free" (Colossians 3:11). The favor of God knows no bounds. Every believer has the same access to the throne of grace, and enjoys the same communion with God; and therefore should be content in their present situation. The presence and blessings of God do not come to us because of our outward conditions or anything we do, but because He is our loving heavenly Father, who enjoys giving good gifts to His children.
It is very likely that some of the slaves at Corinth, who had been converted to Christianity, had been led to think that their Christian privileges absolved them from the necessity of continuing as slaves; or, at least, brought them to the level of their Christian masters. A spirit of this kind might have soon led to confusion and insubordination, and brought scandals into the Church. It was therefore, a very proper subject for the apostle to include in this letter; and you would think that the Corinthians would respectfully bow to his authority.
When a person is converted, whatever he is doing, wherever he is, he is to remain in that position as long as he is free to serve God in that relationship. God must be first. "Therein abide with God." If his situation will not permit God to be first, then he should change the situation, as the cocktail waitress did.