MY BIG STEELY MARBLE
by CharlesRobey
(Trussville AL, USA)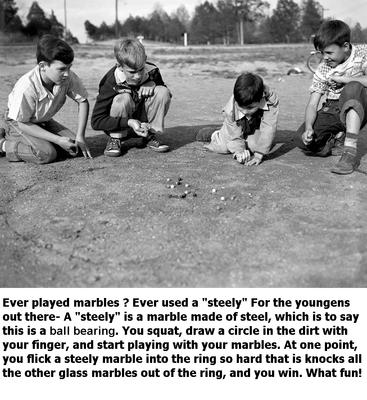 Just let me have at it!!
My best friend and I were once playing marbles, when my friend suddenly and without warning, gave me his best marble "steely". That was rather unusual, as a steely was considered boys best friend, in the game of marbles. You see, a steely could knock more marbles out of the ring accidently than most other glass marbles could on purpose. When I offered to pay for this gift, my friend just shook his head and just restated that it was a free gift.

Anyway, I thanked him and we continued to play, with me wining as a result of my new found weapon, the famous "steely"..

You know, is this not like our heavenly Father. Because of His sacrifice on that cruel cross, for our sins, the gift of salvation is now free to all (John 3:16). For we could never, on our own, be good enough, pay enough money or have enough friends or relatives, to get us into heaven (Ephesians 2:8-9). What about you, my beloved? Just, trust Jesus Christ today! Here's what you must do:

1.Admit you are a sinner.
"For all have sinned, and come short of the glory of God;" (Romans 3:23)
"Wherefore, as by one man sin entered into the world, and death by sin; and so death passed upon all men, for that all have sinned:" (Romans 5:12)
"If we say that we have not sinned, we make him a liar, and his word is not in us." (1 John 1:10)

2.Be willing to turn from sin (repent).
Jesus said: "I tell you, Nay: but, except ye repent, ye shall all likewise perish." (Luke 13:5)
"And the times of this ignorance God winked at; but now commandeth all men every where to repent:" (Acts 17:30)

3.Believe that Jesus Christ died for you, was buried, and rose from the dead.
"For God so loved the world, that he gave his only begotten Son, that whosoever believeth in him should not perish, but have everlasting life." (John 3:16)
"But God commendeth his love toward us, in that, while we were yet sinners. Christ died for us." (Romans 5:8)
"That if thou shalt confess with thy mouth the Lord Jesus, and shalt believe in thine heart that God hath raised him from the dead, thou shalt be saved." (Romans 10:9)

4.Through prayer, invite Jesus into your life to become your personal Saviour.
"For with the heart man believeth unto righteousness; and with the mouth confession is made unto salvation." (Romans 10:10)
"For whosoever shall call upon the name of the Lord shall be saved." (Romans 10:13)
AMEN !

AUTHOR'S POST SCRIPT
In this high tech demographic world of iphones, ipods, ipads, advanced PC's, and the like, its rather nice just to sit back in that more nostalgic world of the past, by just praying a simple prayer, "Dear Lord, let me be a child again, just for today. Just to turn back the clock to those happy years of yesterday. A time of the simple way of life. A life chock-full of the joy and happiness of life.

And in parallel to this simpler life style, also we are thanking God for that all important memory of a simpler easy and straight forward gospel.

I still remember that strong, but simple, evangelistic teaching which states, "For by grace you have been saved through faith; and that not of yourselves, it is the gift of God; not of works, that no one should boast". (Ephesians 2:8-9) To that I shout "Amen."

Additionally, in support of this evangelistic message, was our old fashioned church altar. Now, I realize the physical make up of that old alter was no different than any other construction. However, that old fashioned alter was very special for me, for that old alter was where I was first introduced to the Living God.

Yes, call me a "dinosaur" if you will, but I still believe in that "Old Time Religion". I can't help but ponder those old "brush-arbor" revival meetings where the "Amen's" and the "Hallelujah's" echoed, as the spirit led. And holy hands were raised unto the Lord in praise. What about you beloved?