MY G.P.S. ANGEL
by Charles Robey
(Trussville AL)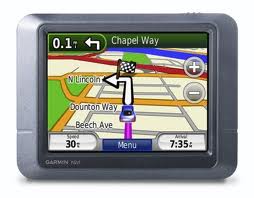 Can anybody out there hear me?

'Cause I can't seem to hear myself
Can anybody out there see me?
'Cause I can't seem to see myself...
There's gotta be a heaven somewhere
Can you save me from this hell?
Can anybody out there feel me?
'Cause I can't seem to feel myself
(Author Unknown)

Have you ever lost your way, or have you gone off course and needed to stop and ask for directions? We all have, I'm sure. Living in this wonderful technological world is exciting. All one needs to do is plug in that GPS system, key in the destination and let it go to work. But one day God's GPS took control of my life. Please let me explain.

In my case, as I was traveling to meet with a client, the GPS just didn't work that easily. You see, I was meeting with Mr. Johnson and was pressed for time when I programmed the GPS. However, the strangest thing happened. The GPS suddenly took on a mind of its own.

As I was traveling down the Interstate, that all too familiar voice started announcing for me to make a U turn, if safe to do so, and turn around. The message continued steadily and seemed to get louder with each new announcement, even to the point the device vibrated on the dashboard of my car.

Then, as if by divine persuasion, I finally gave in and followed the instructions. The GPS wanted me to travel an out-of-the-way, parallel U.S. highway rather than continue on the Interstate.

My trip took a bit longer than I had anticipated due to the detour. I just knew I had missed a sale, as Mr. Johnson was a meticulous client, a real stickler for punctuality when it came to business. But a bizarre occurrence happened that day. As I entered Mr. Johnson's office, I caught him pacing rather nervously.

When I approached him, he literally grabbed me and gave me a hug. Obviously, I didn't know what to think.
About the same time, Mr. Johnson's secretary, Terri, came in shouting for joy.
"Will someone please tell me what's going on?" I exclaimed.

Mr. Johnson then spoke up. "You see, there was a very bad accident on the Interstate, and one of the vehicles involved fit the description of your car. We knew that it was about the time you would be traveling down that road. And, when you didn't show, we just knew something had happened to you. We both just stopped what we were doing and began to pray for your safe travel."

"I really thank you for your concern," I replied. "However, I think it was more fate than prayer, as I'm not much into the prayer bit. You see, my GPS probably sensed the traffic jam and rerouted me around the accident."

"Wait just a minute," Terri said. "Let me just read you a verse from the Bible".

You are the GOD who does wonders; You have made known Your strength among the peoples." (Psalms 77:14) In other words, God works in mysterious ways, His miracles to perform."

I don't mind telling you my life turned around that day. I'm not really sure if my Guarding Angel spoke through the GPS or used the GPS satellite to show the traffic jam. In any event, it doesn't matter now as God got my attention by way of a most unusual chain of events.

I know now God's hand was on me. For, you see, if God can use a horse to throw the Apostle Paul to the ground and get his attention, He certainly can use the newest technology to prompt my thinking. That day, I realized God's Grace was not only sufficient to save me but would also keep me.

"And the peace of God, which transcends all understanding, will guard your hearts and your minds in Christ Jesus." (Philippians 4:7)

Since that faithful day of God's divine intervention, I have spent many an hour burning the midnight oil comparing the Bible truths to my finding my Savior by way of the GPS instructions. The GPS system is designed to communicate with an invisible source in the sky called a satellite. And, as Christians, we put our faith in the instructions given by an unseen divine GPS known as the living God.

"Jesus said to him, because you have seen me, have you believed. Blessed are they who did not see, yet believed." (John 20:29)

You see, as an intelligent being, I just needed a little spiritual boost to show me
I was traveling down the wrong spiritual road. God's GPS, by way of the Holy Spirit, invited me to turn around and travel God's narrow road of salvation, rather than the wide world of sin.
"There is a way that seems right to a man, but in the end it leads to death. For wide is the road that leads to destruction, and many travel it." (Proverbs 16:25; Matthew 7:13-14).
Like the successful directions given by my GPS, by accepting God's instructions my eternal destination was changed forever.
"But as many as received Him, to them He gave the right to become children of God, even to those who believe in His name." (John 1:12)
Much like a GPS system that fails to work due to interference from the universe, there have been many times since becoming a child of God, in which Satan's powers have tried to distract me from the all important attributes of God by getting me to focus on the little side issues.
"Finally, be strong in the Lord, and in the strength of His might. Put on the full armor of God, that you may be able to stand firm against the schemes of the devil." (Ephesians 6:10-11).
Sometimes God's GPS system appears to lead us down the wrong path, but we later find the path to be true, similar to what happened to me. You see, God uses Satan for His benefit, because the attacks of Satan causes us to grow.
"But we all, with unveiled face beholding as in a mirror the glory of the Lord, are being transformed into the same image from glory to glory, just as from the Lord, the Spirit." (2 Corinthians 3:18)
Unlike the human GPS system, God's divine GPS makes no mistakes. Occasionally, we just don't take note of God's advice. We need to stop and yield to Gods GPS by putting Christ in the driver's seat.
God has said, "I will never leave you, nor forsake you". (Hebrews13:5) and "You will call and I, your Lord, will answer, you will cry, and I will say, Here I am!"(Isaiah 58:9)
A famous preacher once corrected the old bumper sticker cliché, "God Is My Co-Pilot? by stating, "I don't want God to take on the position of Co-Pilot in my life. I want God to be in full command of my life, as the Pilot."
God's GPS system warned me of a pending traffic hazard that day. Isn't this like God's providential guidance for our lives? Within the Christian circles there have been many times in which God has redirected or postponed scheduled events. Later we discover that if we had continued, disaster would have occurred.
"I will instruct you and teach you in the way which you should go; I will counsel you with My eye upon you." (Psalm 32:8)
-----------------------------------------------------

A PERSONAL NOTE TO THE READER
How about you! Have you ever put your faith in Jesus Christ and asked Him to come into your life, based on what He did for you on that cruel cross at Calvary? For you see, we all are born in a sinful state, due to Adam's sinful fall in the Garden of Eden. God's word the Holy Scriptures says;
"For all have sinned and fallen short of the glory of God, and are justified freely by his grace through the redemption that came by Christ Jesus"(Romans 3:23-24)
And, to change that sinful nature, you must be born again into the family of God, by way of coming to Jesus Christ, the only way to Salvation. God's word the Holy Scriptures says;
"Thomas said to him, "Lord, we don't know where you are going, so how can we know the way?" Jesus answered, "I am the way and the truth and the life. No one comes to the Father except through me" (John 14-5-6).
You may be wondering how and when you may become good enough for God. However, beloved you can never become good enough on your own, You can never pay God enough on your own. And, you cannot become good enough, based on your family or friends Christianity. Here's what the Holy Scripture says about that;
"For it is by grace you have been saved, through faith, and this is not from yourselves, it is the gift of God, not by works, so that no one can boast" (Ephesians 2:8-9).
Have you trusted God as your savior? Then get a Bible and start by reading the book of John, And A.S.A.P start attending a Bible believing church.
May God Bless You