MY HEAVENLY VISION-REVISED
by Charles Robey
(Trussville, AL USA)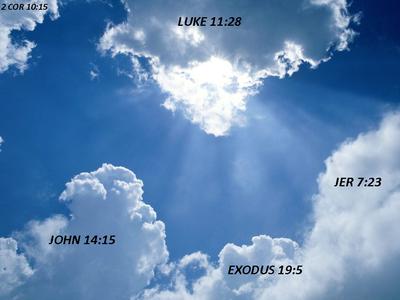 "And the LORD answered me: "Write the vision; make it plain on tablets, so he may run who reads it. For still the vision awaits its appointed time; it hastens to the end—it will not lie. If it seems slow, wait for it; it will surely come; it will not delay." (Habakkuk 2:2-3)


Do you ever dream ? Or better still, do you ever experience visions? If so, do you heed the message ?

First, before you answer my question, let me briefly describe a vision, as opposed to a dream. A vision is a supernaturally inspired appearance, having its own purpose, but one general of inspiring the beholder. As the apostle Peter had in quoting (Joel2:28). In other words, according to this scripture passage, The old men will dream dreams because they have experienced many things. They are now old and do no more have the strength to do new things. The young men will see visions because they have the strength, but they have not experienced new things. There are three accounts of visions, given in the early church period (Acts 10:11) (Acts 16:9) (Acts 18:9).

Whereas dreams are mental images, occurring during sleep. And the function of a dream may vary per individuals and purpose. (Job 33:14-16) summarizes the purpose for which God may give anyone a dream. Dreams may be a warning (Genesis 20:3), a revelation (Genesis 37:5-10), or encouragement (Judges 7:14-15). Dreams have various sources. If you walk with God, you should take dreams seriously.

Both a dream and a vision may be satisfactory, suitable, pleasant, effective, or of high quality. Thus, the main difference between a vision and a dream is that a dream happens while you are asleep; whereas, a vision happens while you are awake. You see a dream when unconscious while you see a vision when you are conscious. Both can be of God, and both can give certain guidance or direction.

So, with these prime examples in mind, let me continue with my dream or vision. Scary as it was, it seemed so real. And the message came through "loud and clear".

I dreamed that I was suddenly suspended in outer space, surrounded by pure white clouds, hovering over hills and valleys.

And coming in and out of the clouds were souls, to many to number. There must have been millions of them. What was unique about the souls, is that they were all babies. However, they all appeared to be fully mature in their limited physical development. They talked intelligently, they maneuvered well, and interacted with each other. They really had all the traits of a grown up, but they were still baby bodies. This scenario was so real that it actually scared me.

Strangely, as these babies started moving around, they appeared to be praying in groups. As I got closer to these groups I heard them praying. They were all praying the same prayer, praying for their Mothers down on earth. How sad this was, and yet how exited I was to see this display of concern.

Impulsively, and without warning, appeared an angel carrying a large sign which read.

"The King will answer and say to them, 'Truly I say to you, to the extent that you did it to one of these brothers of Mine, even the least of them, you did it to Me" (Matthew 25:40).

And lo-and-behold without warning, a large number of clouds popped into view, floating around these babies. Each cloud displayed a scripture verse reference. One showed ( Jeremiah 1:5), one showed (Psalm 139: 13,16), one showed (Job 31:15), one showed (Psalm 127:3) and one showed (Isaiah 44:2).

Many other clouds were also floating, in and out of my view, which displayed the "power of God" scriptures, I just can't remember these references , but I got the message. Then, in the twinkle of an eye, I was carried away in the clouds by a strong puff of wind.

As I traveled in and out of the clouds, I came a across the most elegant wedding chapel. One never seen before, in person or in story book form. What was so unique, located in the mist of the chapel, was a large neon signed which read, ""closed due to no takers". This sign blinked off and on, as if to draw my attention. "What exactly did that mean", I ask myself ?

Then, and in concert with seeing the sign, a man suddenly appeared
out of the shadows, dress in a priestly garment. He was holding, what appeared to be a large Bible. I couldn't help but notice that the Bible was covered with dust. My inquisitive nature got the best of me, so I approached this preacher and ask, "why no wedding activity". His answer was short and simple, as he gave his reply, "no takers due to the current trend of same sex marriages". He continued by stating that he had refused to participate in the modern day trend, even though the high court had ruled in favor of such activity. I thanked him for his frankness, and left in the heavy clouds, as he too suddenly disappeared in the clouds.
As I left the chapel, the same angel which I saw before was carrying another larger two part sign which read.
"And God created man in His own image, in the image of God He created him; male and female He created them (Genesis 1:27)
For this reason a man shall leave his father and his mother, and be joined to his wife; and they shall become one flesh. (Genesis 2:24).
Then, as if my journey was over, I was swiftly carried through the clouds, but as I passed through, I suddenly saw a large choir of angels singing the following song over and over again.
"Grace to you and peace from Him who is and who was and who is to come( Revelation 1:4)
Suddenly and unexpectedly, I woke up. My bed clothing appeared to be wet, from sweat. And as if by divine direction, I was directed from my bed and over to where my Bible was laying on a table. As I came closer, the Bible was magically open to a two passage (Hebrews 12:2) (Matthew 6:10, that seemed to be fixed together.
Suddenly, the tears started flowing uncontrollably, as I fell to my knees in prayer. I couldn't get those little grown up babies off my mind. Nor, could I stop seeing that kind old preacher and his wedding chapel.
My prayer to God that night wasn't "God give me what I want" or, "Please make my life on this earth better". It was, "Lord what do You want " ? "How can I serve You" ? "What do You want me to do for You and Your kingdom today" ?" Suddenly, I realized what those two passages meant. You see, when we treasure heaven, we've one step closer to the One who makes it heavenly.
As we give ourselves to God, He has a way of helping us understand that the story He started long ago in our lives will end well, come what may (Philippians 1:6).
Well, I got the message. I will no longer take on a complacent attitude, with respect to God's divine commandments. No longer will I sit idle while the whole world steeps further and further into the darkness of evil (Ephesians 6:12). I cannot remain silent any more. What about you, beloved.
Author's Post Script
As a Christian author, often times I will get an idea for an article while just laying in bed relaxing in a state of semi-sleep. Then, if I don't jot down the thoughts, I usually lose these thoughts over night. And these disclosures are always scripture based. in some fashion (Habakkuk 2:2). So, is this a vision ? Could be ! You see, I've often heard preachers of the gospel, relate the same type scenario.
I realize if God desires to communicate His message. He may use whatever means He finds necessary. There is no limit to what God can do. I also realize, we must be careful when it comes to visions and the interpretation of visions. We must keep in mind that the Bible is finished, and it tells us everything we need to know (2 Timothy 3:16).
Thus, any thoughts I may get and record for publication, while asleep or wake, will be fully in concert with God's word. Whether the inspiration is a structured dream, a vision, or just a result of meditating on God's word in the quite of the night (Psalm 19:14).
Consequently, this creative writing could have been real. Yes, it could have happened, just as was proclaimed. You see, we will probably not realize the full consequences of mans unjust laws, as set against God's sovereign will, this side of heaven (1 Cor. 13:12). May God Bless the intent of the message.