MY PATH OF REGRET
by CharlesRobey
(Trussville, AL USA)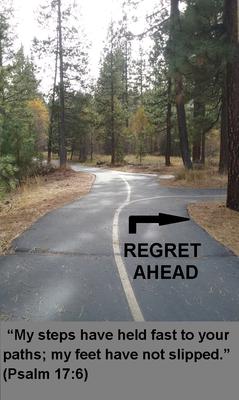 I wandered one day down the path of regret
Slowly I walked passing those that I've met
Is this really true or just another bad dream?
Did it really happen as a part of evil's scheme?
Maybe it's just a caution from the Lord above,
Warning me to always care for those that I love.
It was the good ones and bad ones I met today
The good passing quickly, the bad here to stay
As I speak to those memories that pass me by
To some I happily smile, to others I regret to cry
For sometimes we all have the moments of glee
While other times from the evil ones we all flee
How many times I failed to hear His Spirit's voice
Time after time turning from Him was my choice
Now pinch me Lord let me wake from my dream
Shake me Lord so to others I may clearly redeem
That now I may wander down the pathway of life
Leaving my ego of envy, jealously and strife

How will your life be after this historic American election? Will you continue to praise the living God, for all His blessings? Will you leave a godly impression with those you meet? Or will you seek that proverbial pity-party hole and crawl in?

Once you've done your part and voted according to God's principles, the election aftermath should be given over to God. After all, He is our all-powerful, all-knowing Heavenly Father. The future is His (Daniel 2:19-23).

He has given us His Word, which is full of prayers from His people. And researching and praying these prayers allows us to make these prayers our very own (Psalm 27:8).

I must admit I oftentimes find myself on this path of regret as I move down life's pathway. I just pray however, that I don't fall into this path's gutter, because of my unbelief (Deut. 3:24).

For regardless of the election outcome, life will go on. Our Lord will still be on the throne. We will still have the love of our family, the love of our friends, and most importantly, the love of our heavenly father (John 15:13).

You see I love to think of Jesus as my friend, but friendship is a two-way street. I need to ask myself, "What kind of friend am I to Jesus?" How much do I care for our friendship? I know the impact Jesus has made on my life, for He has taken away my sins (John 1:29). Nonetheless, what kind of impression am I leaving, to those I love?

My prayer, " Lord, you know what your servant is really like (2 Samuel 7:20), and how can I know all the sins lurking in my heart? Cleanse me from these hidden faults" (Psalm 19:12).

It is this openness before the Lord that I long for and desire, giving a true impression on all those I meet (Psalm 32:102). Amen!!