MY SNOW DREAM
by CharlesRobey
(Trussville, AL USA)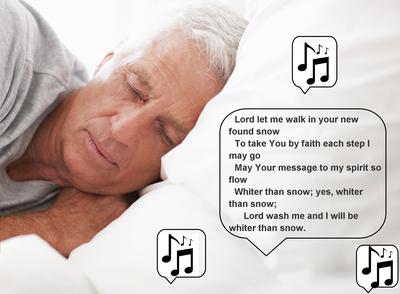 "It will come about after this that I will pour out My Spirit on all mankind; and your sons and daughters will prophesy, your old men will dream dreams, your young men will see visions." (Joel 2:28)

What an interesting introductory scripture verse, in light of my dream world! You see, some may consider me an old man, as I do dream and have known visions. However, dreams happen to all of us, even to animals. Oftentimes when Bear, our little four-pound Toy Poodle, is asleep on the couch, he will start wagging his tail rather profusely. I like to think he is having a happy dream.

Some dreams are good, some not so good. Some I remember vividly, some spuriously, with some I have no recall, and others appeared rather mystifying. But there have been no dreams quite like this one, which I have appropriately labeled "My Snow Dream."

I dreamed I was walking in a field of newly-fallen pure white snow. As I walked, the slippers I was wearing suddenly became quite soggy, making it hard for me to walk in the snow. After walking for some time, I came to a small creek bed. Across this creek was a field of continuous snow, overshadowed by numerous big shade trees. In order to cross this creek, I would need to leap across to the other side, which I did with very little effort.

Once on the other side, the strangest thing happened. As I continued walking in the snow, my slippers suddenly turned into shoes made of bright silver, which seemed to magically glide over the snow. As I walked through the snow and approached the forest of trees, I suddenly felt as if I was in the very presence of the living God Himself. Inscribed on each tree was a particular Bible verse which seemed to glow with a heavenly light.

At this point, I was not able to continue with my dream, as I suddenly awoke. This dream must have taken a toll on my emotions, as my PJ top was soaking wet. What a strange dream! What did it all mean?

During the next few days, my mind continued to track the events of this dream until suddenly, as if by divine inspiration, the dream meaning unexpectedly came to my mind. I'm not really sure if this revelation was by way of a dream, or simply a vision, as I went about my daily routine. Anyway, it did make Biblical sense.

According to many dream professionals, in the dream world, especially for us believers, the physical phenomenon actually originates from a manifestation of a spiritual reality. In other words, our spiritual dreams are God's divine voice speaking through visual imagery, so we may experience the dream through our bodily senses.

The pure white snow represented walking in the purity of God's love. It was a spiritual counterpart to the physical realm. Like the gently silent falling of new snow in the dream, the meaning is that we Christians are to always be gentle in our spirit. (Psalm 51:7)

The soggy slippers meant my finite inability to smoothly walk in God's sovereignty in my own will. We see in (Matthew 5:17-48), our Lord spoke strongly against our earthly performance. However, by our working faith, as in the crossing of the creek in the dream, we are able to approach God's eternal will for our lives. (John 14:12-13)

The creek represented my faith, as I had to take a leap of faith to continue my journey with God.(Hebrews 11:1,6) And by the change of shoes, once I took the step of faith in the dream, my faith had made me purely whole, in God's sight.

The scriptures outlined on the trees were simply topics that God wanted me to address in my upcoming writings, a reminder to always write the truth, to always emphasize the true full gospel. (I Cor 15:1-4)

A few topics that stuck in my mind were; the ministry of the Word. (2 Timothy 3:16-17) (Psalm 19:7-14), the ministry of the Holy Spirit (Gal 5:16-26), and the trials and testing of life. (James 1:2-4) (Psalm 119:67-71)

What a dream! What an awesome God we serve! He always seems to have a way of getting His message across to us, be it in a dream, a vision, our pastor, a particular individual, or some applicable object lesson.

I realize it can be hard to wrap our minds around His power just knowing He wants to talk with us. (Psalm 27:8) What can we tell Him that He doesn't already know? And at times in this life, we may become speechless for other reasons; the sorrow may be too much, the pain too strong, the grief too great. But God never leaves us trapped within ourselves, without words of hope, be it a dream, a vision, or simply being directed to a particular scripture verse.

In (John 14:1-6) God's word opens our hearts and lives to a deeper faith, a renewed strength. He tells us not to let our hearts be troubled, for if we believe in God, we should also believe in His promises, for He is going to prepare a place for us in His kingdom. And all we need do is believe solely in His direction for our lives.

What's so amazing about this particular passage of scripture is that 2000 years ago, our Lord knew that we would face certain trouble along life's way, but His way is the answer to all our troubles.

Well, in closing, you may or may not be a believer of dreams. As for me, I surely do believe, just as our introduction points out. And if you do believe, just let me re-state that old familiar refrain, "Sweet Dreams." Blessings to all and to all a good night.

Author's Postscript

According to "Dream Cloud" (a Miami-based social network company which offers the unique chance for people around the world to connect), for 90 minutes to two hours or more each night, every single person on earth dreams. Sometimes the dreams are straightforward in their meaning to the dreamer: a long-lost friend reappears, a tropical beach beckons or a lottery jackpot is within reach. But dreams don't always tell a simple story, and the field of dream research becomes even more fascinating when people from different cultures and backgrounds report having similar dreams.

However, a social-based network is certainly different from a Bible-based network. And being spiritually orientated, we believers have a totally different network, that being our heavenly Father Himself. Yes, scripture, as well as real life experiences, are full of dreams of a spiritual nature, such as this dream blog.

And yes, God surely uses symbols to drive home an important point in our dreams. A symbol can invoke a feeling or an idea that oftentimes will have a profound lasting effect on our minds, and on our lives. So dream on, my brother and sister in Christ.