MY SPIRITUAL SUN STROKE
by CharlesRobey
(Trussville, AL USA)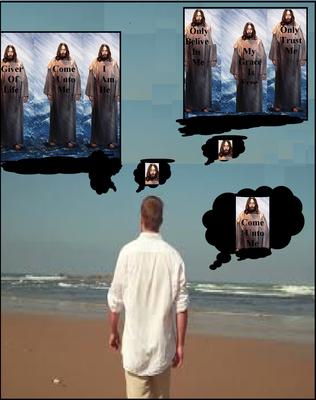 You have searched me, Lord,

and You know me.
You know when I sit and when I rise;
You perceive my thoughts from afar.
You discern my going out and my lying down;
You are familiar with all my ways.
Before a word is on my tongue
You, Lord, know it completely.
You hem me in behind and before,
and You lay Your hand upon me.
Such knowledge is too wonderful for me,
too lofty for me to attain. (Psalm 139:1-6)

How does God talk with you? Does He use His Word? Does He use a special messenger? Does He use the Holy Spirit? Does He use your quiet prayer time? Does He use a fellow believer? Does He use a certain circumstance? Does He speak in dreams, visions, or simple clear-cut mental thoughts? Is it one, some or all of the above for you, my friend?

Oftentimes, He may use one's subconscious by joining certain incidents to real life experiences or performances. Of such is the following unusual experience of mine coming during my summer vacation beach outing, of all things. So, here goes.

I just happened to be on vacation and walking on the beach when the strangest phenomenon occurred. Without prior notice, a number of characters came sloshing up through the waves of the sea, As they came closer to the shore, I could see they were all dressed in pure white garments. Then as they came even closer, I happened to notice they all had what appeared to be Scripture verses embroidered on their robes in large black letters.

What was even more bizarre was that no one else on the beach seemed to pay any attention to these strange characters. Either that or they just could not see them.

"What can all this mean?" I pondered silently. "What are these creatures attempting to relate to me, and apparently to me only?"

Then, as if by divine imperative, one of these characters, who seemed to be the leader, came up to the forefront and pointed the longest finger that I have ever seen directed at me. He started to speak in a language that was totally foreign to me. But as he spoke, somehow my mind began to interpret his speech.

"I can tell that you are somewhat perplexed," he alleged.

At this point in our initial conversation, I kind of let him have it if you will. "I certainly am. Perplexed isn't the word for it. Looks like you have changed from knocking on my door on Saturday mornings to that of coming at me from the sea, disrupting my vacation."

My mind then started backtracking. What have I done or haven't done to cause all this? I always attend church when I'm not scheduled to go fishing with my fishing buddy. I always pay the preacher. I always visit the sick. Maybe this is just a figment of my imagination or maybe too much sun playing tricks on my subconscious.

This man then persisted, "Do you not recognize the Holy Scripture?"

"Of course I do", I responded.

"Then tell me what you see, what you read," he continued.

"I see writing, large black writing, apparently relating to scripture."

But he suddenly interrupted me by telling me the half is yet to be told. "What on earth do you mean?" I ask.

"It's simple theology," he responded. "You have only described the black but not the white. Both the black lettering and the white background is divinely placed. Next time you open your Bible, God's Word, just stop and ponder. Without the white background, you would not have any substantial writing. Without the white manuscript paper, you would have no Word of God. Let's just say that my pure white robe is the "Un-scripture of
God." Without this clothing of righteousness, I could not be a changed person. Nor would I be able to transmit a personal testimony."
"Just like when the Word of God is printed, when His Word is sent into the world and sent into our heart, it must have a background context. So, do you know what the holiest un-scripture is?"
After some quick pondering, I answered I did not know. He then answered, "It's your life. Have you not ever heard that you were the only Bible some people read?"
"Yes, I have," I responded. "Then your life is the sacred white robe upon which God's Word is written," he concluded.
"So, what's next?" I asked. "Now write this down in the sacred compartment of your mind. The key is to join your life, your heart, your emotions, your soul, to God's will for your life, by joining the black with the white. Just stand still and let every part of your life become the white and black of God's Word." He then concluded by quoting God's Word. (2 Timothy 3:16-17)
When he had concluded his sermonette, he suddenly disappeared along with all his cohorts. I surely doubt that any of the other surrounding "beachcombers" even knew what had happened, as they all continued to be about their beach enjoyment. Was this unusual encounter due to having too much sun, or was it an angelic message to me and me only? (Hebrews 13:2) I suppose time will only tell. I do know, however, this strange devotion message made a permanent impact on my life from here on out. Amen!
And what happened to the rest of my vacation? Simply put, I instantly came back to God. (1 John 1:9) You see, I had a choice to make. I could have continued to go my own way, distracted by all that God has given me, or I could fall at His feet and worship Him for all that He has done for me. Now, the beach water had never been so clear, so blue, so calm, and so peaceful. Yes, I found my way back to God. (Ephesians 2:12) What an awesome Savior we serve. I can never thank God enough. (Ephesians 1:18)
Won't you too, take a moment to stop and really think about where you might be without Him? Are you wearing this white robe of witness, draped with His word? Without Him, you can never find your way. Without Him, you would be hopeless, eternally lost. (Ephesians 2:8-9)
Postscript
Much like God's representative guiding this bewildered vacationer in strengthening his faith (Colossians 3:16), God guides His people through all kinds of circumstances. He led Israel through the wilderness. (Exodus 13:21). He sent angels to save Lot (Genesis 19:16) and to release Peter from prison. (Acts 12:7) It's clear that God cares deeply about the intimate details of our lives.
However, like this vacationer, we oftentimes tend to run our own lives, then as an afterthought, ask God to bless us. We should continue to be in prayer (1 Thess 5:17) and seek God's guidance. (Psalm 25:1,4-5)
We should not sit back, as did this vacationer, but we should forge ahead in our relationship with our living God.(Hebrews 6:1) It may be hard at times to resolve that our all-powerful, all-knowing Creator wants to talk with us. What may we tell Him that He doesn't already know? The thought can leave us speechless. But God doesn't leave us trapped within ourselves, without words of hope. Thus, He has given us His Word, the black and white of it. Yes, God wants to talk with us, (Psalm 27:8) be it on a beach, or in our prayer closet. Let your life become the sacred white and black of God's Word (Psalm 119:11)