My Story
by Loy Clements
(Springhill, LA. U.S.A.)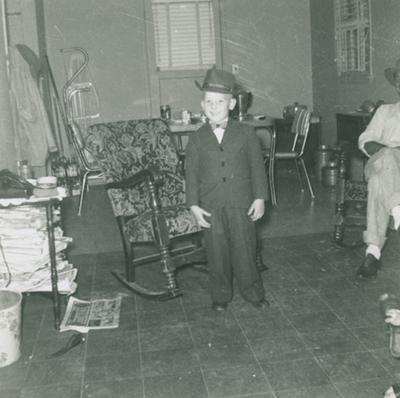 All you need is love
Text: Hebrews 13:5; II Corinthians 12:9; Genesis 28:15

Introduction: I am going to tell you the good, bad, and ugly of my life beginning at my new birth, age 6. Don't expect to read about a perfect Christian, for I am not! There were weaknesses that I had, God has delivered me from.

There are weaknesses I still have, and God is leading me away from them; one day at a time. Anyone that believes they are perfect, you are a fool! As long as we are in these mortal bodies made of dirt, guess what: we're going to be dirty.

I. Years 6-18

Most of my childhood I basically was a good kid. I went to school, church, and played with the neighborhood kids. Mom and Dad worked all the time so I was stuck home with Derrell, and Deronda who did not necessarily enjoy having a small brother following them around.

Deronda and I fought all the time as most brothers and sisters do when their parents work. I didn't like Deronda bossing me around, and she didn't like me pestering her all the time.
A quick word to parents, God has a way to get money to you without the mother having to work.

A lot of the things I have done wrong in my life comes from a lack of mother's love and training. The closest thing I had to a mother was Deronda. When children have to replace parents as the standard for the other children, a child will not mature properly! Just a key for parents to unlock the future success of their children.

But, we made the best of a bad situation. I really started having trouble when my heart mother Deronda left home for college. Emotionally she had been the closest thing to a mom I had known.

My parents were good parents and they provided the material things we needed; but the spiritual, and emotional things: well, I believe they didn't know how to provide them to us. Am I saying they didn't love us? No, a million times no.

I believe they were raised by parents that never learned how to express their love. Don't take that wrong either. My Grandparents were great people; but not emotional people. They never openly expressed their love to anyone.

There is an old country song that goes something like this, "looking for love in all the wrong places, looking for love in too many faces." I truly believe the reason my generation of the Clements' kids have had problems with relationships, is simply because our parents did not know how to express their love to us.

A person's emotions are very powerful, and can make someone a success or failure in life.

II. Years of drugs and alcohol

I can hear you now, I thought you said you have been in the ministry for 55 years. I have, but that doesn't mean I didn't become dependent to drugs and alcohol; along with a lot of other sinful things. As I said, emotions can make or break even a good Christian!

I remember going to a party in Shreveport, LA. and waking up three days later in a jail cell in Memphis Tenn. As Jesse Duplantis says, "I have taken trips and never left my house." Someone told me about one night I showed up at my folks house crawling around on the ground screaming,at the top of my lungs.

"My grace is sufficient." I remember clowning rodeos and one night I was so drunk I could hardly walk. This bull charged me after throwing his rider, and there was no hope for me to get out of his way. This bull had already killed two people.

All of a sudden he fell dead right at my feet. I believe an angel of the Lord knocked him in the head, for you see the Lord has saved my life about a thousand times that I know about. When Jesus said to turn the other cheek, and love never fells.

I know first hand how true that is! I have had people try to kill me with guns, knives, running me down with cars. Even an overdose on drugs couldn't kill me.

III. Our past is used to save others

I have had the great pleasure of going to many places sharing my past, that changed many futures. A lady told me one day before she died. "Loy, do you know why my kids and I listen to you?" I said, no why? She said, "because you have walked in our shoes, and you understand what it is like to have a broken heart."

We Christians need to remember but for the grace of God, that alcoholic, drug-addict, prostitute, or whatever could be us. We don't have ownership of God just because we go to church. The blood of Jesus didn't flow for the just. Remember Jesus' words, "it is the sick that needs a doctor."

It is the hurting and broken hearted that need a Savior. Jesus said, "I have come for the lost." What is lost? II Corinthians 4:3,4 "But if our gospel be hid, it is hid to them that are lost: (not who are perfect) in whom the god of this world hath blinded the minds of them which believeth not, lest the light of the glorious gospel of Christ, who is the image of God, should shine unto them."

IV. The Evelyn years

In 1975 the Lord placed into my life a loving Spiritual mom by the name of Evelyn Morris Niles. Eveyn, by God's Spirit, gave me what my parent didn't when I was a child. The love of a parent! Without this love of a parent, people will never be able to believe the Love of God.

If a kid is not receiving love as they grow; then how can anyone in their right mind ever think that when this kid comes in contact with God's love: they well ever believe that God really and truly loves them. They have no example of which to base their belief.

The hundreds of thousands I have ministered to, never knew a parents love! So, where were they ever going to find out about God's Love. Parents, I have a warning for you; don't abort your kids future! We'll fight battles to save the life of an unborn baby, and yes we should. But, never give our kids 5 minutes of our time to save their lives.

Every school killing in this country was done by kids that had no love at home. Their parents would leave them home with T.Vs. and video games while they went about doing their own things. I know pastors that never give anytime to their kids because they are to busy with church business.

I know way to many church members that are trying to buddy up with their pastors; but never even get to know their kids! Why am I so hard on you about this? Because my kids grew up without parents! I have watched them go through hell in life; simply because Jackie and I were too busy doing our own things.

Jackie said to me one day, "you need to spend more time with the kids." I ignored her, and went on about my life changing nothing. My daughter Angela growig up was in trouble with the law, and pregnant before she was married. Why? No parental love!

I have preached at her until I turned blue, and it just went into one ear, and out of the other one. Why? Because I was never there for her!
The reason I have been married twice, and divorced twice is because none of us knew how to receive, or how to give love!

All we knew was the lust of our flesh. I still love, now that I have a little understanding of love both of my ex-wives. I love Marie, and Jackie simply because God loved them enough to give His only begotten Son, so that if they will believe in Him, they shall not perish, but have eternal life."

Eternal life is not just going to Heaven, and missing hell. John 17:3 teaches us that "eternal life is to know God as the only true God, and Jesus Christ Whom He has sent."
In the Evelyn years, I learned first how to receive love.

Secondly I learned how to release love into the lives of others through intercession. And thidly, I learned how to love the world through partnership with ministries around the world. As I grow in His love, I am touching millions of lives by giving myself to Him; for His purpose and cause in the earth.

Conclusion: Receive God's Love. Believe God loves you as much as He loves Jesus. John 17:20-26 the prayer Jesus prayed for you is the key to the healing we all need for the lack of love in our lives! Receive love, by loving others. "God is Love." In Jesus Name, Amen.