O Come Let Us Worship Part 2 of 2
by John Lowe
(Laurens SC, USA)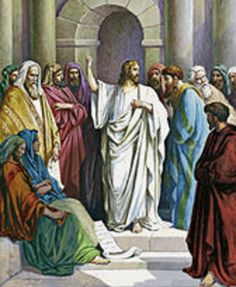 In verse 4 we are told that God is in control of the heights and also the depths of the earth (v. 4). We are to remember that the God we worship is not only our friend, but our Creator as well. We should worship in a way that is accompanied by recognition of our position before Him. He is the Lord our maker, i.e., the one who has created, redeemed, and made us the people of his pasture, and the sheep of his hand. This God owns both the sea and the dry land because He is the creator of both according to verse 5. And He created us; but we are different from the rest of creation. We received His personal touch; He formed us and then breathed life into us and gave us a soul, and that makes you and I unique. We worship Him who made us in His image.

The proof of genuine worship is faithful obedience. Remember, you and I are the only part of God's creation that has the ability to love, serve and worship Him. This great and good God is personal, and He is worthy of our awe, reverence, respect, and adoration.

There is one more thing I would like for you to see; "The call to worship is a call to recognize and receive the presence of this personal God."

When God comes to meet with us, He comes to reveal Himself to us, and to give Himself to us. God reveals Himself in ways that meet the deepest needs of the genuine worshipper. There's a saying, "Without God, we face a hopeless end; but, with God, we can experience endless hope."

Worshippers learn something about themselves when they truly worship. They discover that they are more than lost orphans in an empty world. They discover that God loves them and that God is for them. The French have a proverb that gives insight for worship that states, "A good meal ought to begin with hunger." It is hard to enjoy a meal when you are not yet hungry, but when you are starving, anything tastes good. If we approach worship with a hunger to meet God we will be filled and satisfied. But, when we come to worship filled up with our own self-sufficiency or in a world of our own thoughts, we probably won't experience meaningful worship. It's true . . . good worship begins with a hunger for God.

Worshippers also learn something about others when they worship. Worship is not just an experience in which a person spends some time in meditation. Genuine worship gives a vision of God, a vision of self, and a vision of others.

Stewart Babbage was a great Australian minister. In his office, there were four pictures that looked remarkably the same.Their similarity told a remarkable story. When he visited the ancient site of Ur, he climbed on the ruins and pointed his camera to the North, East, South, and West. These four pictures were enlarged and placed on the walls of his study. Anyone looking at the four pictures can find nothing of interest. In every direction from Ur, there is apparent nothingness.These snapshots were not prized for their artistic value, but they were daily reminders of what Abraham saw when God called him to leave his home in Ur of the Chaldees. The vision that Abraham received wasn't found on the horizon, but in the patriarch's soul. Godly vision isn't thrown on the landscape of certainty. It's forged in the fire of faith.

There is only one more point to be made; "True worshippers also learn something about the resources of God that are available for life." God does not come to oppose us or to defeat us. He comes to impart His gifts to us, through His resources as Almighty God.

"Behold, God is mighty "in power and understanding. He blesses the obedient but judges the ungodly and the hypocrite.

"Behold, God is exalted", and no one can teach Him what is right or accuse Him of doing what is wrong. He is sovereign in all that He does.

"Behold, God is great", and we cannot know Him, except through His Word and His Spirit.

After Job suffered through all the tragedies that Satan placed on him, three friends came to comfort him. One of them was a man named Elihu, who claimed to be the spokesman for God! A storm may have been brewing about that time, and Elihu used it as an example of God's greatness. He spoke of the water cycle, the clouds, the thunder, and lightning. He said, "The thunder is God's voice, and the weather is His servant." But, how should we respond to the visible pieces of evidence of God's greatness in nature? We should see the majesty of God, thank Him for His many blessings, and obey and respect Him. Nature does reveal the greatness of God; but it is in Jesus Christ that we see the grace of God, and His grace meets all our needs.

Conclusion

In the English language, the word worship means "worth-ship." It means the recognition of the one who is of supreme worth. God has revealed Himself for His purposes, for us, in Jesus Christ. We can trust the God who loves us so much. He was willing to give up His Son for us. "He who did not spare his own Son but gave him up for us all, will he not also give us all things with him" (Rom. 8:32)? We can have the calm assurance that nothing can ever separate the believer from God's love based on God's past actions (vv. 31, 32) and His present actions on their behalf (vv. 33, 34).

Christ, our Mediator, continually intercedes for believers in a heavenly courtroom where deliverance replaces condemnation (v. 28). Christ, the One who could condemn believers is, in reality, pleading their cases (see John 2:1–21).

The Spirit of God makes the love of God real to us (5:5; John 14:23–27). Think about it, the Father is for us (vv. 31–32), the Son is for us (v. 34), and the Spirit is for us (vv. 26–27). Nothing can separate us from His love. Is there any reason why we should not be "more than conquerors"? "The Holy Spirit longs to reveal to you the deeper things of God. He longs to love through you. He longs to work through you. Through the blessed Holy Spirit you may have: strength for every duty, wisdom for every problem, comfort in every sorrow, and joy in His overflowing service." Let's love and worship God and make Him the source of our joy.

Amen.