ON A SUNDAY MORNING SIDEWALK
by CHARLES ROBEY
(MOODY AL USA)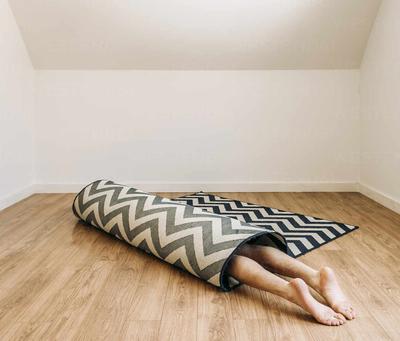 PROLOGUE

Growing up in my younger years, I played a number of foolish kids' games, simply to satisfy my wandering urge. I used anything and everything around the home that was available. One such childish occupational hazard was, I would roll myself up in the living room throw rug and roll around the room, enacting the old "Rolling Down the River" game. My parents were displeased, but our family dog ran alongside, barking and chewing the carpet fringes in excitement.

It didn't take many of Dad's belt popping episodes to put a stop to this one playful adventure. Oh well, that was then, this is now.

Those childhood tricks are now begging to take hold of my mind. However I have put away childish things and taken my mind off yesterday's pleasures and onto today's progressive socialistic environment. This brings to mind many progressive associations with today's woke sayings.
.
So, what do we have, now and for the future in our governments rolled up rug of socialist ideas and experiments? Whatever they may be, will we take the belt to them, or will we except whatever comes along? Whatever the intentions of those powers-that-be are, we must ensure that our Providentially-blessed, fought for and died for freedoms are well preserved.

According to Dr. Larry P. Arnn, President of Hillsdale College, "The framers of the American Constitution combined the best political ideas of the past with innovations in what The Federalist called an improved science of politics: federalism, separation of powers, and checks and balances. Doing so, they created a form of government which had, in the words of James Madison, "no model on the face of the earth."

Yes, you guessed it. Another of my errant dream world adventures was about to take place. I've been having a lot of them lately. I should go easy on the bedtime snacks. I had no more piled into bed, when it stared me right in my sleepy semiconscious mind. Let's label this unusual nighttime adventure "On A Sunday Morning Sidewalk."


There I was, taking my usual Sunday morning walk down the neighborhood sidewalk. The scene never changed, but it didn't seem much like a dream, either. It felt like something was in the air, something was about to happen, as I continued with my walk.

A big, shaggy dog was chasing a small black cat, while an older couple strolled arm-in- arm down the sidewalk. A disgruntled gentleman on the porch was shouting for his wife to bring his coffee. There was a young lady attempting to change a flat tire, while a group of young boys were playing marbles in the dirt. Some older boys were playing baseball in the street.

All in all, the walk was quite enjoyable. It took my mind off today's doom and gloom, and somewhat limited that general feeling of pessimism and despondency associated with today's progressive world that I live in.

Suddenly, and without warning, it happened. Just like a big fabric rug, the sidewalk quickly rolled up in front of me. All I could muster up was to quickly escape. I wanted to hold back and not get caught up in this unexpected, rolled-up mess. The sidewalk kept rolling up in front of me, nonetheless.

As the sidewalk continued rolling up in the air, many elected governmental dignitaries were hanging on and even falling off. Not only were these the notables being susceptible to danger but many recognizable documents were also being lost or destroyed in the mix of it all. These documents were tossed by the dignitaries to lighten the load.

The documents were recognizable such as the Declaration of Independence, the Constitution, the Federalist Papers, the Mayflower Compact and many more, too many to list, including many copies of the Holy Bible.

Then I heard cries within this strange fantasy, human, mournful cries, associated with it all. I felt lucky just to survive and not get caught up in it all. What's happened here? Surely it's not the end of the world, is it?

Without an explanation, all of a sudden it all stopped, merging quietly back to normal, leaving me to doubt what I had just seen. I had awakened and was back safe and sound, lying quite comfortably in my bed, my Alexa device playing my saved music.

Without an explanation, my dream had stopped, but there was still a sound. The phone was ringing off the hook, which awakened me. It was the church automatic alert system.

"Please stand by for an all-important church announcement. A tornado has touched down close to the church. If you and your family have been injured or property has been damaged, please call the church emergency hot line ASAP. Thanks, your Pastor."

Maybe it wasn't entirely a dream after all. Maybe my walk was real. I was fortunate to have escaped that chaotic scene. Nonetheless, why the chaotic mixture of scenery, and the many government officials? Could it have been a dream and reality mixture? Or maybe it was a divine warning of sorts. Could it have been the beginning of a national judgement?

God uses both good and bad events to effect His will (Daniel 2:19-22). His judgements are real and true. He cannot and will not overlook sin. (I Peter 4:17)

"Pastor, Pastor are you there? Please pick up, we need to talk." End of dream, beginning of service. Amen!

EPILOGUE

Dreams tend to make strange bedfellows. Oftentimes they will come and go like an poorly-written movie script. Other times, they turn the worst scene of all into a very pleasant and enjoyable adventure. Divinely generated teachings, orders or commands, or promises of future deliverances may also be given out at times. (Joel 2:28)

I trust you enjoyed this little fictional blog. If you are likeminded, you too are concerned about our great Republic.

For sure, we are now living in exciting times in respect to Bible prophecy, and one need only compare the local news with Scripture. Sad to say, neither politics nor the government is immune to it all.

In today's progressive society, we are confronted with a "woke" generation and many ongoing challenges. Some even say, and I tend to agree, that we are living in the last days as we know them to be.

We are faced with attacks of heresy, false teachings inspired by hypocrisy. (I Timothy 4:1-2) We see mass corruption, a breakdown of law and tradition, and a form of godliness that has nothing of the true God in it. (II Timothy 3:1-5, 13) Our churches are filled and influenced by people who are no longer content to hear sound teachings of the gospel, but crave those that will tickle their ears. (II Timothy 4:3-4) (II Peter 2:1-3)

We are also faced with mockers, following after their own lusts. (II Peter 3:3-4) But we are to be diligent and to be found in peace. (II Peter 3:14) To this all, I will give out a big Amen. (II Peter 3:18)

With respect to the government, in (I Peter 2:13) and (Titus 3:1) we see essentially the same view of the individual's proper attitude, as stated in (Romans 13:1-7) with respect to the state. There is no authority except from God. This does not say that only certain forms of government are ordained of God. God established and upholds the principles of government even though some governments do not uphold His desires.

In spite of it all, we must not ever give up the faith. (Hebrews 11:1, 6) Amen!