OUR OLD TIME FAMILY DINNER
by CharlesRobey
(Trussville, AL USA)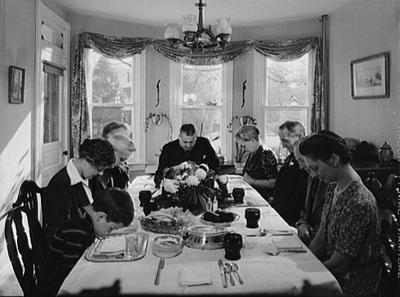 "A person can do nothing better than to eat and drink and find satisfaction in their own toil. This too, I see, is from the hand of God, for without Him, who can eat or find enjoyment?" (Ecclesiastes 2:24-25)

Every time I start one of my long-forgotten memories, the wife is quick to remind me that my tales are always built around food. And I guess she's right. for the family meals are well etched in my mind.

This was especially true after meeting my wife and her family. How her Mom could cook! No, not those quick-fix TV dinners, or the store bought instant fixings. It was the real thing, a home-cooked meal that would make you slap your Grandma. She would always lay out a meal fit for a king. There was always a main course meat with all the fixings, and don't forget those big old-fashioned "Baptist" biscuits, dripping with homemade country butter.

I will never forget my first meal at my wife's home. Before eating, the wife happened to give me a heads-up warning, "Don't put your elbow weight on our dining room table, as it squeaks, and that really irritates Dad." You guessed it, I didn't eat much that first go-round. Yet, I really made up for it all, after we were hitched.

Well, now that I have prompted your appetite, I trust that you can relate to this old- fashioned poem.

Our old-fashioned family dinner is here to stay,
A time to meet, greet, eat, sing and pray.
The food was all set and the blessing given,
The family all ready for food of their opinion.
Now comes the dull talk of times gone by,
Talk that makes some laugh while others cry.
Grandpa Mac bestows his war stories again,
Much to the displeasure of our Uncle Ben.
Aunt May will bring out her homemade jelly,
That she always says is good medicine for the belly.
Baby Jane will crawl under and pinch the knees
As Mother gives her endless drawn out pleas.
Young Bob will tell of his last great homerun,
While the other boys will just laugh and make fun.
Don't forget Cousin Jim as he bursts out in song,
After all with his singing what could go wrong?
We were all sorry Niece Sue could not come
For her leaving the Home was just too toilsome.
And don't forget all those flashing camera lights,
Capturing all those memorable sights.
Now it's time to get down to the heart of the matter,
As Uncle Ben stands and begs to stop the chatter.
"It's devotion time," Uncle Ben so cheerfully proclaimed,
As his Old Time Religion roots so vividly explained.
Thanks to Ben this homecoming was now complete,
And this old-fashion family dinner we all vowed to repeat.