OUR SEVEN CHURCHES
by Charles Robey
(Trussville)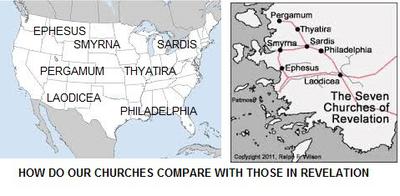 Where, on the map, is your church ?
According to the scripture, we are now living in the church age. The period of time from Pentecost (Acts 2:1-9) to the Rapture (1 Thessalonians 4:13-18). It is called the Church Age because it covers the period in which the Church is on earth, corresponding with the age of Grace (Ephesians 2:7). In prophetic history, it falls between the 69th and 70th weeks of Daniel (Daniel 9:24-27) (Romans 11).

And Jesus predicted the Church Age in (Matthew 16:18) when He said, "I will build my church." Jesus has kept His promise, and His Church has now been growing for almost 2,000 years. The book of Revelation, given by the Apostle John, gives an inspired intuitive understanding into the church age. These insights come in the form of a synopsis of seven churches from Asia Minor (Revelation 1:4).

"The number 7, occurring 54 times in the book of Revelation, appears more frequently than any other number. In the Bible it is associated with completion, fulfillment and perfection " ( Gen.2:2) (Ex.20:10) (Lev 14:7) (Acts 6:3). (Dr. Ryrie)

So, is God perfecting His church age (Rev 1:11,20) ? Is He speaking to our churches of today ? "These 7 churches were actual churches of John's day. But they also represent types of churches in all generations. This idea is supported by the fact that only seven churches were selected out of many that existed and flourished in John's time, and by the statement at the close of each letter that the Spirit was speaking to the churches". (Rev. 2:7) ( Rev. 2:11) (Rev 2:17) ( Rev. 2:29) (Rev. 3:6) ( Rev. 3:13) ( Rev. 3:22).(Dr. Ryrie)

To understand these Revelation writings, one must depend on God's Holy Spirit.( 2 Peter1:21). The scriptures reveal our future. However, one must always realize the devil also works hard to conceive mankind by convincing that God's prophecies are beyond our understanding (Ephesians 6:12).

Though theses were literal churches in that time, there is also spiritual significance for churches and believers today. In other words, the modern 21st century can defiantly parallel certain conclusions, from these churches, picked out and named by God's Holy Spirit.

Why were these churches singled out, you might ask ? In my opinion, God wanted to reveal seven different types of individuals/churches throughout history and instruct them in His righteousness. Our focus should be on what message God is giving us through these particular churches. The seven churches are:

(1) Ephesus (Revelation 2:1-7) - The church that had forsaken its first love (Rev 2:4)

The first 100 years of this church included 37 years of the church in the book of Acts. In the beginning, God was its first love. A time when the missionary spirit was alive. The church even endured its persecution, trials, and despair. However, with the passing of time, the church begin to change, as the devil entered years later.

(2) Smyrna (Revelation 2:8-11) - The church that would suffer persecution (Rev 2:10) .

Jesus knew what this church was going through, that they were a poor church but rich in spiritual things. These Christians were beaten and killed, being ruled by ten tyrants, from Nero to Constantine the Great. However, this church endured this bad persecution.

(3) Pergamum (Revelation 2:12-17) - The church that needed to repent (Rev 2:16)-.

After suffering defeat in battle, Constantine decided to embrace the Christian church. Following a vision of a big cross in the sky, he then made Christianity the state church. Pergamum remained married to the world for the next two hundred years.

(4) Thyatira (Revelation 2:18-29) - The church that had a false prophetess (Rev 2:20)-

The Thyatira church turned from a church of grace to a religion of works, as the church turned from salvation and redemption to that of works. This church did away with the basic truth of the gospel, thus being labeled the "dark ages".

(5) Sardis (Revelation 3:1-6) - The church that had fallen asleep ( Rev 3:2).

It was during this period that Martin Luther proclaim that "the just shall live by faith", the great Bible truth, lost for so many years in the "dark ages". A few of these Christians kept holiness alive, amongst much darkness from the preceding years.

(6) Philadelphia (Revelation 3:7-13) - The church that had endured patiently (Rev 3:10).

The Philadelphia church became a great missionary ministry, at the end of the reformation, as this church went forth with a great victory. These missionary fires blazed strongly as the Gospel was preached.

(7) Laodicea (Revelation 3:14-22) - The church with the lukewarm faith (Rev 3:16).

This church straddled the fence. They were neither hot or cold, just lukewarm. Sinners are not in the mouth of God, only Christians. So, why would God spew out Christians. Simply, because of them not taking a true stand for the truth. They had a spirit of indifference, or of being lukewarm.

What about today's church, you ask ? How may we compare ? There are four parallels we may draw from these churches, to today's churches.
1. Praise
2. Condemnation
3. Advice
4. Challenge

Church of Ephesus
Praise: God knew their good works..
Condemnation: They left their first love.
Advice to leaders: Remember where you have fallen.
Challenge to believers: Stick to the faith.

Church of Smyrna
Praise: God knew there good works..
Condemnation: None!
Advice to leaders: Don't fear your suffering. .
Challenge to believers: He that overcometh shall not be hurt.

Church of Pergamum
Praise: They lived where Satan lived but never renounced God.
Condemnation: Their teachings polluted both spiritually and socially.
Advice to leaders: Repent.
Challenge to believers: Those who overcome will received a reward..

Church of Thyatira
Praise: God knew their deeds of love, charity, faith and service.
Condemnation: They had deep corruption from within.
Advice to leaders: Repent now or be punished in the end.
Challenge to believers: To those who are faithful within, rejecting the false doctrines, hold fast till I come.

Church of Sardis
Praise: God knew their deeds - Their name carried much recognition among men.
Condemnation: But now you are dead.
Advice to leaders: Return to the beginnings and repent.
Challenge to believers: To those who overcome the same shall be clothed in white raiment;

Church of Philadelphia
Praise: They were not the biggest, but even without strength or power, they kept the word.
Condemnation: None!
Advice to leaders: God is coming quickly. Hold onto what you have.
Challenge to believers: Him that overcometh will I make a pillar in the temple of my God.

Church of Laodicea
Praise: None!
Condemnation: They were lukewarm, neither hot nor cold. God will spit tem out of His mouth into the tribulation.
Advice to leaders: They needed to start concerning yourself with eternal riches and not earthly ones, by being humble and opening their eyes. to God's truth before it's too late.
Challenge to believers: To him that overcometh, Christ will I grant to sit with Him on His throne.

So, let's compare these early churches to our current ones.

1. Praise - Do you have true praise and worship in your church services ? (Psalm 96:1-9)
2. Condemnation - Does your church condemn sin and it's results ?(Romans 5:12)
3. Advice - Does your church disciple its new and existing members ? ( 2 Tim 2:2)
4. Challenge - Does your church leaders, challenge you in the full gospel (1 Cor 15:1-

The Bottom Line of any church, living or dead !
Doctrines are nothing but man made interpretations of the scriptures. They in themselves do not save, but they can and sometimes do a lot to cloud the issue of salvation.

What about you ? Are you leading someone to or away from God's church, by a lukewarm testimony rather than to the truths of the gospel ( 2 Tim 3:16).