Pain and Suffering?: Part 3 of 3
by John Lowe
(Laurens, SC)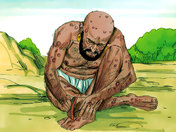 How will you handle trouble? Will it bring you closer to God? Will it turn you away from God? Will it turn you against God? There are several suggestions that may be helpful to us as we consider the possibility of suffering in the future.

First, let's get acquainted with Jesus as Savior and Teacher and Friend and Helper. Let's study the example of Jesus as he dealt with the pain and suffering of others. And let's be assured that He is the same yesterday, today, and forever. And before suffering comes, we need to develop some resources to assist us in times of trouble. In the same way that we take out liability or accident insurance, let's take out some spiritual insurance. There are five things that we can do to prepare ourselves for future troubles:

First, we must develop the daily habit of a quiet time in which we let God speak to us from His Word. That calls for Bible study and meditation.

Second, we must let prayer be a conversation with God in which we not only speak to him but let Him speak to us.

Third, we need on a regular basis to participate in public worship and allow God to use this time to draw us closer to Him.

Forth, we need to develop genuine Christian friendships with other members of the family of God, so they can be the means of God's ministry to us when trouble comes.

And fifth, we must expect the angels of God to come in our time of need.

In the meantime, we must not be anxious about the trouble that may come in the future. Let's determine to live the Christian life now under the leadership of our risen Savior and in the power of the Holy Spirit.

I'll give you the rest of the story, just in case some of you don't remember. In the last chapter of Job, we are told—

The Lord gave Job twice as much as he had owned before. The Lord blessed the last part of Job's life even more than the first part. Job had fourteen thousand sheep, six thousand camels, a thousand teams of oxen, and a thousand female donkeys. Job also had seven sons and three daughters. God restored everything to Job, and then gave him even more.

I believe that we can all relate to this message, because I know that each of you has experienced sickness, and sorrow and discouragement. But the message is clear from our study today; you don't have to suffer alone. God will help; Jesus will help; the Holy Spirit will help; Christian friends will help.

But, we must face the facts; God does not always remove the pain or trouble. He didn't remove the cup from Jesus, as He prayed and agonized in the Garden of Gethsemane; and He didn't remove Paul's "thorn in the flesh."

When you pray for relief from the pain that plagues your body and seemingly there is no answer, what will you do? You will not be able to ignore the pain, because pain is no illusion. But God's children can be sure of this: when God doesn't remove troubles and temptations, He will give us grace sufficient to get through them. God's grace is sufficient to comfort and strengthen us.

Many people have this false impression that if they try to be good and try to do right that God will exempt them from pain and suffering and trouble. This way of thinking is unrealistic and unbiblical. It is contrary to the experience of great saints who suffered down through the ages.

It is not always good to use one's self as an example, but as I wrote this message, I thought of the many times that God has helped me get through physical problems. He has brought me through heart surgery, two hip replacements, two knee surgeries, two hand surgeries, gallbladder surgery, depression, high blood pressure, sleep apnea, hernias, a broken neck, pneumonia, arthritis, bulging and cracked vertebrae in the back, neuropathy in my feet, diabetes and more.

I have prayed and asked God to heal me each time, but each time the answer has been, "I will get you through it." Many of the problems still exist and I still have pain, but I am getting through with God's help. Now I am able to look back and see that some of these troubles were placed on me by God for my own good. Several times sickness made me turn away from a sinful lifestyle and turn back to God. Several times He put me in a position where He was my only hope. I can see now that these things have made my faith in Him stronger. I depend upon Him now, and not myself or others.

But let me tell you of my hero. His name is Michael Epps. I first met him when Sierra and I began a Sunday morning worship service at The Inn at Laurens. Michael was 40 years old, blind and had severe diabetes. But that's only his "thorn in the flesh."

He wrote what I call spiritual poetry; poems that are based upon scripture. He wanted to have them published, but that was not to be. And I loved to hear him pray. His prayers recognized the holiness of God, and they brought praise and worship. He lived several years at Laurens Memorial Home, and he was a strong witness for Christ there, just like he was at the Inn.

The amazing thing about him was that despite all his problems he never complained. He was always giving encouragement to others. He was my friend and he is a good example of one who copes with pain by trusting God. Michael died last year, but I thank God for bringing us together. I believe that Jesus helped him to live with his physical problems.

Jesus came to save, but he also helped people cope with pain. We have no record in the Scriptures of Jesus ever turning away from those who were in pain. He healed the sick. He gave sight to the blind and hearing to the deaf. He enabled the lame to walk. With faith in His love and kindness, we can face the pain that comes our way. We can be assured that God's blessings will rest on our doctors and modern medical facilities, and we should not hesitate to seek these services as we cope with pain.

Jesus also came to help us cope with the pain of being fallen creatures, mistake-makers, sinners who are lost and do not know the way home. Jesus came to help us cope with our incompleteness and our spiritual deadness toward God. Jesus came to help us avoid the agony of missing heaven when this life is over. He died on a cross and conquered death and the grave in order to prepare for us a home in heaven.

Let us trust Jesus to help us overcome all of the pain associated with being human beings, and let us rejoice in the fact that there will come a day when there will be no more pain, no more suffering, and no more trouble. And the Bible tells us that He will provide everything we need personally. If there is anything you need tonight, just ask God for it, and if it's God's will for your life, it will happen.

We are going to have an invitation now, and if you are experiencing pain, or suffering, or trouble, I hope you will come and ask your heavenly Father to either remove it or give you the grace to get through it.