PAINTING THE COUNTRY PURPLE
by CharlesRobey
(Trussville, AL USA)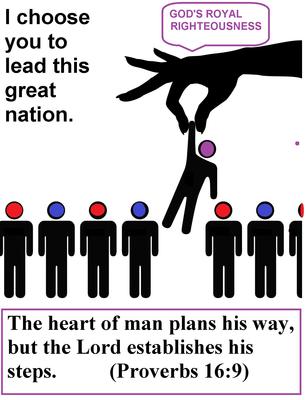 "And they shall take away the ashes from the altar, and spread a purple cloth thereon:" (Numbers 4:13)


It seems, with all the happenings in America today, the only idiom we hear about is the "Red States verses, Blue States" mindset. The red states taking on the conservative ideology, and the blue states standing for a more broadminded agenda.

The concept of turning this great country of ours into a juvenile demographic coloring book, just seems a bit adolescent for our 21st Century environment. This perception may play out well in our modern day "HD" television. " However, I just can't seem to squander up enough adjectives to do this concept justice.

The famous American humorist Will Rogers, when he poked fun at the latest antics of politicians once said, "Well, all I know is what I read in the papers."

If Mr. Rogers were alive today, he would probably say, "Well, all I know is what I read in the papers, see on TV, or surf on the Internet." And oh, how busy he would be in interpreting the truth, and seeing through all the political propaganda.

Unlike Mr. Roger's generation, which probably had less news favoritism, never before have we seen so much bias in the news media, so much one-sided reporting or the covering up of the true facts. These false maneuvers are politely politicized as "political spin". I tend to label these expressions as "smear campaigns" Yes see, I tend to err on the side of truth, rather than be "politically correct." And these political campaigns are now running rampant in this year's election process.

What do we mean by "smear campaigns"? In my opinion, smear campaigns are an intentional, premeditated effort to undermine an individual's or group's reputation, credibility, and character. Like negative campaigning, most often smear campaigns target government officials, politicians, political candidates, and other public figures.

And like Mr. Rogers, I read a lot in the various news media outlets concerning our current political happenings. Some stories I tend to believe; with others I have my doubts.

There have been a number of news features published lately, concerning both sides of the political aisle. Yes, "negative campaign tactics" seem to be the order of the day. All one need do is spend just a few minutes on the World Wide Web, searching for the candidates by name or the political affiliation to find any number of smear ads.

Who is generating such insults? Could it be the candidates' prideful influences or thirst for power? Could it be the parties' super ego? Or could it just be the news media's desire to control the outcome of the election?

You see, candidates are not held to the same commercial standards as the other for profit industrial businesses, and the reason is simple: their statements and advertisements are considered "political speech," which falls under the protection of the First Amendment. The noble idea undergirding what otherwise seems like a political loophole is the belief that voters have a right to uncensored information on which to base their decisions. Too often however, the result is a system in which the most distorted information comes from the campaigns themselves. And as this year's presidential race is showing, that presents an opportunity for a candidate willing to go beyond simple distortions and exaggerations by making repeated and unapologetic use of objectively false statements.

In other words, it is legal to lie in national political advertising. Federal candidates
can say just about anything they want, protected by the Court's interpretation of free speech. The disclaimer "I approve this message," doesn't mean it's true, but it does get candidates the cheapest TV and radio ad rates, in compliance with the Bipartisan Campaign Reform Act. If a federal candidate's ad is deceptive, broadcasters have to run it as required by the Federal Communications Commission. Thus we have this year's ads.
The bottom line of all the smear is the evil influences this old world is now encountering (Ephesians 6:11-12).
And this evil is coupled with the lies, or misrepresentation of the truth that seems to exist in some candidates more than others. We must do our homework and discern the truth.
In John 8:32 the Scripture tells us that when we know the truth, we shall be set free. In this, the most important election of all time, it is imperative that we Christians not only know the truth about each candidate, but that we vote the truth. When this is done, we will have a clear conscience. We will be set free of all fear and of all anxiety. The final result is we will be free in our vote decision.
To expand on this issue of truthfulness, the issue of truth in the political process, and the truth in the paid political commercials is what prompted the thinking of this blog.
Conversely, I am not sure if these political commercial issues actually matter in the overall scheme of correcting America's corporate sins. The fact is that only God can help our evil situation, not politics, and certainly not the news media. You see, God's sovereignty has, and always will be in command (Daniel 2:19-23). America must repent, if the country is to survive (1 John 1:9). Not only in today's world, but in past history as well, government leaders have always subverted the truth.
How do we do this, repent of our sins that is? Our loving Heavenly Father has given us His game plan for our country, and our lives in 2 Chronicles 7:14. If we do according to His dictates, He has promised to hear us and heal our land. Are we willing to conform to His will? If so, then we will turn both the "Red States" and the "Blue States" into purple, the color of God's royal righteousness'. Amen!
Author's Postscript:
Red states and blue states refer to those states of the United States whose residents predominantly vote for the Republican Party (red) or Democratic Party (blue) presidential candidates.
This terminology came into use in the United States presidential election of 2000 on an episode of the Today show on October 30, 2000. According to The Washington Post, the terms were coined by journalist Tim Russert, during his televised coverage of the 2000 presidential election. That was not the first election during which the news media used colored maps to depict voter preferences in the various states, but it was the first time a standard color scheme took hold; the colors were often reversed or different colors used before the 2000 election. (excerpt from wikipedia.org)
The Color Purple
Purple's rarity in nature and the expense of creating its dye gave it a great deal of prestige. It was the most expensive dye known to the ancient Israelites in the Bible. It was the color of choice for those of noble or royal birth or those who were high-level officials.( excerpt from biblestudy.org)
http://ccrobey.wixsite.com/themessage