Paul and Wisdom: Part 5 of 5 (series: Lessons on 1 Co.)
by John Lowe
(Woodruff, S.C.)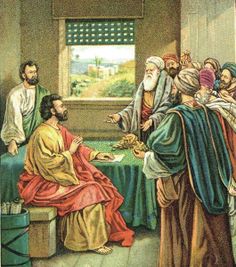 Summary
In these verses, we have learned:
1. The proper method to convert people in any community, Christian or pagan, is to preach or testify of the truth concerning the person and work of Christ. Whatever other means are used must be subordinate and supplementary, and designed to remove obstacles, and to gain access for the truth, just as the ground is cleared of weeds in order to prepare it for the precious seed.
2. The proper state of mind in which to preach the Gospel is the opposite of self-confidence. The Gospel should be preached with a sense of weakness and with great anxiety and apprehension.
3. The foundation of saving faith is not reason; that is, it is not arguments addressed to the understanding; rather, it is the power of God exerted on the heart by the truth.



Join in and write your own page! It's easy to do. How? Simply click here to return to John Lowe Sermons.
© 2008-2028 - All rights reserved.

No content on preachology.com may be printed or

copied to any other site without permission.