"Paul Before Agrippa" Page 2 of 6 (series: Lessons on Acts)
by John Lowe
(Woodruff, S.C.)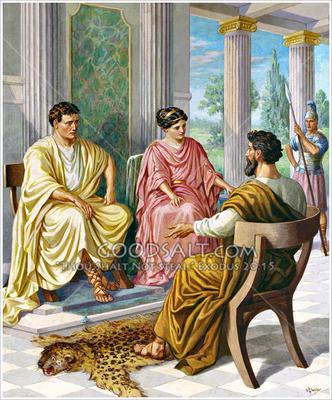 8 Why should it be thought a thing incredible with you, that God should raise the dead?


The point of the question raised here has been understood in various ways. Some see it as a reference to the general resurrection and therefore as an appeal to the Sadducees, some of whom may have been present. Others find here a reference to the instances in the Old Testament in which life was restored (1 Kings 17:17-23; 2 Kings 4:18-37), seeing this as the first half in the argument that "there will be a resurrection of both the righteous and the wicked" (24:15).

Surely God can restore life to a human being that he has made. The argument in support of that statement may sound like this: "A God who can make a human body out of some 68 trillion cells, and make each cell so small that it takes a very good microscope even to see one and a super-microscope to see inside one, yet each one is a miniature city with power stations, transportation systems, methods of communication; who can make each such cell a highly specialized and fantastically complex chemical structure, can certainly raise the dead. After all, when we stop to think about the astonishingly complex process by which a human body is created and to think about the even deeper mystery of life itself, it is no more incredible that we should live again than it is that we should live at all. Why, indeed, should it be thought an incredible thing that God raised the dead? It is incredible that men could raise the dead; but not that God did indeed raise the dead."

9 I verily thought with myself, that I ought to do many things contrary to the name of Jesus of Nazareth.

"I verily (really) thought," says Paul, "that I ought to do many things contrary to the name of Jesus of Nazareth." The title emphasizes the essential humanity of the despised and rejected Savior. That such a man should claim to be the Son of David, Messiah of Israel, and, above all, the Son of the living God was more than the unregenerate and religious Saul of Tarsus had been able to accept. "Jesus of Nazareth" had been crucified and therefore was accursed. Though he was a Pharisee and believer in resurrection, he had certainly placed no credence in the claims that "Jesus of Nazareth" had been raised from the dead. No good thing came out of Nazareth. That people should actually perpetuate the notion that this despised "Jesus of Nazareth" was the Savior of the world had been obnoxious beyond words to this very devout and religious Jew.

It was a telling part of Paul's testimony. It showed that he had not always believed in Jesus. He had once been as much an unbeliever in Jesus as he had been a believer in rabbinic Judaism. Here a note of shame creeps into the narrative. By the emphasis of the opening words of verse nine, Paul showed that he now regarded his opposition to Jesus as an act of utter self-delusion. The emphatic "I" of verse 10 (in the Greek) maintains that theme, as does the description of his victims as "the 2saints." And not only had he put many of the saints in prison (the Greek has "prisons"), but had intensified his guilt by assenting to the execution of some of them.

10 Which thing I also did in Jerusalem: and many of the saints did I shut up in prison, having received authority from the chief priests; and when they were put to death, I gave my voice against them.

Paul was known well enough to the Sanhedrin. He had been their fair haired boy, their chief and most valued agent in persecuting the infant church. His zeal had been well known and highly approved of by Israel's leaders, who had armed him with the necessary authority to stamp out Christianity. And he had been thorough. Through him believers in the Lord Jesus had been imprisoned and martyred. He had decided early on that the best thing to do was to lock Christians up, and if that did not silence them, then have them stoned to death.

"I gave my voice against them," he said. According to a Biblical law, when someone was to be stoned to death, "the hands of the witnesses shall be first upon him to put him to death" (Deuteronomy 17:7). Paul had on his hands the blood of those he had brought to death in his hatred of Christianity in its early days.

It is difficult to know how literally to take Paul's statement in verse 10. It claims to give an account of what he had done "in Jerusalem,"and from that we must suppose that he has reference to decisions made by the Sanhedrin, not some lesser
synagogal court. But would Paul have been a member of that august body and to have actually "voted against them" ("I gave my voice against them")—Christians who had been brought before him? It is doubtful, not only on account of his probable age at the time, but also because of his apparent obscure origins. The Sanhedrin was an assembly of aristocrats, composed of men of mature years and influence. It is just possible, of course, that he had won a place in their ranks on his sheer ability alone, but it is safer to assume that "voted against" means simply that "he gave voice against them" (he approved of putting them to death); the expression used in 22:20. As for Christians being "put to death," Paul may have been using a generalizing plural for dramatic effect, but the circumstances in Judea that had made possible Stephen's death may well have made others possible also.
11 And I punished them oft in every synagogue, and compelled them to blaspheme; and being exceedingly mad against them, I persecuted them even unto strange cities.
"And I punished them oft in every synagogue." "Punished them" refers to the disciplinary floggings administered by the synagogue authorities, which the Christian Paul later had to endure. Here he portrays his pre-Christian period, in which he had administered such punishment himself. "Blasphemy" means to insult God or his representatives.
Each synagogue had its own lower court which was subservient to the Sanhedrin. Armed with official papers, Paul had found it easy to enforce the edicts of the Sanhedrin against the Christians, especially since, in those early days, the Christian church was made up entirely of Jews and the synagogue was still their habitual place to meet. Wherever he went, he made the local synagogue his center of operations. He worked out of the synagogues, which functioned as local courts with powers of discipline over their members, that is, over the local Jewish Communities. Paul descended on the synagogues of Palestine like a grand inquisitor. He rooted out the Christians and did his best to "force them to blaspheme" (the name of Jesus) (13:45; 18:6). The real significance of the expression is that it leaves open the question of whether he ever succeeded. In contrast to the abhorrence that he now felt for his own part in this, there is an undisguised note of admiration in Paul's words for the fortitude of those who suffered at his hands.
To Paul in those days it was much more satisfactory to get a Christian to renounce his faith and to curse the Lord Jesus than to have him imprisoned and executed. His lack of success in forcing Christians to blaspheme had infuriated him even more. He extended his field of operations by reaching out to foreign cities. As Christianity spread and took root in foreign lands (in no small measure the result of the widespread scattering of Christians through his own persecutions), Paul had pursued them there.
Paul knew for sure where his accusers were coming from. He had once been there himself. He had been one of them. He had once thrown himself heart and soul, in the fierceness of his fury, into the great cause of uprooting what he had considered to be a deadly heresy.
One can imagine the keen interest with which Agrippa, Festus, and the court followed this account of Paul's early anti-Christian activities.
12 Whereupon as I went to Damascus with authority and commission from the chief priests,
Next Paul spoke of the critical moment in his life. His encounter with the risen Lord was a crisis both in the Greek sense of judgment and in the modern sense of a turning point. As he had traveled to Damascus armed with the authority and commission of the chief priests, who were now, of course, his chief accusers; he was stopped in his tracks.
Nothing could have been further from the mind of Saul of Tarsus than conversion when he rose and saddle his camel that morning. He would have scorned the idea with oaths and curses. One fixed idea controlled him and that was to arrest as many Christians in Damascus as he could. Again and again he gloated over the documents, signed by the Sanhedrin and sealed with the high priest's seal that guaranteed the cooperation of Jewish officials in Damascus. He would pull them out of his purse and read them. He knew their wording by heart. Nothing could have been further from his mind than the idea that he was wrong in his beliefs and behavior; that he was an active and guilty enemy of God; that Jesus of Nazareth was in very truth the Son of God, and that, at that very moment, He was not only very much alive but was actually preparing to come down from heaven to confront Saul face to face.