Paul Before Agrippa: Part 3 of 6 (series: Lessons on Acts)
by John Lowe
(Woodruff, S.C.)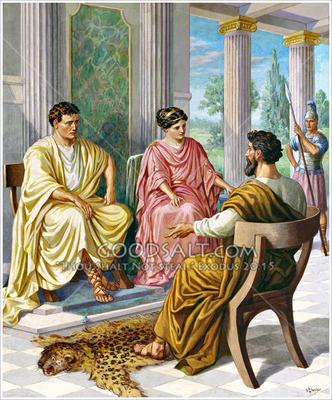 13 At midday, O king, I saw in the way a light from heaven, above the brightness of the sun, shining round about me and them which journeyed with me.
14 And when we were all fallen to the earth, I heard a voice speaking unto me, and saying in the Hebrew tongue, Saul, Saul, why persecutest thou me? 1it is hard for thee to kick against the pricks.

This was no private hallucination. In Paul's description, it happened "At midday;" a dazzling light ("above the brightness of the sun")shown from heaven causing everyone to fall to the ground, and they all heard the voice that spoke (9:7), though Saul's companions could not distinguish the words and what was actually said (22:9). Paul alone had understood it, for the "voice" had spoken to him in Hebrew (Aramaic; 21:40). This had been intimated in 9:4 and 22:7 by the use of the Semitic (Hebrew) form of his name, Saul. The voice spoke in the Hebrew language: in Aramaic, the native language of Palestine (6:1). This detail is added to increase the solemnity of the revelation and to emphasize again that Paul (who is speaking Greek to Festus, Agrippa, and the assembled nobles) is a "Hebrew of the Hebrews" (Philippians 3:5). Though the risen Christ speaks in Aramaic, he quotes a Greek proverb; "it is hard for thee to kick against the pricks."

This Greek saying is a common proverb, documented by at least three authors that illustrated how futile it was to struggle against the Greek gods who control human destiny. Some believe that the statement means Paul had feelings of guilt and was violating his conscience by persecuting believers in Christ. However, Paul wrote later that in spite of his blaspheming, violence, and persecution of the church he was shown mercy because he was acting in ignorance and unbelief—"Though I formerly blasphemed and persecuted and insulted him; but I received mercy because I had acted ignorantly in unbelief" (1 Timothy 1:13).

The image created by the proverb is taken from goading oxen with sharp sticks to make them move faster; when the oxen respond by kicking, it only hurts them more severely. The saying has a better explanation within its ancient context: it is useless for Paul to resist the divine purpose, for God has called Paul to become a Christian missionary, and God's purpose cannot be resisted.

There could be no mistaking who it was who had detained Saul. It was the Lord from heaven, the risen, ascended Christ, Jesus of Nazareth, who was for so long the object of Saul's blind hatred and bitter persecution.

The Lord knew full well the state of Saul's soul. Disguise it as he would, deny it as he might, the Holy Spirit's arrows of conviction had already been at work in Saul's heart. He was kicking against the 1 "pricks," an illustration taken from farm life—an ox that kicks against the pricks only earns itself more goading. Ever since he had seen the face of Stephen, Saul of Tarsus had been in trouble in his most sacred inner soul. He had seen the face of an angel. He had heard Stephen's testimony in the moment of death. Stephen had actually seen the risen Christ standing at the throne of God.

15 And I said, Who art thou, Lord? And he said, I am Jesus whom thou persecutest.

Saul had wanted to make quite sure. "Who art thou, lord?" he was immediately and forever convinced: "I am Jesus, whom thou persecutest." This means that though the risen Lord is absent, He still maintains solidarity with his people on earth, and to persecute them is to persecute Him.

It dawned on him in a flash. The answer to the need of his heart was Jesus, not Judaism—a living Man not an obsolete religion. Well indeed had the Temple veil been rent when Jesus died at Calvary!

He saw in a flash that, in all his recent activities, far from doing God a service, he had actually been tearing down, with blind hate and foolishness, the very work God was now doing in the world. And worse yet, he had been persecuting the glorious One who now filled his vision, the One who was indeed God manifest in flesh. He had been persecuting Him, the One whom angels worshipped, the altogether lovely One, the chiefest among ten thousand, the Creator of the universe, the one and only Savior of mankind, the One to whom all of the prophets gave witness.

The revelation produced an instant revolution. He was stopped in his tracks, horrified at his life. He was the chief of sinners. He was without God, without Christ, without hope. Yet—why did that glorious One not crush him where he stood? Why had He not done so years ago? The astonishing fact of the grace of our Lord Jesus Christ dawned upon Saul as he lay there prostrate on the ground. He saw, perhaps, the nail prints in those hands. It dawned upon him that Jesus loved him. The next few words proved it.

16 But rise, and stand upon thy feet: for I have appeared unto thee for this purpose, to make thee a minister and a witness both of these things which thou hast seen, and of those things in the which I will appear unto thee; "Now get up," the Lord said to Saul, "I want to tell you what I have in mind for you. There's work for you to do."

He was to be a "minister," a "messenger (witness)," and a "mediator." He was to be a minister—meaning an under-rower, a common sailor, one in a subordinate position, one who acts under the direction of another. The same word is used to describe John Mark and his relationship to Paul and Barnabas on Paul's first missionary journey (13:5). Paul was now under new orders. He was to serve under the direction of the Lord Himself. He was to be a messenger, "a witness." The meaning of the word is one who has information or knowledge of anything and can, therefore, give information concerning it. It came to mean one who bore witness to the truth by his death and, in that way, passed into the English language as martyr. The word was used by the Lord in commissioning His followers—"But you shall receive power when the Holy Spirit has come upon you; and you shall be my witnesses in Jerusalem and in all Judea and Samar′ia and to the end of the earth" (Acts 1:8).

He was to be a "mediator," a vehicle through whom truth would be revealed, and he was to communicate that truth to others. We know from the book of Acts and from Paul's own letters how faithfully he discharged these obligations.

17 Delivering thee from the people, and from the Gentiles, unto whom now I send thee,

Verses 17-18 detailed Paul's calling and at the same time provide an outline of his life from his conversion to the establishing of churches among the Gentiles. He was promised protection "from the people, and from the Gentiles," but only in the sense that he would be enabled to fulfill his calling, not that he would be spared any suffering in the process (2 Timothy 2:9).

Paul's primary sphere of witness was to be among the Gentiles. Much as his heart might yearn over his own people and nation, others were to be responsible for them. Paul was to go to the regions beyond. All his narrow-minded, rabbinic, Pharisaic, and Judaistic pride and prejudice was to be crucified. His field was the world.

For the Jewish authorities, it was unforgivable that Saul of Tarsus, their great champion, had become a Christian. When he threw himself heart and soul into the evangelization of Gentiles, it added insult to injury, and they responded with a great show of rage—"Up to this word they listened to him; then they lifted up their voices and said, "Away with such a fellow from the earth! For he ought not to live." And as they cried out and waved their garments and threw dust into the air" (22:22-23). But the fact that he had been so successful where their own proselytizing had been such a dismal failure was the last straw. If Agrippa wanted to know why the Jews were so vehemently opposed to Paul, here was the cause.

At the time of his conversion and call, Paul had been warned that his mission would not be an easy one. He could expect opposition, both from "the people" (the Jews) and from the Gentiles. But God would "deliver" him and come to his rescue.
Note that in this version of Paul's call, he receives the commission to go to the Gentiles immediately and directly from the risen Lord (contrast 22:17-21), Ananias plays no role (contrast 9:10-19; 22:12-16), and there is no reference to Paul's blindness, baptism, and receiving the Holy Spirit.