Paul Before Agrippa: Part 6 of 6 (series: Lessons on Acts)
by John Lowe
(Woodruff, S.C.)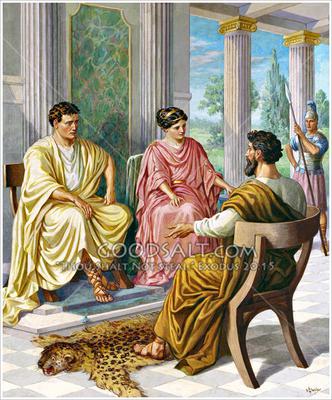 30 And when he had thus spoken, the king rose up, and the governor, and Bernice, and they that sat with them:

The meeting was over, and one by one they rose. The Holy Spirit was there, and He made notes in His book respectively and individually. "The king rose up." As the appointed chairman of this unofficial court of inquiry, it was he who brought it to a close—hastily, indeed, for he was afraid that Paul might bombard him with more of his soul-searching questions. He had come as close to the brink as he wanted to come.

"And the governor." Festus, too, had made his decision. Paul was mad. Christianity was for fools. He wanted no part of it.
"And Bernice." That poor young woman, so rich, so beautiful, so soiled, with the chance before her of being cleansed and set free from sin and guilt, she too rose up. For her, it was Agrippa or Jesus. The choice, for her, was the kind of life offered her by her mother or the kind of life offered to her by Jesus, represented by Paul and his bonds. Blinded by the lure of the world, by the lust of the flesh, and by the lies of Satan, she rose up.

"And they that sat with them." One by one the rich, the powerful, and the influential made their decision. Paul was a most interesting person, a most entertaining speaker, a most persuasive advocate. But who would want to change places with him? No man in his right mind.

They filed out, and once more Paul stood where his royal Master once stood, friendless, forsaken, betrayed by all.
31 And when they were gone aside, they talked between themselves, saying, This man doeth nothing worthy of death or of bonds.

Paul was unquestionably innocent of the crime of which he had been accused. Festus had been a fool. The Sanhedrin had set him up, but that was cold comfort for Festus. His face must have been a study in vexation as he looked anxiously at Agrippa only to have his worst fears confirmed. Paul might be mad (in Festus's estimation) but he was certainly not bad. The king would look at Festus and nod his head judiciously: "Not guilty, Mr. Procurator. The man is clearly not guilty."

The departing officials, including a Roman governor and a Jewish king, have not been converted. Luke's point is that they do not need to be converted in order to see the injustice of Paul's situation that "this man is doing nothing to deserve death or imprisonment."

32 Then said Agrippa unto Festus, This man might have been set at liberty, if he had not appealed unto Caesar.

So Festus's problem was back in his lap, not only unsolved but aggravated by the opinion of Agrippa and the others that, far from having done anything that would merit having his case referred to the emperor, he was entirely innocent. The sacred historian is not concerned with how Festus extricated himself from the corners of his dilemma. No doubt he was able to concoct some version of the story that put himself in as good a light as possible and Paul in the wrong.

But appealing to Caesar was a two-aged sword. Agrippa came right to the point: "This man might have been set at liberty, if he had not appealed unto Caesar."

This was in a.d. 59. Nero had not yet revealed his true colors, or Paul would surely never have appealed to him. Rome was enjoying what has been called a miniature golden age. It was not until a.d. 62 that the radical change took place at court. Burrus died, Seneca retired, Nero divorced Octavia and married Poppaea, a great friend of the Jews if not a proselyte. In a.d. 64 the disastrous fire broke out in Rome, believed to have been started by Nero, who made the Christians his scapegoat.

Nero had come to the throne in a.d. 54. Five years had passed and nothing had happened to reveal the monster (Nero) beneath the mask, when Paul refers his case to Caesar. Indeed, Paul may have been released from his first captivity some short time before the drastic change in a.d. 62. So his appeal seems to have been justified. He had, however, drawn the emperor's attention to himself, a fact not likely to be forgotten by the suspicious and sadistic Caesar once the mask was off. In a.d. 66 the Jewish war with Rome broke out, and Jews of any extraction were objects of suspicion.

Paul had appealed to Caesar. He was doomed; therefore, there would be more years of captivity. No lower court had the power to alter the course of legal events. Paul was a petitioner to the emperor. To the emperor, he must go. Agrippa's opinion would have been included in the cover letter for the case. Because Paul had used his Roman right to appeal to Caesar's tribunal, Agrippa and Festus can only refer him there with a letter specifying their own opinion. This necessity was likely political rather than legal, and it extracted Festus from a difficult political situation involving Paul's local accusers. This appeal had earlier saved Paul's life (25:3) and now it provides him free passage to Rome (19:21) and a public forum for the gospel there.

Additional Notes
1 "It is hard for you to kick against the pricks" was a Greek proverb; it was also familiar to the Jews and anyone who made a living in agriculture. An ox goad was a stick with a pointed piece of iron on its tip used to prod the oxen when plowing. The farmer would prick the animal to steer it in the right direction. Sometimes the animal would rebel by kicking out at the prick, and this would result in the prick being driven even further into its flesh. In essence, the more an ox rebelled, the more it suffered. Thus, Jesus' words to Saul on the road to Damascus: "It is hard for you to kick against the pricks." Modern translations have changed the word pricks to goads. All translations except the KJV and NKJV, omit the phrase altogether from Acts 9:5.
2 "Saints" is another term for Christians, those who belong to the church, the holy people of God. Holiness in such contexts refers to being set apart for a special purpose, not to personal piety. The church as a whole is set apart for the purpose of carrying on God's mission in the world (9:13, 32).
3 "Hand salute." On receiving permission from the judge (in this case, unofficially Agrippa), one could speak. Paul's hand is stretched forth in customary rhetorical style; gestures were an important part of ancient training in public speaking. Studies of ancient gestures suggest that the gesture opening this kind of speech might include putting together the thumb and middle finger as the outstretched arm moved from right to left.
4 (Acts 22:3, RSV) "I am a Jew, born at Tarsus in Cili′cia, but brought up in this city at the feet of Gama′li-el, educated according to the strict manner of the law of our fathers, being zealous for God as you all are this day."
5 "The lost tribes. The ten lost tribes were ten of the twelve tribes of ancient Israel that were said to have been deported from the Kingdom of Israel after its conquest by the Neo-Assyrian Empire circa 722 BCE ("before the Common (or Current) Era"). Claims of descent from the "lost" tribes have been proposed in relation to many groups, and some religions espouse a messianic view that the tribes will return.