Paul Before Felix: Part 2 of 4 (series: Lessons on Acts)
by John Lowe
(Woodruff, S.C.)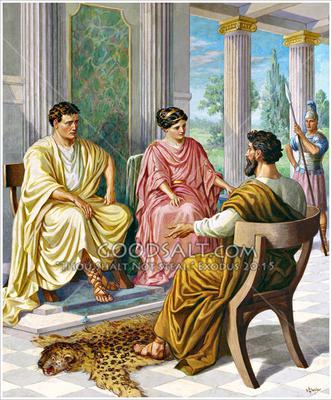 5 For we have found this man a pestilent fellow, and a mover of sedition among all the Jews throughout the world, and a ringleader of the sect of the Nazarenes:

At this point in his opening remarks, Tertullus turned to the charges against Paul. There were three. "For we have found this man a pestilent fellow."That was the first charge, and it was a very serious one—that he was a troublemaker, the implication being perhaps that this pestilence (lit., a "plague" or "pest") was contagious. He was trying to make out that Paul was one of the rashes of messianic revolutionaries who were appearing at that time; stirring up the people and forming "parties." Tertullus' ploy was the familiar one of accusing Christians of treason in the hope of involving Rome in what was essentially a religious dispute (17:7; 18:12; 19:37). Even though it was false, it put Paul in a dangerous position. The only ground there could have been for any such charge might have been that the account of the uproar in Ephesus, and at Philippi, had reached Jerusalem. Throughout the book of Acts, Luke found it necessary to point out that such charges were false. Every time Christianity was brought into contact with the Roman administrative system it was consistently confirmed to be a legitimate and law-abiding faith. It was the Jews, not Paul, who stirred up insurrection and riot in city after city of the empire where Paul preached. The charge against Paul could not stand impartial investigation. It was inflammatory and liable to provoke a passionate rather than a reasoned response; hence it was a dangerous accusation. It was a charge the Romans would not take lightly and it would have immediately grabbed Felix's attention. His entire administration had been marked by having to put down one insurrection in Judea after another. He had done so decisively and cruelly. He maintained the peace at any cost.

The second charge was that Paul was"a ringleader of the sect of the Nazarenes."The Jews would not call the believers "Christians," because the name was derived from "Christ" or "Messiah." Sometimes they were described contemptuously as "Nazarenes," doubtless a reference to the fact that Jesus came from the despised town of Nazareth. When Philip sought to bring Nathanael to Jesus and Nathanael learned that Jesus was from Nazareth, his instant response was, "Can there any good thing come out of Nazareth?" (John 1:46). Similarly, when Nicodemus dared to stand up for Jesus before the Sanhedrin his colleagues sneered: "Art thou also of Galilee? Search, and look; for out of Galilee ariseth no prophet" (John 7:52). The scoffers had evidently overlooked Jonah, the only prophet to whom Jesus directly likened Himself and who came from Gath-Hepher, just 3 miles northeast of Nazareth.

This second charge was certainly true. Paul was "a ringleader of the Nazarene sect." Paul was a Christian leader. By linking the comment with the charge of provoking insurrection, however, Tertullus' implied that the Christians as a whole were a dangerous and seditious sect and that Paul was one of their main collaborators. The ramifications of the Jewish charge are now infinitely clear. Should such a charge be made to stick for Paul, the whole Christian community would be viewed as a dangerous, revolutionary movement. Fortunately, Tertullus could not substantiate the charge, and Felix was already too well informed about Christians to take it seriously: "Then Felix, who was well acquainted with the Way . . ." (24:22a).

The third charge is found in verse 6.


6 Who also hath gone about to profane the temple: whom we took, and would have judged according to our law.

And from that charge, Tertullus moved to the next, that of sacrilege, for Paul, he said, had tried 2 "to profane the temple." As a result of Paul's attempted desecration, they had arrested him—the advocate made it sound as though this had been an official action, legally carried out, not the wild scene of mob violence that Luke has described in 21:30: "The whole city was aroused, and the people came running from all directions. Seizing Paul, they dragged him from the temple, and immediately the gates were shut." Tertullus implied that the Jews had fully intended to try Paul themselves. This charge was also false, but it had a small amount of truth in it seeing that Paul was in the Temple area when attacked by the mob—something Tertullus carefully avoided mentioning. Half truths are always more difficult to refute than outright lies. The buildup of lies, then, was carefully woven and presented as the truth by the orator and given a cloak of respectability and credibility by the presence of no less an ecclesiastical dignitary than the high priest and members of his college of cardinals, as it were. Such is always the way of organized religion in seeking to discredit and destroy God's choicest saints.

Had Tertullus substantiated this charge, it would have obligated Felix to turn Paul over to the jurisdiction of the Sanhedrin and almost certain death. The accusation, however, was totally false and based on an erroneous conclusion by the Asian Jews: "(They had previously seen Trophimus the Ephesian in the city with Paul and assumed that Paul had brought him into the temple.)" (21:29). This probably is why they were not present to substantiate the charge 3(24:29).

Tertullus knew that the Jews had authority from Rome to arrest and prosecute those who violated Jewish Law. True, the Romans thought that the Jews' devotion to their traditions was excessive and superstitious; yet Rome wisely let them have their way. The Jews were even permitted to execute guilty offenders in capital cases, such as Paul's "offense" of permitting Gentiles to cross the protective barricade and enter the temple (Acts 21:28-29). Tertullus argued that if Claudius had not interfered, the Jews would have tried Paul themselves, and this would have saved Felix and Rome a great deal of trouble and expense.

Paul was accused of promoting fanaticism and heresy. It is difficult to see how this charge would particularly impress a man like Felix. Obviously, the Jewish prosecution was trying to cover all its bases.


7 But the chief captain Lysias came upon us, and with great violence took him away out of our hands,
8 Commanding his accusers to come unto thee: by examining of whom thyself mayest take knowledge of all these things, whereof we accuse him.

Tertullus was relying on the presence of the high priest and members of the Sanhedrin to lend credibility to this out-and-out lie. With a flourish, he made his big bluff—let Felix examine the prisoner and see for himself.

In closing his argument, Tertullus' hinted that Claudius Lysias should have been there personally and had not just sent the Jewish leaders to present the case. Why was he absent? Could he not defend his case? Was he trying to "pass the buck" to others? As far as we know, during the two years, Paul was detained in Caesarea, Claudius never did show up to tell his side of the story. We wonder why.

Such then was the propaganda speech of Tertullus. And that is all it was, an attempt to brainwash Felix. The facts were all against the prosecution, which could only sling mud, hoping that some of it would stick, and hoping too, that the political weight of the Sanhedrin might intimidate the judge. Undoubtedly the plea of Tertullus has been abbreviated by the author of Acts.


9 And the Jews also assented, saying that these things were so.

Felix doubtless took all this with the proverbial grain of salt. He knew only too well the character of Ananias. In fact, in terms of unscrupulousness, Ananias and Felix were birds of a feather. Just the same, Felix was not likely to give Paul impartial judgment if he saw it as advantageous to himself.

The term "assented" means "joined in the charge," that is, they indicated that they were in agreement with these charges made against Paul. The "Jews" are the religious rulers who came down to press charges.


10 Then Paul, after that the governor had beckoned unto him to speak, answered, Forasmuch as I know that thou hast been of 4many years a judge unto this nation, I do the more cheerfully answer for myself:

Paul then proceeded to answer the charges of Tertullus' (24:10-16), the Asian Jews (24:17-19) and the Jewish Council (24:20-21). It is noteworthy that Paul does not mention any of Felix's deeds as a benefactor of the Jewish people—probably because there were none. Paul avoided the absurd flattery of Tertullus. He did, however, give a compliment to his judge. Jewish religious and political matters were complex, and very few Roman governors tried to understand them. At least Felix had been in office long enough to have acquired a working knowledge of Jewish affairs. He would certainly know what a scoundrel Ananias was. That may be the reason Felix did not take up the suggestion that he should question the prisoner. Instead, he indicated that Paul should speak for himself. Perhaps it was indicative of his sense of power that without a word, by a mere nod of the head, Felix gestured for Paul to begin his defense.