Paul Before Festus: Part 4 of 4 (series: Lessons on Acts)
by John Lowe
(Woodruff, S.C.)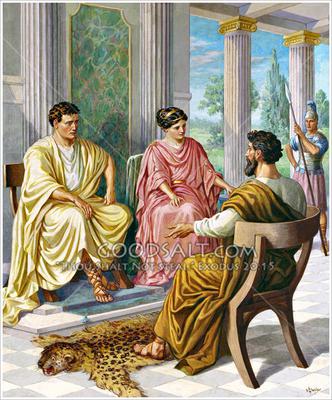 20 And because I doubted of such manner of questions, I asked him whether he would go to Jerusalem, and there be judged of these matters.
21 But when Paul had appealed to be reserved unto the hearing of Augustus, I commanded him to be kept till I might send him to Caesar.
22 Then Agrippa said unto Festus, I would also hear the man myself. To morrow, said he, thou shalt hear him.
"And because I doubted of such manner of questions."(20) Luke is at a loss regarding how to investigate these questions. He pictures the Roman governor in an awkward situation, holding as a Roman prisoner one who is guilty of no infraction of Roman law, but is involved only in Jewish religious disputes. Luke thus sends a message to perspective Roman readers; don't arrest Christians, or you will find yourself in an embarrassing legal situation.
Actually, Festus was in a sort of hot seat here. The charge against Paul was sedition and for that he should die, but he had committed no crimes. Now Paul has appealed to Caesar. What are you going to do with a prisoner like that? So he asked Agrippa to help him out.
"But when Paul had appealed to be reserved unto the hearing of Augustus."(21)"Augustus," meaning "reverend" or "worshipped one," though originally a family name had by now become an official title of the Emperor.
"I would also hear the man myself."(22)This clause can also be translated "I have been wanting to hear . . ." which would make the parallel to Herod Antipas role in Jesus' trial clearer (Luke 23:8; thus another parallel between the passion stories of Jesus and Paul (20:22; 21:1). This would also suggest that in each case the motive was a matter of curiosity rather than a quest for truth (24:25). I'm of the opinion that Agrippa had previously heard about Paul and was actually anxious to hear him speak. He wanted to know more about the charges and he wanted to hear what Paul would have to say. So they arrange for a meeting.
As a newcomer, Festus would naturally want the counsel of Agrippa, who knew Judaism but was more sympathetic to Roman interests than the priestly aristocracy was proving to be. Agrippa had a good Greek education, and Festus might have gravitated to him as one of the few local people with whom he could discuss such matters. Festus follows Agrippa's advice, and he doesn't need to worry about Jerusalem aristocrats complaints against his recommendation being conveyed to Caesar's tribunal (25:26).
It is interesting to see how this meeting was arranged by a king and a governor. Yet all the while they were actually fulfilling prophecy even though they were unaware of this. Paul is to appear before kings as the Lord had said.
23 And on the morrow, when Agrippa was come, and Bernice, with great pomp, and was entered into the 5place of hearing, with the chief captains, and principal men of the city, at Festus' commandment Paul was brought forth.
What a scene this was! Wherever did a preacher have a greater audience than this man? The setting is dramatic with great pomp and ceremony, which was characteristic of royal families, including Jewish ones. "The chief captains" may have been as many as five tribunes, Roman commanders of the five cohorts stationed in Caesarea (Given the political mobility of those in this office, Lysias might no longer be there.).
"Paul was brought forth."Paul appears in chains before this grand company of rulers and kings and tribunes and important local officials—both Jews and Romans. Early descriptions of Paul portray him as short, course, and physically unimpressive. Luke undoubtedly was contrasting the lowly prisoner Paul in the 5audience room with Agrippa and Bernice, the high-ranking officers, and the leading men of the city. Because five cohorts (each cohort had 1000 soldiers) were stationed at Caesarea, five high-ranking officers were there (literally "commanders of a thousand"; 21:31). The leading men of the city and the five high-ranking officers would act as a council to provide support for Festus, should he decide to call upon them.
Festus is asking Agrippa to help him frame the charge against Paul that would send him to Caesar.
24 And Festus said, King Agrippa, and all men which are here present with us, ye see this man, about whom all the multitude of the Jews have dealt with me, both at Jerusalem, and also here, crying that he ought not to live any longer.
25 But when I found that he had committed nothing worthy of death, and that he himself hath appealed to Augustus, I have determined to send him.
26 Of whom I have no certain thing to write unto my lord. Wherefore I have brought him forth before you, and specially before thee, O king Agrippa, that, after examination had, I might have somewhat to write.
27 For it seemeth to me unreasonable to send a prisoner, and not withal to signify the crimes laid against him.
Luke has allowed the story to change from a dispute between "some Jews of Asia" and Paul over their misunderstanding of his presence in the temple (21:27-33) to an issue between Jews as such and Christians as such.
"I found that he had committed nothing worthy of death";(25) though this is what "the multitude of the Jews"(24)clamor for. Once again the responsible Roman official declares the Christian missionary to be innocent of breaking any Roman law (17:35-39; 18:12-16; 23:29; 26:32; see the multiple declarations of Jesus' innocence by the Roman governor and centurion, Luke 23:1-22, 47).
"Of whom I have no certain thing to write unto my lord." "Lord"(26) was a common title for the emperor (Nero) by this period. Romans, unlike Greeks, would not yet be using it as a divine title. Festus thinks of Agrippa, as a Romanized Jew and as both unbiased and competent to give Festus advice.
"For it seemeth to me unreasonable to send a prisoner, and not withal to signify the crimes laid against him."(27) A governor would not dare to send a case to the emperor's court frivolously; Festus needs to provide a document explaining the prior inquiry (a cover letter). The charge against Paul is political, but all the evidence involves Jewish religion, which would be incomprehensible to Roman procurators. Agrippa II is the first official competent in both Roman and Jewish law to hear Paul's defense; he will, therefore, supply the evaluation for Festus's letter to Nero. If this Jewish king does not think Paul guilty, Festus has protected himself against complaints from Jerusalem's aristocratic priests.
In the next chapter, Paul uses this opportunity to preach one of the greatest Sermons ever recorded.

Additional Notes
1 CE refers to Common Era and is used in place of A.D. The dates are the same i.e., 2009 AD is 2009 CE.
2Apologetics (from Greek ἀπολογία, "speaking in defense") is the discipline of defending a position (often religious) through the systematic use of information. Early Christian writers (c. 120–220) who defended their faith against critics and recommended their faith to outsiders were called apologists. In modern usage, the term 'apologetics' is largely identified with debates over religion and theology in the USA. (From Wikipedia, the free encyclopedia.)
3 The right of appeal to the supreme power, in case of life and death, was secured by an ancient law called "an appeal to the people" and was available to every Roman citizen, and continued under the empire.
4 Chief priests. By this time the new high priest Ishmael had been appointed by Herod Agrippa II, but Ananias, the former high priest, was still around.
5 Place of hearing. Also translated "the audience room." Probably just an auditorium in the palace, not the judgment hall, for this was not a trial—the decision from the trial had already been made (25:12).
6 Able is used here for "influential."
7 Before me. Festus made the proposal that Paul should be tried by the Sanhedrin and that he should be present to see that it was a fair trial.
8 Superstition is translated "religion" in the RV.
9 Herod Agrippa I killed James and imprisoned Peter.