Paul Imprisoned: Part 3 of 3 (series: Lessons on Acts)
by John Lowe
(Woodruff, S.C.)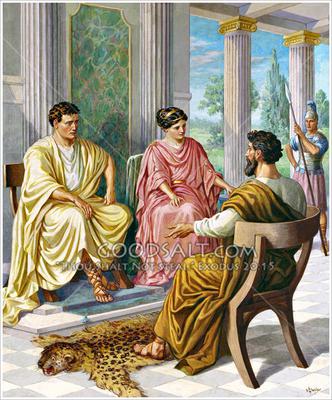 27 But after two years Porcius Festus came into Felix' room: and Felix, willing to shew the Jews a pleasure, left Paul bound.


As with many Mediterranean Communities in New Testament times, Caesarea had a mixed population, in which the Jews were an important minority. In their present mood of inflamed nationalism, clashes were bound to happen between them and the other elements of the population, and happen they did. Thus during Paul's imprisonment a disturbance broke out that led to street fighting between the Jews and the Greeks. In the end Felix lost patience and suppressed it with such 4violence that the outraged Jews (who had suffered most at the hands of his 6soldiers) were able to force his recall to Rome by the emperor Nero under an accusation of bad administration of his office. The best date for this is about a.d. 58, with Felix's successor taking office in the summer of a.d. 59. Luke's statement that Felix had hoped to curry favor with the Jews by leaving Paul in prison agrees well with the circumstances of his removal from office. History does not record anything about him after this. Meanwhile, Paul was left for the new governor, Porcius Festus, to deal with.

These years of Paul's imprisonment may have been put to good use by Luke in collecting information for the books he would write later. But some scholars feel that he shows to little detailed knowledge of the country—especially of Galilee and Samaria—to have been there for long and that it would have been far too dangerous for a Gentile companion of Paul to have hung around. In any event he was with Paul again in 27:1. Personally, I believe those two years in prison were the Lord's method of resting His servant, and preparing him for the years lying ahead of him, for they were years of comparative comfort. Almost surely Luke and Aristarchus were with him there; and Philip also, who 20 years before, had been driven from Jerusalem by the persecuting spirit of this very same man, and who only recently had been Paul's host, refreshing and lodging him in his own house for a short time.

A very interesting suggestion has been made that in all likelihood it was during this period that the letter to the Hebrews was written. I know the doubt and the difficulty about the authorship of that letter, and that there are those who think that Paul was not the writer. My own conviction is that Luke was the writer, but that he wrote what Paul had taught. Some of Paul's great letters—Ephesians and Colossians—were written during a later imprisonment in Rome. The majority of his
days of incarceration, however, were not days of toil and strife, but of quiet fellowship with Luke, Aristarchus, and Phillip, interrupted by conversations with Felix. The governor's mind, no doubt, was enlightened (24:22), his emotions were stirred (24:25), but his will would not yield. He tried to gain the world, but as far as we know, he lost his soul. He procrastinated himself into hell.
As for the new governor, Porcius Festus, he had no interest in Paul except as a means of currying favor with the troublesome Jews. It was now his thankless task to govern. He left Paul in prison. Two years of relative peace and quiet were now about to be broken for Paul. New storms were about to break upon his head.
End Notes
1
Believers were not called Christians in the beginning; instead, they were known as "the Way."
2
Also called "military custody." The NIV has "under guard."
3
The "Herod" of Acts 12.
4
Felix permitted the troops to sack and loot the houses of the wealthier Jews.
5
Drusilla and her son died twenty-one years later in the eruption of Mount Vesuvius!
6
One of the complaints of the Jews is that Felix had used Syrian troops to quell the fighting between Jews and Gentiles.
7
Azizus was circumcised for the sake of his marriage to but Drusilla.
8
"Liberty" means that he was not put in the common jail or kept in close confinement. He had limited freedom in the palace, chained to a soldier. (The guards were changed every 6 hours; that gave Paul a perfect captive congregation!)
9
"Romans 3:21-26(NLV)." "But now God has made another way to make men right with himself. It is not by the law. The law and the early preachers tell about it. Men become right with God by putting their trust in Jesus Christ. God will accept men if they come this way. All men are the same to God.For all men have sinned and have missed the shining-greatness of god. Anyone can be made right with God by the free gift of his loving-favor. It is Jesus Christ who bought them with His blood and made them free from their sins. God gave Jesus Christ to the world. Men's sins can be forgiven through the blood of Christ when they put their trust in Him. God gave his Son Jesus Christ to show how right He is. Before this, God did not look on the sins that were done. But now God proves that He is right in saving men from sin. He shows that He is the one who has no sin. God makes anyone right with himself who puts his trust in Jesus."