Paul in Malta: Page 5 of 6 (series: Lessons on Acts
by John Lowe
(Woodruff, S.C.)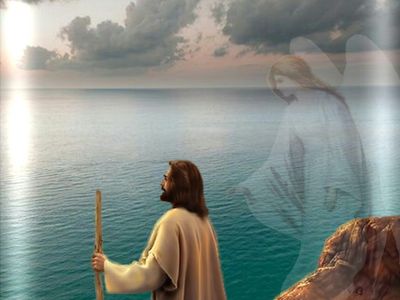 11 And after three months we departed in a ship of Alexandria, which had wintered in the isle, whose sign was Castor and Pollux.

"And after three months we departed in a ship of Alexandria, which had wintered in the isle." These were probably the winter months when all sailing came to a stand still. Thus, they remained on Melita during the months of November, December and January and now it is late January or early February in the year 61 A.D. Supposing that they had reached Melita about the end of October, as we have already seen, then it appears that they departed about the end of January, or the beginning of February. Though it is still winter, it's not the worst time for sailing, for even in those seas and at that time, the wind was generally more steady; and, on the whole, the passage was safer.

It seems that there was another Alexandrian ship which had wintered on the island. This is a ship just like the one that sank three months earlier; it is another grain ship, probably bound for Rome. It had got as far as Melita, on its way to Italy, before the stormy weather came on. If the harbor was then where it now is, the ship had wintered in what is now Valetta. They would complete the voyage in this ship.

"Whose sign was Castor and Pollux,"that is, the ship was adorned with figures of Castor and Pollux, two demigods much celebrated in those days among seamen, for they were supposed to have the power to save men in danger at sea; therefore, those who were about to go to sea, first paid their respects, and made vows to them; which they performed when they returned, and were delivered from shipwreck; and when they were in danger at sea, they used to pray unto them.

They were reputed to be twin brothers, sons of Jupiter and Leda, the wife of Tyndarus, king of Sparta. After their death, they are fabled to have been transported to heaven, and made constellations under the name of Gemini, or the Twins. They then received divine honors, and were called the sons of Jupiter. They were supposed to preside over sailors, and to be their protectors; hence it was not uncommon to place their images on the head and stern of ships. We may suppose that this Alexandrian ship had these on either her prow or stern or both, and that these gave the ship its name.

Whether the centurion chose this ship because of its sign, imagining that it might provide more safety, since he had already suffered shipwreck; or whether this was the only one available on the island that was in route to Italy, is not certain, nor very material.

12 And landing at Syracuse, we tarried there three days.

"And landing at Syracuse." Paul's voyage to Italy on board the Alexandrian ship that had wintered at Melita follows the regular route, sailing north from Valetta to Sicily. He and his companions landed at Syracuse, the capital of the island of Sicily, on the eastern coast. It was on the direct course from Melita to Rome. In order to go to Rome from Melita, their best course was to keep pretty close to the eastern coast of Sicily, in order to pass through the straits of Rhegium and get into the Tyrrhenian Sea.

Syracuse is one of the most famous cities of antiquity and was built about 730 years before the Christian era. It lies 72 miles from Messina, and about 112 from Palermo. In its ancient state, it was about 22 English miles in circumference and contained about 18,000 inhabitants. The trip from Melita to Syracuse was a distance of about 80 miles due north. Ships headed from Alexandria to Puteoli, in Italy, where they unloaded their cargo, commonly stopped there.

"We tarried there three days," but we are not told the reason for the delay; whether it was related to their cargo, or for the sake of publishing the gospel. It is certain there were churches in Sicily very early, because we read of them in the "second" and "third" centuries. In the time of Constantine, at the beginning of the "fourth" century, there was a church at Syracuse, of which Chrestus was bishop. In the "sixth" century, Maximinianus, bishop of this church, was given the task of inspecting all the churches in Sicily.

13 And from thence we fetched a compass, and came to Rhegium: and after one day the south wind blew, and we came the next day to Puteoli:

"And from thence we fetched a compass, and came to (arrived at) Rhegium." The term "compass" as it is used here doesn't refer to the magnetic compass that we are familiar with today, since that was not introduced into Europe until sometime in the twelfth century. In Paul's time "compass" was a nautical term for a method used by ancient sailors when the wind was not blowing in the direction they wanted to sail; that is to say, 'due to the wind they may have been forced to sail in the pattern of a half-circle; rather than a straight line.'

"Rhegium," pronounced ree jee uhm, was a seaport on the coast of southern Italy, across the Strait of Messina from the island of Sicily. This city was situated in the kingdom of Naples, on the coast near the southwest extremity of Italy. It was nearly opposite to Messina, in Sicily. The city takes its name from the promontory nearby.

"And after one day the south wind blew, and we came the next day to Puteoli." They stayed one day at Rhegium, and when they departed from there they took advantage of a change in the wind pattern; now they had a south wind, which was favorable to them. This change in the wind patterns was just what they needed to sail without undue danger between the famous rocks of Scylla and the whirlpool of Charybdis. Thus by a change of wind they were able to go speedily forward, instead of tacking as they had been obliged to do from Syracuse to Rhegium.

Whether the apostle preached there, or not, is not certain, since his stay was so short. In ecclesiastical history there is no account of any church in this place, until the fifth century.
"Puteoli," pronounced poo tee uh lih, was about a hundred and twenty miles from Rome, but it is there that the great grain ships from Alexandria were finally unloaded. The distance between Rhegium and Puteoli is about 180 miles. "Puteoli" was celebrated for its warm baths, and from these and its springs it is supposed to have derived its name, "The Wells." In Paul's day it was a principal port of Rome.

14 Where we found brethren, and were desired to tarry with them seven days: and so we went toward Rome.

"Where we found brethren," Christians—What a welcome sight this must have been to Paul!—which should not be a surprise, since it was a busy port, where many from different countries came and went; above all there were many Jews there, to whom the Gospel was first preached, and to some of them it was the power of God unto salvation in many places, and was certainly the case here. There had been many in Italy converted to the Christian faith, quite a while before this, which is evident from Paul's epistle to the Romans, written a number of years before this voyage. From this, we can safely suppose that there was a Christian Church already established in Puteoli, and that it was to some extent well-known, and that the Apostle learned of its existence immediately after his arrival. It would appear from this that the Christians in Italy had already spread out over the nation to a considerable extent, even though it was now only about 28 years since the death of Jesus. It seems very probable that Christianity had been carried into that country from Jerusalem soon after the first Pentecostal preaching, at which time Roman visitors were present in the Holy City. Of course in such a place as Puteoli, the Jews were likely to congregate due to the potential for making money from the import/export business. It may be that the earliest converts to Christianity were from the Jews living in Puteoli. It is interesting that, without any previous recorded visit by an Apostle, that there already existed in Puteoli a lot of Christians, as evidenced by the zeal with which the new faith was being propagated.

"And were desired to tarry with them seven days"; that is, the Christians at Puteoli desired (pleaded with)the apostle, and those that were with him, to stay a week, so that the Apostle might be present with the Church in Puteoli at least over one Lord's day, and experience the mutual enjoyment of one another's company; there being no comfort upon earth, that is more like communion with God, than is the communion of saints: "I have much to write to you, but I do not want to use paper and ink. Instead, I hope to visit you and talk with you face to face, so that our joy may be complete" (2 John 1:12).

Now, the Christian congregation would be able to gather in its entirety, and to hear from the lips of the great Apostle to the Gentiles, the Gospel for which he was now 'an ambassador in bonds.' We do not know whether any circumstances occurred in Puteoli that delayed Julius' departure, but if that were not the case, it is an indication of the great influence which Paul had gained over the centurion, that he was permitted to stay such a long time with his Christian friends, when the capital was so near at hand. This shows that the centurion treated the Apostle with great civility and courteousness, and was very ready to grant him favors; but, it is not unlikely, considering the entirety of his conduct that he was converted by Paul during this voyage.