Paul in Rome: Page 5 of 5 (series: Lessons on Acts)
by John Lowe
(Woodruff, S.C.)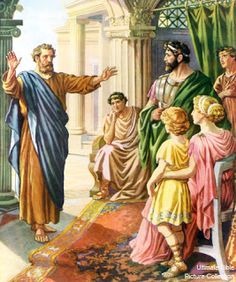 31 Preaching the kingdom of God, and teaching those things which concern the Lord Jesus Christ, with all confidence, no man forbidding him.

Verse 31 gives the content of his conversation with those who came to him. He "preached boldly" to them in the power of the Holy Spirit—without "hindrance." This is perhaps a quasi legal term, meaning that the Romans put no obstacle in the way of his testimony to the gospel. This in itself would be significant, an implicit evidence to the fact that the Romans found nothing dangerous or subversive in his message. This final word of the text of Acts points to even more—to the unbound gospel, triumphant over every barrier of superstition and of human prejudice. The content of Paul's message forms the conclusion to the message of Acts. He preached "the kingdom of God" and talked about "the Lord Jesus Christ." The two belong together; the good news of God's kingdom is the good news about Christ. This was the same message Paul shared with the Roman Jews (28:23). It is ultimately the central message of Acts. The book begins with Jesus sharing the message of God's kingdom with his disciples (1:3). It quickly raises the burning question, "Are you at this time going to restore the kingdom to Israel?" (1:6). That question has now been answered. God has indeed restored his kingdom—in the Messiah, in Christ. And it is open to all who will receive him, Jew and Greek.



Join in and write your own page! It's easy to do. How? Simply click here to return to John Lowe Sermons.
© 2008-2028 - All rights reserved.

No content on preachology.com may be printed or

copied to any other site without permission.