Paul Sees the Lord Part 3 of 3
by John Lowe
(Laurens SC, USA)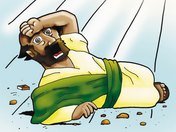 6 And he trembling and astonished said, Lord, what wilt thou have me to do? And the Lord said unto him, Arise, and go into the city, and it shall be told thee what thou must do.


Saul is right down in the dust on that road to Damascus. This is a remarkable conversion. He immediately reveals his conversion. This man who hated the Lord Jesus, who did everything he could against Him, now calls Him "Lord." And he asks what the Lord would have him do. He is ready to do the bidding of the Lord. He has been completely changed. "Wherefore by their fruits ye shall know them" (Mat. 7:20).. It is readily apparent what has happened to this man.

He was then commanded to do one thing, and it was very simple: "Arise, and go into the city, and it shall be told thee what thou must do." That is always the master's method. Was it a simple thing? No, it was a very difficult thing. They were expecting him in Damascus; those opposed to Christ were expecting him as their leader; and those with Christ were expecting him as their great enemy. Christ said, Go into the city and wait.


7 And the men which journeyed with him stood speechless, hearing a voice, but seeing no man.

Who were "the men who journeyed with him?" They could have been fellow travelers who joined together for security against robbers, but it is more probable that they were men who would assist in locating and arresting the Christians in Damascus. They were employed by the Jerusalem synagogues, but answered To Saul.

Saul's companions saw a light and heard a noise, but only Saul experienced the vision itself. Later on, it says that they didn't hear. Is this a conflict? No, they heard a voice but that was all. They couldn't understand what was said. It didn't make any sense to them. They didn't see anyone. There was no one for them to see. They were speechless with amazement. We shall see this in more detail in Acts 22 and 26.


8 And Saul arose from the earth; and when his eyes were opened, he saw no man: but they led him by the hand, and brought him into Damascus.

Saul was led by the hand into Damascus, for he
was blind, defeated, and captured. If Saul's "thorn in the flesh" (2 Cor. 12:7) was eye trouble, this may have been the prelude of it. At any rate, there is a sharp contrast between Saul in Acts 9:1 and 8. One moment he was storming up the road, determined to capture and imprison Christians. Soon thereafter, he was led like a child by the hand into Damascus. God's grace is often displayed in powerful acts and in apparent catastrophes.
9 And he was three days without sight, and neither did eat nor drink.
This man was blinded by the light he had seen from heaven. Here was a man who was puzzled as much as any man had ever been. Some men jump up and down when they are converted. Some jump for joy, and others cry. Not Saul of Tarsus. There never was a man as confused as he was. Had we met him on one of those three days in Damascus and had we asked him what had happened to him, his answer would have been, "I don't know." But he is going to find out.
Those were wonderful days, those three days of blindness. We are not surprised to read that he ate and drank nothing. What happened in his thinking? One little word in his Philippian letter gives us a clue—"But what things were gain to me, those I counted loss for Christ" (Phil. 3:7).What was it that he lost, and what did he gain? He lost his pride in his Jewish heritage, Hebrew birthright, Hebrew rite of circumcision, the observance of rituals, and Pharisee supernaturalism. He gained a new birth and a new life in Christ. I think that during those three days of blindness and fasting he was taking stock of his situation, and every hour there came to him a new consciousness, not of loss, but of gain. Now Saul understood that Christ truly lived, that he was indeed the risen Messiah. He had been saved by grace, not by Law, through faith in the living Christ. God began to instruct Saul and show him the relationship between the Gospel of the grace of God and the traditional Mosaic religion that he had practiced all his life.
TL1
Note: Paul is waiting; he has not yet received the message God had promised him (v. 6).