Paul's Defense Part 4 of 4
by John Lowe
(Woodruff, S.C.)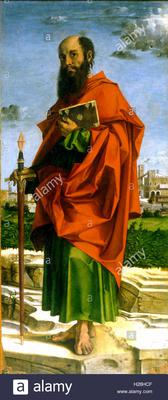 17 And it came to pass, that, when I was come again to Jerusalem, even while I prayed in the temple, I was in a trance;
18 And saw him saying unto me, Make haste, and get thee quickly out of Jerusalem: for they will not receive thy testimony concerning me.

The commission that Paul had received through Ananias was subsequently confirmed by a vision ("an ecstasy"; 10:10; 23:11) as he was praying in the temple (9:11). This was not mentioned earlier but it was important to mention it now to show that to Paul, a Christian, the temple remained a place of prayer and worship. A man who had prayed in the temple was not likely to have profaned it (21:28). Paul's experience would resonate with Jews, who knew that God had sometimes spoken to the prophets through visions (Isaiah 6:1-13).

Immediately after his conversion Paul retired to the wilderness of Arabia. I believe that during that time God revealed a great deal to Paul and prepared him for his unique ministry which included writing much of the New Testament, establishing churches, and preaching and teaching the Word of God. From Arabia he returned to Damascus, ran into opposition, escaped from his enemies, and paid a brief visit to Jerusalem, his first since his conversion. It was probably at that time he had the experience he now described to the crowd in the temple court. It had happened there, while he prayed.

Right after his conversion Paul must have began to witness, as Stephen had done before him, to the Greek-speaking Jews, and had attracted to himself the same hatred that he had once felt for Stephen. But the Lord had other plans for Paul than to let him perish at the very outset of his new career, a victim of the passions of the Jews, whether at Damascus or Jerusalem. "They will not receive thy testimony concerning me," He said. They might, perhaps, receive the testimony of others, but Paul stared too many passions. He could serve the cause of Christ better somewhere else. God's imperative purpose had been made clear to him—right there, in these same Temple courts, years ago. Get out of Jerusalem and hurry!

Almost certainly these verses belong to the period of 9:26-31. However, the different reasons given here and in 9:29 for him leaving the city have troubled some people. The two passages are not irreconcilable. In the earlier account, Luke was describing the circumstances as they would have appeared to an objective observer—a Jewish plot against Paul (which he was hardly likely to have mentioned now) that had led the disciples to take the action they did. Paul, on the other hand, speaks here of his own inner experience as he wrestled in prayer with the knowledge of that plot, wondering what he should do. In the end it had seemed that the Lord was endorsing the action proposed by the disciples, bidding him to leave Jerusalem immediately, because the people would not accept his witness. Paul's Gentile mission was thus connected closely to the refusal of the Jews to accept his witness to Christ.


19 And I said, Lord, they know that I imprisoned and beat in every synagogue them that believed on thee:
20 And when the blood of thy martyr Stephen was shed, I also was standing by, and consenting unto his death, and kept the raiment of them that slew him.
21 And he said unto me, Depart: for I will send thee far hence unto the Gentiles.

Paul's prayer in the temple is described as though he had debated with the Lord the question of whether or not he should go (leave Jerusalem). His argument was that if the people were going to listen to anyone, they would listen to him, for he had been a persecutor of the Way, going "from one synagogue to another," arresting and beating the believers (26:11). But then he had become a believer himself. Before that, he had even taken part in the murder of Stephen.

Paul continued, telling his audience (getting restless now, perhaps, from these references to their rejection of Christ and His witness and by the reminder of what they had done to Stephen) of his plea to the Lord that he might be allowed to make some amends for his part in persecuting the church, for he had been thorough and systematic in his attack, as the expression "in every synagogue" suggests. It can be rendered "synagogue by synagogue."

What Paul was attempting to do, by making this a pointed reference to his own past career as a determined persecutor of the church and by reminding his listeners of the active part he had played in Stephen's martyrdom, must have been clear enough to his listeners. He was trying to get them to realize, knowing his record as many of them did, that he must have had some convicting reasons for changing his ways. If that is what Paul hoped to accomplish, he was soon disillusioned, for with his next words the storm broke.

The crowd was willing to listen to Paul's conversion account, and they do not even object immediately to calling "Jesus of Nazareth" (v. 8) the "Righteous One" (22:14), but when Paul mentions that he was sent "to the Gentiles" (22:21), the crowd erupts with anger. For hundreds of years Jews had lived under Gentile rule. To many Jews the mission of the Messiah was to punish the Gentiles and deliver the Jews from their hands; instead of preaching a message against the Gentiles, however, Paul emphasized that this Messiah is sending him to preach the good news among the Gentiles. Jerusalem was not the Mission Field for him. God had told him so. His field was the world, the far-flung "Gentile" world. That was his commission, to be an apostle to the Greeks and to the Barbarians, to the Romans and to the regions beyond. The very people the Jews looked upon as dogs would be his sheep. If Paul had their interested attention at first, he had lost it now. Paul's statement—"I will send thee far hence unto the Gentiles"—infuriated them because they understood this to be the reason that Paul had brought a Gentile into a forbidden area of the temple—the false charge they had brought against Paul.