Paul's Message - Page 1 of 6 (series: Lessons on 2 Cor.)
by John Lowe
(Woodruff, S.C.)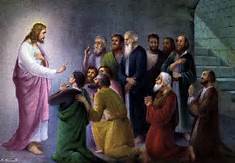 June 22, 2014

Tom Lowe
The Second Epistle of Paul to the Corinthians

Lesson II.B.6.b: Paul's Message. (5:16-21)


2nd Corinthians 5:16-21 (NKJV)
16 Therefore, from now on, we regard no one according to the flesh. Even though we have known Christ according to the flesh, yet now we know Him thus no longer.
17 Therefore, if anyone is in Christ, he is a new creation; old things have passed away; behold, all things have become new.
18 Now all things are of God, who has reconciled us to Himself through Jesus Christ, and has given us the ministry of reconciliation,
19 that is, that God was in Christ reconciling the world to Himself, not imputing their trespasses to them, and has committed to us the word of reconciliation.
20 Now then, we are ambassadors for Christ, as though God were pleading through us: we implore you on Christ's behalf, be reconciled to God.
21 For He made Him who knew no sin to be sin for us, that we might become the righteousness of God in Him.


Introduction

The heart of a believer has not been improved, but instead, he has been given a new heart by which he is brought by small steps to act upon new principles, by new rules, with new ends, and in new company. Just as in the original creation, he is the workmanship of God, who is constantly molding him in the image of His beloved Son, thus, it is said, "He (man) is created in Christ Jesus unto good works." Though there may be no visible outward changes, minor changes in his character and conduct may be observed. The man who formerly saw nothing about the Savior that interested him, now loves Him more than anything. Whereas, the heart that never changes could have an attitude toward God which ranges from cold indifference to outright hatred, and God is justly offended with him. But there CAN be reconciliation, because our offended God has reconciled us to himself by Jesus Christ. He didn't wait for us to come to Him, because He knew we never would. He took the initiative and by the inspiration of God, the Scriptures were written, which are the word of reconciliation; and then he sent Jesus to us showing that peace has been made by the cross, and how we may have that peace. And though God has nothing to lose by our stubborn rejection of His Son and nothing to gain by the peace He offers, yet he beseeches sinners to lay aside their hate, and accept the salvation He offers. Christ knew no sin. He was made Sin; not a sinner, but Sin, a Sin-offering, a Sacrifice for sin. The purpose of all this was so that we might be made the righteousness of God in Him, and might be justified freely by the grace of God through the redemption which is in Christ Jesus. Why would anyone not want to be reconciled with God? This is the theme of our passage—reconciliation


Commentary

16 Therefore, from now on, we regard no one according to the flesh. Even though we have known Christ according to the flesh, yet now we know Him thus no longer.

Therefore, from now on, we regard no one according to the flesh
The word "regard" is used here in the sense of "we know;" or "we form our opinion of;" "we judge;" "we are influenced by." Our opinion of a man should be based upon something other than "according to the flesh." The "flesh" being the person present and alive before one's eyes. There are two distinct persons in view here, Christ and mankind.

1. We are no longer to regard Christ according to the flesh. Our perceptions and views of Him are changed. We no more regard Him according to the flesh; we no longer think of Him as the Messiah who was to come as an earthly prince and warrior; but we think of Him as a spiritual Saviour and Redeemer from sin. The idea is that his views of Him had been entirely changed; that from the moment of his conversion he had laid aside all his views of His being an earthly sovereign, and all his feelings that He was to be honored only because he supposed that He would have a higher rank than all the monarchs of the earth.
2. We are to regard no one according to the flesh. We are to live in peace with all men, and do business with them; and yet, we are not to care for worldly and carnal things like those do who highly esteem a man's family, his country, his physique, social status, riches, and the like, and which men commonly dote upon and wear themselves out trying to obtain
for themselves. For instance, the outward distinctions of Jew or Gentile, rich or poor, slave or free, learned or unlearned, are lost sight of in the higher life of those who are made alive in Christ: "There is neither Jew nor Greek, there is neither slave nor free, there is neither male nor female; for you are all one in Christ Jesus" (Gal. 3:28). To know a man "according to the flesh" is to know him by the outward accidents and circumstances of his life: his wealth, rank, culture, knowledge. Paul had ceased to judge men by those standards. With him the one question was whether the man was, by his own act and choice, claiming the place which the death of Christ had secured for him, and living in Him as a new creature. That is the point of view from which he now "knows," or looks on, every man.
The doctrine which the apostle teaches here is that at conversion, the views are essentially changed, and that the converted man has an opinion of the Saviour entirely different from what he had before; his views in regard to His person, character, work, and loveliness will be entirely changed. He will see a beauty in His character which he never saw before. Before, he saw nothing in his character to be desired, or to render him lovely (see Isaiah 53:1-12); but at conversion the views are changed. He is seen to be the chief among ten thousand and altogether lovely; as pure, and holy, and benevolent; as mighty, and great, and glorious; as infinitely benevolent; as lovely in his precepts, lovely in his life, lovely in his death, lovely in his resurrection, and as most glorious as he is seated on the right hand of God. He is seen to be a Saviour exactly adapted to the condition and needs of the soul; and the soul yields itself to him to be redeemed by him alone.
There is no change of view so marked and decided as that of the sinner at his conversion in regard to the Lord Jesus Christ; and it is a clear proof that we have never been born again if our views in reference to Him have never undergone any change. "What think ye of Christ?" is a question the answer to which will determine any man's character, and demonstrate whether he is or is not a child of God.
Even though we have known Christ according to the flesh
Paul is saying that he has now renounced all mere earthly and human judgments; and here he implies that before his conversion, he looked on Christ as a "deceiver," or just after his conversion, when possibly he may only have partially known him as the Jewish Messiah that he knew Christ only in this fleshly way; but from now on he will no longer think of Him in that way. Paul's view of the Messiah was the same as the Jewish nation. There can be no doubt that Paul, in common with his countrymen, had expected a Messiah who would be a magnificent earthly prince and conqueror, one who they supposed would be a worthy successor of David and Solomon. Paul had confidently expected the coming of such a prince. He expected no other. He had fixed his hopes on that Messiah. This is what is meant by the expression to "know Christ according to the flesh." It does not mean that he had seen him in the flesh, but that he had formed, so to speak, fleshly views of him; such as the views held by people for their grand and magnificent monarchs and conquerors. He had had no correct views of his spiritual character, and of the pure and holy purposes for which he would come into the world. Though Paul said he had known Christ according to the flesh, it was not from the knowing that comes from sight, for we do not read that Paul saw Christ at any time (see Acts 9:1-43), but when he saw him, it was by the hearing of the ear, when he spoke to him on the Damascus Road.
Probably this "knowing Christ after the flesh" is a rebuke to those members of the Christ party at Corinth who claimed they had a special relationship to Christ—"Now I say this, that each of you says, "I am of Paul," or "I am of Apollos," or "I am of Cephas," or "I am of Christ." (1Corinthians 1:12)—who may have boasted that they were superior to all others because they had personally seen or known Christ. Some of them had seen Jesus while He lived on earth. Paul regards Christ, not in the light of earthly relationships and conditions, but as the risen, glorified, eternal, universal Saviour.