Paul's Message - Page 2 of 6 (series: Lessons on 2 Cor.)
by John Lowe
(Woodruff, S.C.)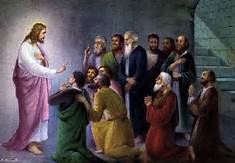 Yet now we know Him thus no longer

Christ can no longer be known in his mortal state, as He was before His death on the cross; now He is seated on His throne at His Father's right hand. And our hope is not to see Him in the flesh, any more than it was Paul's hope; for though such a sight and knowledge of him would be wonderful, yet a spiritual knowledge is much more desirable. There were many who knew him in the flesh, who neither enjoyed his spiritual presence here, nor will they be favored with his glorious presence hereafter. Moreover, we do not judge Him as we did before we had a spiritual knowledge of him, or as Paul and his countrymen did, by His outward circumstances, by His parentage and education, His poverty and afflictions, His company and conversation, that he could not be the Messiah, the Son of God, and therefore was worthy of death; we have quite different thoughts and comprehensions of him now, believing him to be the Christ of God, a spiritual Saviour and Redeemer, whose kingdom is not of this world. Paul and the New Testament believers had relinquished all their national prejudices, and former notions, concerning the Messiah, his kingdom, and people.

Paul had this advantage over the twelve, that when he was converted, he no longer "conferred with flesh and blood" (Gal. 1:16), that is, as one born out of due time he had never known Christ except in His heavenly life. To the Twelve it was "expedient that Christ should go away" so that the Comforter would come, and so they might know Christ in the higher spiritual aspect and in His new life-giving power, and not merely "after the flesh," in the earthly aspect of Him. Compare these verses:
• (Rom. 6:9-11) knowing that Christ, having been raised from the dead, dies no more. Death no longer has dominion over Him. For the death that He died, He died to sin once for all; but the life that He lives, He lives to God. Likewise you also, reckon yourselves to be dead indeed to sin, but alive to God in Christ Jesus our Lord.
• (1Co 15:45) And so it is written, "The first man Adam became a living being." The last Adam became a life-giving spirit.
• (1Pe 3:18) For Christ also suffered once for sins, the just for the unjust, that He might bring us to God, being put to death in the flesh but made alive by the Spirit,
• (1Pe 4:1, 2) Therefore, since Christ suffered for us in the flesh, arm yourselves also with the same mind, for he who has suffered in the flesh has ceased from sin, that he no longer should live the rest of his time in the flesh for the lusts of men, but for the will of God.

Doubtless Judaizing Christians at Corinth prided themselves on the mere fleshly—"Seeing that many boast according to the flesh, I also will boast" (2Co 11:18)— advantage of their belonging to Israel, the nation of Christ, or on their having seen Him in the flesh, and therefore claimed superiority over others because of having a nearer connection with Him. Compare:
• (2Co 5:12) For we do not commend ourselves again to you, but give you opportunity to boast on our behalf, that you may have an answer for those who boast in appearance and not in heart.
• (2Co 10:7) Do you look at things according to the outward appearance? If anyone is convinced in himself that he is Christ's, let him again consider this in himself, that just as he is Christ's, even so we are Christ's.

Paul here shows that the true aim should be to know Him spiritually as new creatures—"and He died for all, that those who live should live no longer for themselves, but for Him who died for them and rose again. Therefore, if anyone is in Christ, he is a new creation; old things have passed away; behold, all things have become new" (2Co 5:15, 17)—and that outward relations towards Him profit nothing. Compare:
• (Luke 18:19-21) So Jesus said to him, "Why do you call Me good? No one is good but One, that is, God. You know the commandments: 'Do not commit adultery,' 'Do not murder,' 'Do not steal,' 'Do not bear false witness,' 'Honor your father and your mother.' "And he said, "All these things I have kept from my youth."
• (John 16:7, 22) Nevertheless I tell you the truth. It is to your advantage that I go away; for if I do not go away, the Helper will not come to you; but if I depart, I will send Him to you. Therefore you now have sorrow; but I will see you again and your heart will rejoice, and your joy no one will take from you.


17 Therefore, if anyone is in Christ, old things have passed away; behold, all things have become new.

"Therefore, if anyone is in Christ,"
Dear Christian friend, you are in Christ, for all that are loved by Him, betrothed to Him, chosen and preserved by Him, are in Him, united to Him, and one with Him;
not in the same sense as the Father is in him, and the human nature is in him, but as husband and wife, and head and members are one: and there is a new being in Christ at conversion, when a man believes in Christ, and gives up himself to Him. Faith does not put a man into Christ, but makes him appear to be in Him: but such a person "is a new creature;" who understands that one is placed in Christ by a true profession of faith in Him. And the realization is that whoever is in the kingdom or church of Christ, who professes himself to be a Christian, ought to be a new creature. There are those who are secretly in Christ, chosen by Him from the foundations of the world, though they are not yet new creatures, yet they shall be such sooner or later; and those who are in Him, and are converted persons, are a new "creation."
He is a new creation
The expression "a new creation" is applied here by the apostle to those who are converted persons, and does not have anything to do with the outward improvements which a person' can make to his life by manipulating his manners, actions, speech etc. But here he has in mind that which is a new creation of God, not man's, within a converted person, an inward creative work of grace in which man is purely passive, as he was in his first creation. And the result is that he is made a new creature, or a new man, in opposition to, and distinct from the old with its corrupt nature; and because it is something which is newly implanted in the soul, which was never there before; it is not a working upon, and an improvement of the old nature, but an implantation of new principles of grace and holiness. Here is a new heart, and a new spirit, and in them new light and life, new affections and desires, new delights and joys; here are new eyes to see with, new ears to hear with, new feet to walk, and new hands to work and act with; "He is a new creation."
Old things have passed away:
The expression "passed away" means "to go out of existence." It may be an unfortunate translation, because the old nature will remain as long as a man lives, but when a man dies it goes to the grave along with the body, and the spirit of a "saved person" goes to be with the Lord. As long as we live, the old nature will, on occasion, cause us to sin. But, in a sense it has "passed away," for it is no longer the controlling influence in our lives. The old way of living, the old way of serving God for both Jews or Gentiles, the old legal righteousness, old companions and acquaintance are dropped; and all external things, such as riches, honors, learning, knowledge, former opinions of religion, are relinquished.
Behold, all things have become new
"Behold" is a word of exclamation and interjection meant to call our attention to something important; we might say, "Look!" or "See!" Paul really wants us to get it—there is a new way of life, both of faith and holiness; a new way of serving God through Christ by the Spirit, and from principles of grace; a new, another, and better righteousness is received and embraced; new companions are sought, and when found there is happy fellowship. New riches, honors, glory, a New Jerusalem, new heavens, and a new earth, are expected by new creatures: or the meaning conveyed here may be this; if any man is "in Christ," he has entered into the kingdom of God, where "there is neither Jew nor Greek, slave nor free, male nor female, for you are all one in Christ Jesus" (Gal. 3:28). He has become a new creature, or has entered into a new creation or into a new world, whether he is a Jew or a Gentile; for with respect to the former state of either one, "old things have passed away." Consider first the converted Jew—the whole Mosaic system is abolished; the former covenant is exhausted, and has vanished; the old ordinances of circumcision and the Passover are no more; the daily sacrifice has ceased, and all the other sacrifices are no longer required. Christ, the great sacrifice has been offered up; the priesthood of Aaron and the whole Law is obsolete; the observance of holy days, new moons and sabbaths, is over; the whole ceremonial law is at end; all the shadows of the Law are gone; and there is no more serving God in the oldness of the letter, but in the newness of the Spirit.
And what about the Gentile; he has turned from all the former idols he worshipped, and now he says, "What have I to do any more with idols? Or what agreement hath the temple of God with idols?" All former sacrifices, superstitious rites and ceremonies, with which he worshipped them, are abandoned by him, along with all other heathenish customs, rules, and methods of conduct he had been used to: "behold, all things have become new."