Paul's Methods - Page 3 of 9 (series: Lessons on 2nd Cor.)
by John Lowe
(Woodruff, S.C.)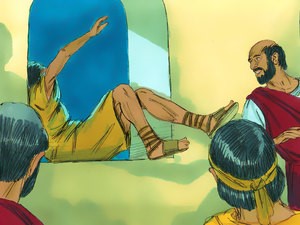 Paul's Methods - Page 3 of 9 (series: Lessons on 2nd Cor.)

3 We give no offense in anything, that our ministry may not be blamed.

We give no offense in anything
The word translated "offence" means "a stumbling block;" the offence, or cause of offence, resulting in a falling into sin. The meaning here is "allowing no opportunity for treating or regarding the Gospel with disdain, scorn, or contempt, or rejecting the gospel." In Romans 14:13, Paul speaks of stumbling blocks in general, as any thing over which a man stumbles or falls—"Let us not therefore judge one another any more: but judge this rather, that no man put a stumbling block or an occasion to fall in his brother's way—and here it means any transgression or scandal that might take place among Christ's ministers, or Christians themselves, that would be offensive to either Jews or Gentiles and might result in them vilifying the Gospel of Christ. The point Paul is making is that he and his fellow-apostles conduct themselves in such a way that no one who saw or knew them, would have reason to criticize their ministry, or the religion which they preached; but so that people would see in their pure and self-denying lives, the strongest argument for embracing the Gospel and joining with a Christian congregation. Compare:
• Matthew 10:16: "Behold, I send you forth as sheep in the middle of wolves: be you therefore wise as serpents, and harmless as doves." That is, I send you, inoffensive and harmless, into a cold, unfriendly, and cruel world.
• 1 Corinthians 8:13: "Why, if meat make my brother to offend, I will eat no flesh while the world stands, lest I make my brother to offend." This is truly a sign of Christian charity, a proof of brotherly love, and it shows a concern for the peace and welfare of others, when a person foregoes his own rights, and gives-up his liberty, rather than grieve, wound, and offend a brother in Christ.
• 1 Corinthians 10:32-33: "Give none offense, neither to the Jews, nor to the Gentiles, nor to the church of God: Even as I please all men in all things, not seeking my own profit, but the profit of many, that they may be saved." "Not seeking my own profit;" worldly profit and advantage, riches, wealth, the rewards of life, comfort, rest, and pleasure; and chiefly he means the use of liberty in things indifferent; he was willing to forego all for the good of others:
• Philippians 2:15: "That you may be blameless and harmless, the sons of God, without rebuke, in the middle of a crooked and perverse nation, among whom you shine as lights in the world. "Without rebuke" means without blame; without giving anyone a ground for complaining about you.
• 1 Corinthians 8:9 "Be careful, however, that the exercise of your rights does not become a stumbling block to the weak."
• 1 Corinthians 9:12 "If others have this right of support from you, shouldn't we have it all the more? But we did not use this right. On the contrary, we put up with anything rather than hinder the gospel of Christ."

The apostle knew there were people who were waiting and watching for any opportunity to point out an error or fault of his that might become apparent; something they could use to vilify and criticize the ministry of the Gospel, and in that way hinder its progress and spread; and if they could bring the Gospel into contempt by the disagreeable conduct of its preachers, there would be little hope of it being successful.

"We give no offense in anything:" Paul was willing to do most anything to make sure he gave no offense in anything. He was willing to forego his salary as a minister of the gospel (1 Corinthians 9:3-15). He was willing to allow others to be more prominent. He was willing to work hard and endure hardship. Paul was not afraid to offend anyone over the Gospel of Jesus Christ (1 Corinthians 1:18-25), but he would not allow his style of ministry to offend anyone. It is as if the apostle had said, "I Paul, Timotheus, Silvanus, and other ministers of the word, take all possible care to lay no stumbling block in the way of the hearers of the Gospel; to give no offence to them that are without, or to them that are within, to Jew or Gentile, or to the church of God, neither by word nor writing, by doctrine or conversation, or in any way whatever: that the ministry be not blamed; the ministry of the word of reconciliation, which they had received of the Lord Jesus.

That our ministry may not be blamed
The phrase, "the ministry," refers here not merely to the ministry of Paul, that is, it does not mean merely that he would be subject to blame and reproach, but that the ministry itself which the Lord Jesus had established would be blamed, or would be criticized due to the improper conduct of anyone who was engaged in that work. The idea is that the misconduct of one minister of the Gospel would bring criticism and accusations against the profession itself, and would prevent the usefulness and success of others, just as the misconduct of a physician exposes the whole profession to reproach, or the bad conduct of a lawyer reflects itself in some degree on the entire profession. And it is the same everywhere. The errors, foolishness, misconduct, or bad example of one minister of the Gospel brings a reproach upon the sacred calling itself, and prevents the usefulness of many others. Ministers do not stand alone. And though no one can be responsible for the errors and failings of others, yet no one can avoid suffering in regard to his usefulness due to the sins of others. Not only, therefore, from a regard to his personal usefulness should every minister be circumspect in his walk, but from respect to the usefulness of all others who sustain the office of the ministry, and from respect for the success of religion all over the world. Paul made it one of the principles of his conduct to act so that no man would have reason to speak reproachfully of the ministry on his account. In order to do this, he felt it was necessary not only to claim and assert honor for the ministry, but to lead a life that would deserve the respect of people. If a man wishes to secure respect for his calling, it must be by living in the manner which that calling demands, and then respect and honor will follow as a matter of course. We know, however, that Paul's ministry was blamed and discredited by the Corinthian Christians. What Paul means here is that our ministry may not rightly be blamed. Paul could not do anything about false accusations; except live in such a way that any fair-minded person would see such accusations as what they really were—false accusations, lies.

From here, Paul enters upon a long passage in which he shows how the 'ministry of reconciliation' is carried out. The demeanor of the Apostles towards those among whom they preached the Gospel is as forcible a mode of proclaiming the reconciliation as their words. Yet he has not lost sight of the vindication of himself, which runs through the whole Epistle.

4 But in all things we commend ourselves as ministers of God: in much patience, in tribulations, in needs, in distresses,

But in all things we commend ourselves, as ministers of God;
It is not sufficient for a minister of the Gospel to avoid everything that might bring a blot or scandal on his ministry; but he should show himself to be a true and faithful dispenser of the word. The idea in this clause is that Paul and his fellow laborers tried to live in a way that befitted the ministers of God, and so to commend the ministry to the confidence and affection of people. They strove to live in a way that was appropriate for those who were the ministers of God, and so that the world would be of a mind to do honor to the ministry. Compare:
• 2 Corinthians 3:1: "Do we begin again to commend ourselves? or need we, as some others, letters of commendation to you, or letters of commendation from you?" The false teachers at Corinth had been originally introduced there by letters of commendation from abroad. These were letters of introduction, and were common among the Greeks, the Romans, and the Jews, as they are now. Paul's life and ministry, and his many converts among the Corinthian believers were his commendation.
• 2 Corinthians 5:12: "For we commend not ourselves again to you, but give you occasion to glory on our behalf, that you may have somewhat to answer them which glory in appearance, and not in heart." I do not speak in order to commend myself to you; he had declared before that he trusted that he was made manifest to their consciences, and so he did not need to commend himself any more. But, the only reason I speak of myself is to give you an occasion to glory, to glory in me as the apostle of Christ unto you, or to defend me against the scandals and reproaches of those that reproach me, when themselves have no true inward cause of glorying, though they have in outward glorying in respect to their riches, wit, wisdom, and the like.