Paul's Methods - Page 4 of 9 (series: Lessons on 2nd Cor.)
by John Lowe
(Woodruff, S.C.)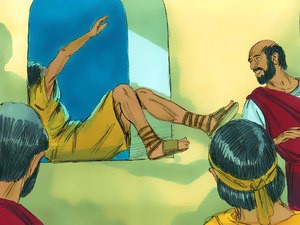 Yes, he does commend himself; but how? He looks back on his life of labor and suffering, and challenges others by comparison. Can others, with their letters of commendation, point to anything like this? What he means is that he as the minister of God should commend himself by acts and not by words. "But in all things we commend ourselves, as ministers of God": ministers of the gospel are in the first place to be considered as the ministers of God; secondarily, as ministers and servants of the church; which they ought to serve so far, as in serving it they do obey Christ. None can approve or commend themselves for ministers of God that live a scandalous life; God hath not sent them to place stumbling blocks in the way, but to remove them out of the way of men.

"But in all things" means in every respect: we commend ourselves in all that we do; in every way, both by words and deeds. The apostle probably has in mind the insinuation, which had evidently caused him deep pain, that he was not authorized to preach, as his Judaizing opponents were, who carried "letters of commendation" (see 2 Corinthians 3:1-3) from James or from the disciples at Jerusalem. His credentials came from God, who had enabled him to be so faithful as a minister of God: "Let a man so account of us, as of the ministers of Christ, and stewards of the mysteries of God. (1 Corinthians 4:1).

Paul now proceeds to state how he commends himself in the following verses.

In much patience
"In much patience" is more properly "in patient endurance," and here Paul is reflecting on his staying power when going through afflictions of all kinds. He enumerates some of his trials in the verses which follow. The idea is that a minister of God, in order to do good work which would commend his ministry, should set an example of patient endurance. He speaks of it as if it was a duty he owed to others; and if, when he is poor, persecuted, oppressed, slandered, or imprisoned, he would complain, or be antagonistic, the consequence would be that he would do little good by all his preaching—for his conduct would not validate his words. And no one can doubt, that God often places his ministers in circumstances where they face tough trials, and He does it, among other reasons, so that they may illustrate their own teachings by their example, and to show to their people the attitude and spirit they should exhibit when they must go through periods of suffering. Ministers often do a great deal more good by their example in suffering than they do in their preaching. It is easy to preach to others; it is not so easy though, to display just the right spirit when experiencing persecution and trials. People can, and do resist preaching, but they cannot resist the effect and power of a good example in times of suffering. Have you ever heard the saying, "You may be the only Bible some people ever read?" If you are a Christian, people ought to know it by the example you set with your life. Your conduct is so important, because they judge Christianity by what they observe of your life. Compare:
• Luke 8:15: "But the seed in the good ground—these are the ones who, having heard the word with an honest and good heart, hold on to it and by enduring, bear fruit." "But the seed in the good ground"—these are the ones who, having heard the word with an honest and good heart, hold on to it and by enduring, bear fruit.
• Luke 21:19: "In your patience possess you your souls." Quiet, brave patience in all difficulty, perplexity, and danger, was the attitude urged upon the believers of the early church by the inspired teachers. Paul constantly mentions this.
• Matthew 10:22: "Christ had forewarned his apostles that they would have much to endure, and had strengthened them by the promise that 'he that endureth to the end shall be saved.'" Christ had forewarned his apostles that they would have much to endure, and had strengthened them by the promise that "he that endureth to the end shall be saved"

In regard to the manner in which Paul says that the ministry may commend itself, it may be observed, that he groups several things together; or mentions several classes of influences or means. In this and the next verse he refers to various kinds of afflictions. In the following verses he groups several things together, pertaining to a holy life, and a pure conversation.

In tribulations
"Tribulations" is a general word or category which includes all sorts of afflictions and trials which they may be called on to patiently bear. And the words that follow are specific types of afflictions—needs, distresses, stripes, imprisonments, tumults, labors, sleeplessness, and fastings. Compare:
• 2 Corinthians 4:8: "We are troubled on every side, yet not distressed; we are perplexed, but not in despair." How often does this occur in the lives of all Christians! And how certain is it, that in all such cases God will intervene by his grace, and aid his people, and save them from absolute despair.
• 2 Corinthians 1:4-11: "who comforts us in all our tribulation, that we may be able to comfort those who are in any trouble, with the comfort with which we ourselves are comforted by God. For as the sufferings of Christ abound in us, so our consolation also abounds through Christ. Now if we are afflicted, it is for your consolation and salvation, which is effective for enduring the same sufferings which we also suffer. Or if we are comforted, it is for your consolation and salvation. And our hope for you is steadfast, because we know that as you are partakers of the sufferings, so also you will partake of the consolation. For we do not want you to be ignorant, brethren, of our trouble which came to us in Asia: that we were burdened beyond measure, above strength, so that we despaired even of life. Yes, we had the sentence of death in ourselves, that we should not trust in ourselves but in God who raises the dead, who delivered us from so great a death, and does deliver us; in whom we trust that He will still deliver us, you also helping together in prayer for us, that thanks may be given by many persons on our behalf for the gift granted to us through many.

In needs
Not our "wants," but those things we deem the necessities of life—food, drink, and clothing, without which we would be hungry, thirsty, and naked, as the apostles sometimes were. Paul was poor, and was often in need: "You know that these hands of mine have worked to supply my own needs and even the needs of those who were with me" (Acts 20:34). The apostle worked at tent making, along with Aquila and Priscilla, at Ephesus, and at Corinth, and supplied himself with the necessaries of food and clothing; for though he had the prerogative, as a minister of the Gospel, to abstain from working, and to insist upon support from the churches, yet in some cases, and in some places, he chose rather to forego their support, so that he would in no way hinder the progress of the Gospel, or be burdensome to the churches, or give the false teachers anything to use against him; and he not only supported himself in this way, but assisted others also.

In distresses
"In distresses" means being under "extreme pressure," either imagined or actual; a feeling that you don't know what to do, or which way to turn. Those who are impoverished, as Paul and the other apostles were at times, may have been "distressed." Paul said, "We are troubled on every side, yet not distressed; we are perplexed, but not in despair" (2 Co. 4:8). The apostles were great sufferers, yet they met with wonderful support. Believers may be forsaken by their friends, as well as persecuted by enemies; but their God will never leave them nor forsake them.


5 in stripes, in imprisonments, in tumults, in labors, in sleeplessness, in fastings;

In stripes
In this verse, Paul provides a list of those specific trials and afflictions which he had been called to patiently endure. In the previous verse (v. 4), he had spoken of his afflictions in general terms. Here, he begins to share the particulars of his sufferings and those of his fellow-laborers. They were scourged in the synagogues and cities as if they were common criminals. In 2 Corinthians 11:23-25, Paul says that he had been scourged five times by the Jews, and had been beaten three times with rods. In Acts 16:23, we are told, "And when they had laid many stripes on them, they cast them into prison, charging the jailor to keep them safely." The Jews were by law prohibited from inflicting more than 40 stripes, and usually inflicted 39. But there was no such law among the Romans. They were unrestricted in regard to the number of lashes, and probably inflicted many more.

The "stripes" were of two kinds—from Jewish whips and Roman rods. But of the five scourgings with Jewish whips not one is mentioned in the Acts, and only one of the three scourgings with Roman rods (Acts 16:23). Nothing, therefore, is more clear than that the Acts only furnishes us with a fragmentary and incomplete record, in which, as we gather from the Epistles, either the agonies of Paul's lifelong martyrdom are for some reason intentionally minimized, or else (which is, perhaps, more probable) Paul was so discreet about his own sufferings in the cause of Christ that Luke was only vaguely, if at all, aware of many scenes of trial through which he had passed.