Paul's Methods - Page 8 of 9 (series: Lessons on 2nd Cor.)
by John Lowe
(Woodruff, S.C.)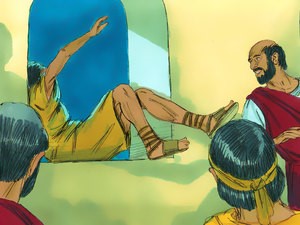 By evil report and good report
"By evil report," as the phrase is used here, is meant threatening language, curses, accusations, humiliating insults. It refers to the fact that they were often slandered and insulted. Their motives were called in question, and their names attacked with false, malicious, and damaging charges or insinuations. They were represented as deceivers and impostors, etc. The statement here is that in such circumstances, and when they were assaulted and rebuked, they tried to commend themselves as the ministers of God. Evidently they attempted to do this by not slandering or reviling in return; by manifesting a Christian spirit; by living down the slanderous accusations, and by doing good if possible even to their accusers. It is more difficult to bear such disparagements than it is to stand bodily pain; and it is consequently more difficult to display a Christian spirit then. It is exasperating to human nature to have one's name slandered and cast out as evil when we are conscious only of a desire to do good. But it is enough for the disciple that he is treated as was his master, and if they called the master of the house Beelzebub, we must expect they will also insult those of his household. It is a good idea for a Christian minister, or any other Christian, to do good when his name is unjustly slandered. It gives him an opportunity of showing the true excellence of the Christian spirit; and it gives him the indescribable privilege of being like Christ - like Him in His suffering and in the moral excellence of character. A man should be willing to be anything if it will make him like the Redeemer, whether it involves suffering or glory. Compare:
• Philippians 3:10: "I want to know Christ and experience the mighty power that raised him from the dead. I want to suffer with him, sharing in his death." We identify with Him in His sufferings and death, by imputation; also, in actually bearing the cross whatever is laid on us, after His example, and so "filling up that which is behind of the afflictions of Christ" (Col 1:24); and in our willingness to bear anything for His sake (Mt 10:38; 16:24; 2Ti 2:11). As He bore all our sufferings (Isa 53:4), so we participate in His.
• 1 Peter 4:13: "But rejoice inasmuch as you participate in the sufferings of Christ, so that you may be overjoyed when his glory is revealed."

As deceivers
Paul and the other disciples were, at times, regarded and treated as if they were "deceivers," and as if they would advance their cause by any trick or fraud that they could devise. Perhaps this refers to some charges which had been brought against them by the opposing faction at Corinth, or perhaps to the opinion which the Jewish priests and pagan philosophers had of them. The idea is that they were often regarded and treated as impostors, yet they strived to live as became the ministers of God. They bore the reproach with patience, and they applied themselves diligently to the work of saving souls. Paul seldom devoted his efforts to vindicating himself from such charges, but pursued his master's work, and evidently felt that if he had a reputation that was worth anything, or deserved any reputation, God would take care of it. David, like Paul, experienced false charges and harsh criticism, but he was always confident that God would vindicate him—"Do not fret because of evil men or be envious of those who do wrong; for like the grass they will soon wither, like green plants they will soon die away. Trust in the LORD and do good; dwell in the land and enjoy safe pasture. Delight yourself in the LORD and he will give you the desires of your heart" (Psalm 37:1-4). A man, especially a minister, who is constantly trying to vindicate his own reputation, usually has a reputation which is not worth vindicating. A man who deserves a reputation will ultimately obtain just as much as is good for him, and enough to advance the cause in which he is engaged.

And yet true
We are not deceivers and impostors. Though we are regarded as such, yet we show ourselves to be true and faithful ministers of Christ—upright and sincere, in the sight of God.


9 as unknown, and yet well known; as dying, and behold we live; as chastened, and yet not killed;

As unknown, and yet well known
"As unknown"—the idea may be that the apostles went about as strangers, and as unknown persons. Yet, though unknown they tried to commend themselves as the ministers of God. Though among strangers and without an introduction from the great and the highborn, they tried to convince the world that they were the ministers of God. This could be done only by living a holy life, and by the evidence of the divine approval which would show up in the success of their work. It is in this way that the ministers of religion, if they are faithful, may make themselves known even among those who were strangers. Every minister and every Christian, even when they are "unknown" and when among strangers, should remember their high character as the servants of God, and should live to commend the religion which they profess to love, and which they are called on to preach. But all too often, ministers, when among strangers seem to feel that they are at liberty to lay aside their ministerial character, and to engage in conversation, and even take part in activities which they themselves would regard as wholly improper if it were known that they were the ambassadors of God! And how often is it the case that professing Christians when traveling, when among strangers, forget their high calling, and conduct themselves in a manner wholly different from what they did when surrounded by fellow-Christians!

"And yet well known"—meaning our opinions and our principles are well known. We don't try to conceal or disguise them. Though little-known at the beginning, and without rank, or wealth, or power, or support, or anything to commend ourselves, we have succeeded in making ourselves known to the world. Though suspected of shady schemes, our principles are all well known to the world. No collection of people having the same obscurity of birth ever succeeded in making themselves more extensively known than did the apostles. The world at large became acquainted with them; and by their self-denial, zeal, and success, they extended their reputation around the globe.

They were "well known" to GOD THE FATHER, who loved them with an everlasting love, chose them in Christ, gave them to Him, made a covenant with Him on their account, and sent His Son to redeem them. And they were "well known" to JESUS CHRIST, who knows all that are His, specially, distinctly, perfectly, and He bears a strong affection for them, takes great care of them, indulges them with intimate communion with Him, and openly owns and acknowledges them as his own. And they are "well known" to the SPIRIT OF GOD, who enlightened and quickened them, regenerated and sanctified them, wrought faith and every other grace in them, witnessed their adoption to them, led them into all truth, filled and furnished them with His gifts, and dwelt in them, and dwelt with them, as the seal and earnest of their future glory. And they were well known to the SAINTS, and ONE ANOTHER: they loved each other, delighted in each other's company; they knew each other's experiences, joys, and sorrows, and, in some measure, their hearts, and even their spiritual and eternal estate.

As dying, and behold we live
"As dying"—that is, regarded by others "as dying." They were often condemned to death; exposed to death; in the midst of trials that exposed them to death, and that are normally followed by death—"I protest by your rejoicing which I have in Christ Jesus our LORD, I die daily" (1 Corinthians 15:31). I endure so many sufferings and persecutions, that it may be said to be a daily dying. I am constantly in danger of losing my life; and my sufferings each day are equal to the pains of death. Probably Paul referred here particularly to the perils and trials which he endured at Ephesus; and his object was to impress upon their minds the firmness of his belief in the certainty of the resurrection, on account of which he suffered so much, and to show them that all their hopes rested on this doctrine. The apostles passed through so many trials that it might be said that they were constantly dying. Why did they do it? They did it for Jesus—"We always carry around in our body the death of Jesus, so that the life of Jesus may also be revealed in our body. For we who are alive are always being given over to death for Jesus' sake, so that his life may be revealed in our mortal body" (2 Corinthians 4:10-11). "For Jesus' sake," that is, for our preaching, and professing Christ, and the doctrine of the Gospel. We are not delivered to death for doing evil, but for doing good; and that in the noblest sense, for obeying the commands of God, and for publishing the Gospel of Christ.