Paul's Personal Greeting (Romans series) Part 2 of 2
by John Lowe
(Woodruff, S.C.)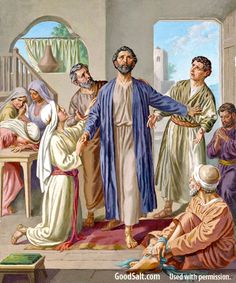 5 By whom we have received grace and apostleship, for obedience to the faith among all nations, for his name:


It was through Jesus Christ our Lord that Paul received grace (the undeserved favor that saved him) and apostleship. For that reason, Paul regards his calling as a heavenly gift. When Paul says we have received grace and apostleship, he is almost certainly referring to himself alone. His linking of apostleship with the nations or Gentiles points to him and not to the other apostles. Paul was commissioned to call men of all nations to obedience and faith—that is, to obey the message of the gospel by repenting and believing on the Lord Jesus Christ—"testifying to Jews, and also to Greeks, repentance toward God and faith toward our Lord Jesus Christ" (Acts 20:21). Paul wants to bring the nations of the world, both Jew, and Gentile, into obedience to the faith (i.e., the body of doctrine which he teaches). The goal of this worldwide proclamation of the message was for His name, and to please and to bring glory to Jesus Christ.

6 Among whom are ye also the called of Jesus Christ:

Among those who had responded to the gospel were those Paul dignified with the title the called of Jesus Christ, emphasizing that it was God who took the initiative in their salvation.
Who are the called? Well, they are those who have heard. The Lord Jesus made it clear when He said, "My sheep hear My voice, and I know them, and they follow Me" (John 10:27). If you are following something or someone else, you haven't heard Him, and you are not one of His sheep. The ones who hear and follow Him are the called ones. I never argue about election. For me, it's as simple as this: He calls, and you answer. If you have answered, you are among the elect, one of "the called of Jesus Christ." Paul assures the Roman Christians that they are called ones.

7 To all
that be in Rome, beloved of God, called to be saints: Grace to you and peace from God our Father, and the Lord Jesus Christ.
The Letter is addressed to all believers in Rome, and not (as in other Epistles) to a single church or person. The final chapter of the letter indicates that there were several gatherings of believers in the city, and this salutation embraces them all.
Paul states that these Roman believers are "beloved of God, called to be saints." These two lovely names are true of all who have been redeemed by the precious blood of Christ. These favored ones are objects of divine love in a special way, and are also called to be set apart to God from the world, for that is the meaning of saints. Sainthood is not to be identified with the practice of canonization which later arose out of the Roman church. The saint is one called of God and "holy," that is set apart to God. The saints of Rome were beloved of God, which marks them out as the undeserving yet grateful recipients of God's love. One of the interesting features of Paul's epistles is that in every one of them these two words appear together, Grace and peace.
The grace mentioned here is not the grace that saves (Paul's readers were already saved) but the grace that equips and empowers for Christian life and service. Peace is not so much peace with God (the saints already had that because they were justified by faith) but rather the peace of God reigning in their hearts while they were in the midst of a turbulent society. Grace and peace came from God our Father and the Lord Jesus Christ, strongly implying the equality of the Son with the Father. If Jesus were only a man, it would be absurd to list Him as equal with the Father in bestowing grace and peace. It would be like saying, "Grace and peace from God the Father and from Abraham Lincoln."