Paul's Words at Miletus With the Ephesian Elders Part 3 of 5
by John Lowe
(Woodruff, S.C.)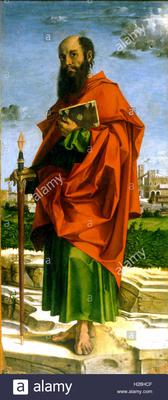 The description of the Gospel could hardly be more "Pauline" than as stated in this verse. It is to repent, to turn from one's former life to God and to "believe," to place one's trust in Jesus. Here Paul describes the Gospel as "repentance toward God, and faith toward our Lord Jesus Christ." Paul's method of visitation was not just to leave a cheery greeting and an invitation to church. His purpose was to confront people with the claims of "Christ," with the need for "repentance" and regeneration. It did not matter to Paul if it was a Jewish home or a Gentile home, a pious home or a pagan home. His message was to the point: repent and put your "faith" in the "Lord Jesus Christ." These are two fundamental elements of the gospel. In every genuine case of conversion, there are both "repentance" and "faith." In many New Testament passages, "faith" alone is stated to be the condition of salvation. However, "faith" presupposes "repentance." How could a person truly accept "Jesus Christ" as Savior unless he realized that he needed a Savior? This realization is brought about by the convicting ministry of the Holy Spirit, "is repentance."

Commentators sometimes remark that Paul appears to have been on the defensive in his Miletus address. Such was NOT the case. Paul was not defending his ministry. He was presenting it as an example for the Ephesian leaders to emulate. It is a worthy example for every servant of the "Lord": A MINISTRY MARKED BY HUMILITY, OPENNESS, AND INCLUSIVENESS AND ROOTED IN THE GOSPEL.


22 And now, behold, I go bound in the spirit unto Jerusalem, not knowing the things that shall befall me there:

Having reminded the Ephesian leaders of his example during his presence with them, Paul now prepared them for his absence. Paul was leaving them and was on his way to "Jerusalem, not knowing" what would happen to him there. He evidently had first decided to take this course while still in Ephesus— "After all this had happened, Paul decided to go to Jerusalem, passing through Macedonia and Achaia. "After I have been there," he said, "I must visit Rome also" (19:21). He was going to Jerusalem with the collection, and he did indeed have serious misgivings (premonitions) about how it would be received there and was fully aware that the enterprise involved some personal risk— "Pray that I may be kept safe from the unbelievers in Judea and that the contribution I take to Jerusalem may be favorably received by the Lord's people there" (Romans 15:31). Paul had a double concern, not merely his own safety, but the attitude of the church members themselves. Would they be willing to accept the collection which he had gathered through the expenditure of so vast a measure of time and energy? If they did not, it would jeopardize the unity of the church and possibility destroy the Gentile missions he had worked to establish.


23 Save that the Holy Ghost witnesseth in every city, saying that bonds and afflictions abide me.

Under the compulsion of the "Spirit," Paul was going to Jerusalem. On the other hand, the "Spirit" was warning him "in every city" that hardships, even imprisonment, awaited him. Some of these warnings were given through other Christians and were reported in the next chapter (21:4, 11). "The Holy Ghost witnesseth" to me probably means that disciples (maybe prophets) in the various cities, inspired by the "Holy Spirit," had a premonition confirming his own impression of the leadership of the "Spirit," and that imprisonment awaited Paul in Jerusalem—though he would not know the details until he heard Agabus's prophesy (21:10, 11). The activity of the "Spirit" could be seen as contradictory here. On the one hand, Paul was driven on to Jerusalem. On the other hand, he was warned of the extreme risk in going there. These messages of the "Spirit" were not at odds. Paul was indeed being led to Jerusalem. God had a purpose for his going there. The warnings prepared him for what awaited him in Jerusalem and assured him that whatever happened, God was in it. He would be arrested and afflicted if he went to Jerusalem. He knew it in his innermost soul; he knew it from God; but he was determined to go. He had done much harm to the Jerusalem church in his unconverted days, had made so many widows, so many orphans, so many beggars. Now he had a chance to relieve the sufferings and hardships of the poor saints in Jerusalem with a handsome gift collected from churches he had planted in the Gentile world. He felt he had an obligation to go. He longed to see, with his own eyes, some of the damage repaired, and the "Holy Spirit" respected that. He allowed Paul to go, but he left Paul in no doubt as to what he could expect. Paul would undergo severe trials in Jerusalem, but through them he would ultimately bear his witness in Rome, which was his own heart's desire— "God, whom I serve in my spirit in preaching the gospel of his Son, is my witness how constantly I remember you" (Romans 1:9).

There is a point in verses 22 and 23 over which many great teachers of the Bible differ. Many good, authoritative Bible teachers believe that Paul made a mistake in going to Jerusalem. They think that he should not have gone. However, this testimony which Paul gives is very clear. I believe that he was entirely in the will of God in going to Jerusalem. He is saying in effect, "I am going to Jerusalem. I am bound in the "Spirit" because everywhere I have gone, the "Spirit" of God has shown me the that "bonds" (prison) and affliction await me in Jerusalem." Now that is different from Acts 16 when he was forbidden by the "Spirit" of God to preach in Asia. In fact, God simply put up roadblocks which directed him to Europe. There is no roadblock here. Rather the "Spirit" of God is revealing to Paul what he will be walking into when he reaches Jerusalem.


24 But none of these things move me, neither count I my life dear unto myself, so that I might finish my course with joy, and the ministry, which I have received of the Lord Jesus, to testify the gospel of the grace of God.

In verse 24 Paul stated the reason he was willing to face the dangers in Jerusalem. He was ready to surrender his "life" for the "gospel." In his epistles, Paul often stated his readiness to suffer, even to die, for Christ. The description of his "ministry" as running a footrace is also common in his letters. The most noticeable parallel is with 2 Timothy 4:7, where the phrase "finished the race" also appears. The race that Paul was running was the "ministry" he had received from Jesus. That "ministry" is described as "his testimony to the gospel of God's grace." Oddly, that exact phrase never occurs in the epistles of Paul. One could not summarize the heart of Paul's message better than to say it is the "good news of God's grace." It is the only message that can save the sinner (1 Corinthians 15: 1-8; Galatians 1:6-12).


25 And now, behold, I know that ye all, among whom I have gone preaching the kingdom of God, shall see my face no more.

Paul now gave his last farewell to the Ephesian elders. They would never see his "face" again. Paul was on his way to Jerusalem. Danger awaited him there. Even if he survived the present visit to Jerusalem, he never expected to be back in Asia Minor. This was not an inspired prediction of what was certainly to be, but what the apostle, in his peculiar circumstances, fully expected. Whether, therefore, he ever did see them again, is a question to be decided purely on its own evidence. Though he may have gone there after his release from his first Roman imprisonment, he could not at this time have foreseen that possibility.

Paul had completed his work in the east and now turned to a New Mission in the west— in his letter to the Romans he said: "But now that there is no more place for me to work in these regions, and since I have been longing for many years to visit you" (Romans 15:23). This does NOT mean that Paul was no longer welcome to preach the Gospel in those places where he had labored long and with great success, but that under the rules Paul had laid down for himself relative to "preaching" the gospel only where it was not already known, he had used up all of the opportunities of the kind he sought. Therefore, he planned the mission to Spain, including Rome as a necessary way-station, where he planned to request their aid and assistance.


26 Wherefore I take you to record this day, that I am pure from the blood of all men.

He concluded this portion of the speech with the statement that he was innocent of "the blood of all men," because he had proclaimed the full will of God. As far as Ephesus was concerned, he had fully evangelized and warned that city. If people remained in their sins, it was no fault of his. His hands were clean, no "blood" guiltiness rested on his conscience. He called upon his friends, the Ephesian elders, to corroborate this remarkable claim.