Paul's Words at Miletus With the Ephesian Elders Part 4 of 5
by John Lowe
(Woodruff, S.C.)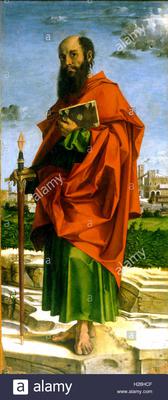 27 For I have not shunned to declare unto you all the counsel of God.


Here he seems to draw from the "watchman" analogy of Ezekiel 33:1-6. The watchman fulfills his task when he blows the warning trumpet in the face of danger. Once he has sounded his warning, he is no longer responsible for the lives of those he is appointed to warn. Paul had preached "all the counsel of God" (the full Gospel), the whole will of God—the entire plan and purpose of God for man's salvation in "all" its fullness: divine truths of creation, election, redemption, justification, adoption, conversion, sanctification, holy living, and glorification.

Paul strongly condemned those who adulterate the truth of Scripture. He had called people to repentance. Now the responsibility rested with them. Again this remark is not to be seen so much as Paul's defense of himself as it is an example to the Ephesian leaders. They were to do what Paul had done before them, herald the gospel and call to repentance. This is the task of a Christian witness, to proclaim "all the counsel of God." Witnesses can do no more. The response is not theirs but the hearer's responsibility.


28 Take heed therefore unto yourselves, and to all the flock, over the which the Holy Ghost hath made you overseers, to feed the church of God, which he hath purchased with his own blood.

The third section of Paul's speech exhorts the Ephesian leaders to be vigilant shepherds over the "flock" of God, warning of savage wolves (v. 29) who would arise in the future to prey upon it. The clear function of verse 28 in this appeal is to give a basic charge to the elders to be watchful "overseers" of their "flock," and immediately afterwards he tells them "to feed the church of God." This is the business of the officers of the church. They are NOT to run the church, but they are to see that the church is fed the Word of God. It is important to notice, however, that Paul's first exhortation to the elders called for them to "take heed therefore unto yourselves" (guard yourselves). Since he would never again meet them on earth, he delivered a solemn charge to the elders that they should first of all "take heed" to their own spiritual condition. Unless they were living in fellowship with the Lord, they could not expect to be a spiritual guide in "the church."

"The flock" means "little flock," and it calls to mind the challenge of the Lord Jesus to His own: "Do not be afraid, little flock, for your Father has been pleased to give you the kingdom" (Luke 12:32). God's people in the world are indeed a little flock, defenseless and much despised by the world's great. But they are infinitely precious to God.

The whole idea of an "overseer" or elder or bishop or pastor in the New Testament is implicit in the affectionate term "shepherd," which is often mentioned when describing our Christian pastors, etc. The term "shepherd" pictures for us the concern and compassion of a man whose life is devoted to his "flock." A shepherd guides and guards his sheep, grooming them, going before them, leading them beside the still waters and green pastures. He knows each one by name. He defends them against wild animals and robbers, fights for them, feeds them, gathers them into the fold. The Lord Jesus portrayed Himself as a shepherd.

Paul reminds these elders that they are under-shepherds of "the church of God, which he hath purchased with his own blood." Purchased at such a high cost that the Lord's people are of infinite worth, and the work of a shepherd is one that comes with awesome responsibility. Paul reminds them, too, that the "Holy Ghost" had made them "overseers." Elders (pastors) are not chosen by popular vote. The "Holy Spirit" does not treat the whole assembly as though they had equal rights and gifts and privileges— "the Holy Spirit . . . made you overseers." Only the "Holy Spirit" can equip a man for that work and endow him with the character, compassion, and the compulsion to undertake its arduous and time-consuming tasks.

Never underestimate the great importance of the church. The church is important to God the Father because His name is on it— "the church of God." It is important to the Son because He shed His "blood" for it; and it is important to the Holy Spirit because He is calling and equipping people to minister to the church. It is a serious thing to be a spiritual leader in the church of the living God.


29 For I know this, that after my departing shall grievous wolves enter in among you, not sparing the flock.

The shepherd imagery is continued in verses 29-30 with Paul warning the Ephesian Elders of a time to come when religious predators would ravage the "flock" of God. They would arise both from outside and inside the church. The term "grievous (dangerous) wolves" describes the false teachers from without. The thought was of heretical teachers, especially of
hardline Jewish Christians coming in after Paul had gone and leading the people astray (see 21:21). This had already happened in Galatia and Corinth, with the preaching of "another gospel" (2 Corinthians 11:4; Galatians 1:6), and was threatening elsewhere (Romans 14:1-15:13; Philippians 3:2).
The term "wolves" often appears in the Jewish apocalyptic literature and in Christian writings to describe false teachers and prophets. The early Christian writings appear to be influenced by Jesus' warning against false prophets who come in sheep's clothing— "Watch out for false prophets. They come to you in sheep's clothing, but inwardly they are ferocious wolves" (Matthew 7:15). To be effective in deceiving God's people, it is essential that false teachers be disguised, hence the "sheep's clothing." This means that the church itself shall be the theater of operations for these destructive teachers. They will appear as ministers, officers, and advocates of religion. The one sure test is their fruits. That which sows discord, divides, debilitates, hinders, or thwarts in any way the true spiritual family of God is to be rejected. The great test is the false teacher's attitude toward Christ. Those who question His authority or go beyond his word are clearly of the evil one. The only proper way in which this admonition can be heeded is for the Lord's sheep to "know" the Shepherd's voice, that is, they must "know" His word and doctrine.
What chance does a sheep have against a wolf? No wonder Paul urged the elders to "take heed" (v. 28). They would need to be on their toes. They would have to fight these "wolves."
30 Also of your own selves shall men arise, speaking perverse things, to draw away disciples after them.
That false teachers (outside the Church) DID soon arise to prey upon the Asian churches is well documented in Ephesians 5:6-14 and Colossians 2:8 as well as the Letter to Ephesus in Revelation 2:2. The Letters to Timothy, which related to the Ephesian church, confirm Paul's prediction that some from the church's own ranks would succumb to such false doctrines and "draw" other Christians with them—an implied contrast with the call of the disciple to follow Christ.
The Greek word for "perverse things" means "distorted" or "twisted." False teachers twist God's Word for their own evil ends (13:10; 2 Peter 3:16).
31 Therefore watch, and remember, that by the space of three years I ceased not to warn every one night and day with tears.
By the second century, Asia was a virtual seedbed for Christian heresy. Paul's warning was therefore timely and essential. It is not by chance that this section both opens and closes with an exhortation to be vigilant (vs. 28, 31), and Paul's reference to his "three-year" (a round number) ministry with the Ephesians was not just a reminder of his warnings but also an appeal to be faithful to the sound teachings he had brought them (20:20).
"Therefore watch" denotes one of the prime responsibilities of a shepherd. The elder of a church must keep wide awake to what is happening in Christendom and the world. The second part of the verse— "and remember, that by the space of three years I ceased not to warn every one night and day with tears"—reveals Paul's caring heart. He loved God's people. It hurt him to think of them falling prey to seducers and deceivers. If to be forewarned was indeed to be forearmed, then Paul would be persistent day and night in warning them. And if they forgot his words, perhaps they would "remember" his "tears."
The Ephesian elders would "remember" Paul's "tears." His was not cold, logical, factual teaching alone. His was teaching baptized in love and feeling and hot "tears." He thought of how defenseless and vulnerable so many of God's people would be once the wolves descended on the fold, and he wept.
32 And now, brethren, I commend you to God, and to the word of his grace, which is able to build you up, and to give you an inheritance among all them which are sanctified.
Now the apostle informed the elders of something very wonderful: "I commend you to God, and to the word of his grace." Paul will no longer be with them, but he "commends" them into the mighty hand of his Lord and to the enlightenment and power of the "Word," which is able to "build them up" with a view to the great "inheritance" of the "sanctified." It is "a message about "grace." But this message is able to "build . . . up" the believer, that is, to bring the believer to maturity in Christ (1 Corinthians 3:9-15; Ephesians 4:12) and "give" him or her "an inheritance among all them which are sanctified" (Romans 8:17). The Bible is the source of spiritual growth (1 Thessalonians 2:13; 2 Timothy 3:16, 17; 1 Peter 2:2) for all Christians. Even the most advanced Christians are capable of growing, and will find that "the word of his grace" helps their growth. And since the church is "the pillar and ground of the truth" (1 Timothy 3:15), its leaders must be familiar with that truth.