Pentecost: Based Upon Christ's Work Part 2 of 13
by John Lowe
(Laurens SC, USA)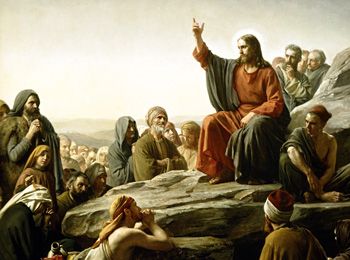 God SENT and GAVE His Son, and it was an act of wonderful grace and wisdom.

"Miracles" refers to the displays of power which Jesus made; "wonders," the unusual or remarkable events which accompanied His presence; "signs," proofs that he was from God. Together, they denote the array or series of His remarkable works—raising the dead, healing the sick, etc., which showed that Jesus was sent from God. The proof which they furnished to show that he was from God was this—that God would not confer such power on an impostor, and therefore he was who He said He was.

which God did by him in the midst of you,
"Which God did by him" refers to the miracles which Christ did by the power which was given to Him by God. This doesn't take anything away from Him, since while He existed as a man; He needed the filling of the Holy Spirit and to be endued with power from God. This is in agreement with His own words—"…Verily, verily, I say unto you, The Son can do nothing of himself, but what he seeth the Father do: for what things soever he doeth, these also doeth the Son likewise" (John 5:19; KJV). Here our Lord gives the source and nature of His authority. He begins the explanation with these words: The Son-whom he had just confirmed to be equal with God. Next, He said that He did nothing of himself; that is, nothing without first consulting with the Father; nothing contrary to the Father's will, as he immediately explains. When it is said that he CAN do nothing OF HIMSELF, it means that the union existing between the Father and the Son is such that he can do nothing independently or separate from the Father. This is the nature of the union that He can do nothing with which the Father does not concur, and which He does not command. In all things he must, because it is his nature, act in accordance with the character and will of God. The closeness of the union between the Father and Son is apparent in the fact that anything he does is proof that God in agreement with Him. There is no separate action—no separate existence; but, they are alike in being and in action; there is the most perfect oneness between Him and the Father. Jesus said, "I and my Father are one" (John 10:30; KJV). They are so united that the Father is pledged to keep the sheep of the Son. The Jews said these words were blasphemy, and sought to stone him.
Peter says here that God did these works by Jesus Christ, to show that Jesus was truly sent by Him, and therefore he had God's seal of approval. Jesus said the same thing himself: "But I have greater witness than that of John: for the works which the Father hath given me to finish, the same works that I do, bear witness of me, that the Father hath sent me" (John 5:36 (KJV). These works or miracles bore witness of Him; that is, they showed that He was sent from God, because no one but God could perform them, and because God would not give such power to anyone whose life and doctrines he did not approve. They were more decisive proof than the testimony of John and Peter. The great works which God has done in creation, as well as in redemption, are represented as having been done by His Son—"Hath in these last days spoken unto us by his Son, whom he hath appointed heir of all things, by whom also he made the worlds" (Heb 1:2; KJV).

Peter uses the phrase "In the midst of you" to indicate that they were witnesses of the miracles, wonders, and signs by which He became famous, works exceeding the power of nature, out of the ordinary course of nature, and contrary to it; that which God did by him; that is, which he did by that divine power with which he was infused, and in which God clearly approved. It is probable that many of the persons present had been witnesses of his miracles.

as ye yourselves also know:
They knew He had done miraculous things, either by having witnessed them, or by the evidence that He had done them which could be seen everywhere, and was the subject of a multitude of conversations. So obvious and numerous were the miracles of Jesus, that Peter pleads with the Jews to acknowledge that they knew He had done them. He was confident that they could not deny it. The Jews, even in the time of Christ, did not dare to call His miracles into question—"If I had not done among them the works which none other man did, they had not had sin: but now have they both seen and hated both me and my Father" (John 15:24; KJV). The proof of his divine mission was such that they were left without excuse. The Jews claimed to love God, but when God, manifest in the flesh, and appeared, they hated him. The hatred of Christ is the hate of God. While they admitted the miracle, they attempted to trace it to the influence of Beelzebub—"But the Pharisees said, He casteth out devils through the prince of the devils" (Matt 9:34; KJV). In other words: He gets power from the devil, instead of God, to cast out demons.

Now I personally think that miracles and wonders and signs were all different. I believe that miracles were performed for one purpose, wonders for another purpose, and signs for another purpose. Jesus did certain things that were to be signs. Some miracles of healing were performed to get the attention of His hearers. These were the three areas in which our Lord was active.

Peter proceeds now to the third part of His argument, to show that Jesus Christ had been raised from death; and that the scene which had occurred was in accordance with His promise, was proof of His resurrection, and of His approbation to be the Messiah; and therefore they should repent for their great sin of having put their own Messiah to death.

23 Him, being delivered by the determinate counsel and foreknowledge of God, ye have taken, and by wicked hands have crucified and slain:
24 Whom God hath raised up, having loosed the pains of death: because it was not possible that he should be holden of it.

Him,
HIM, of course, is the Lord Jesus Christ. Here is an account of His death and sufferings which many that were in the crowd that day had witnessed a few weeks earlier.

These verses explain two great mysteries:
1. That a man approved of God (v. 22) could seem to be abandoned by Him.
2. That a man approved of by the people, and who lived and ministered among them could be abandoned by them too.

being delivered by the determinate counsel and foreknowledge of God,
This word, DELIVERED, is commonly used when talking about those who are handed over, surrendered, or delivered into the hands of their enemies or adversaries. It means that Jesus was surrendered, handed over, delivered, or given up to his enemies, by those who should have been His guardians. Therefore He was delivered to the chief priests, Mark 10:33. Pilate released Barabbas, and delivered Jesus to their will, Mark 15:15, Luke 23:25; he was handed over to the Gentiles, Luke 18:32; the chief priests delivered him to Pilate, Matthew 27:2; and Pilate delivered him to be crucified, Matthew 27:26, John 19:16. Jesus was crucified only after being delivered from one tribunal to another; and it is implied here, that God knew all about it before it happened; that He allowed it, approved of it, and handed over Jesus to wicked men. The scriptures bear this out.
• "For God so loved the world, that HE GAVE his only begotten Son, that whosoever believeth in him should not perish, but have everlasting life" (John 3:16; KJV).
• "In this was manifested the love of God toward us, because that GOD SENT his only begotten Son into the world, that we might live through him…Herein is love, not that we loved God, but that he loved us, and SENT HIS SON to be the propitiation for our sins" (1 John 4:9-10; KJV).

God SENT and GAVE His Son, and it was an act of wonderful grace and wisdom. He delivered him to death; He not only permitted Him to be put to death, but gave Him up (dedicated Him) to it: this is explained Rom. 8:32, where it says, "He delivered him up for us all." How wonderful that is! He did not spare His Son. He spared Abraham's son, but not His own. Since He gave His Son to die for us, He will give us everything that we need.

Peter is saying that what has happened was not contrary to God's program. This is not something that took God by surprise. Actually, it happened because of "the determinate counsel and foreknowledge of God." The word that has been translated DETERMINATE means that which is defined, marked out, or bounded; for example, to mark out or define the boundary of a field, etc. In Acts 10:42, it is translated ordained of God; denoting His purpose, that it should be so, i.e. that Jesus "should be the Judge of quick and dead." There are also these verses:
• "The Son of man goeth, as it was determined" (Luke 22:22), i.e. as God has intended or determined beforehand that He should go.
• "The disciples—determined to send relief unto the brethren which dwelt in Judaea (Acts 11:29)," i.e. they resolved beforehand to do it.
• "God—hath determined the times before appointed (Acts 17:26)."

In all these places there is the idea of a purpose, or intention, or plan implying intention, and marking out or establishing the boundaries to some future action or event. The word implies that the death of Jesus was predetermined by God before it took place. And this truth is established by all the predictions made in the Old Testament, and by the Saviour himself. God was not forced to give up his Son. He did not have to do it. And He had a right, therefore, to determine when and how it should be done. The fact that this was predicted shows that it was predetermined or decided beforehand. It is certain that no event can be foretold, unless it is certain that it will take place.