Peter Delivered: Part 2 of 7
by John Lowe
(Laurens SC, USA)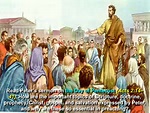 4 And when he had apprehended him, he put him in prison, and delivered him to four quaternions of soldiers to keep him; intending after Easter to bring him forth to the people.

And when he had apprehended him
When the soldiers he sent to arrest Peter had taken him into custody. There is no indication within the passage that Peter was aware that he might be arrested or that he attempted to conceal himself or escape from the city.

He put him in prison
They put Peter in the common prison, where they kept the murderers, and thieves. This may have been the very same prison where he and the other apostles had been confined once before: "And laid their hands on the apostles, and put them in the common prison" (Acts 5:18). The next verse tells what happened next: "But "during the night an angel of the Lord opened the doors of the jail and brought them out" (Acts 5:19). It would have been deemed improper to have engaged in the trial of a supposed criminal during this religious festival. The minds of the people were expected to be devoted solely to the observance of religious ceremonies; and therefore, Herod decided to keep him in the prison until the Passover had ended.

And delivered him to four quaternions of soldiers to keep him
Agrippa apparently followed the regulations used by the Roman military which he had learned during his years in Rome. Each quaternion consisted of four soldiers, so there were sixteen in all; and thus the Syriac version renders it, "and delivered him to sixteen soldiers." The Romans divided the night into four watches; the four quaternions relieved each other at set times (usually at three hour intervals) through the four watches of the night, and the prisoner was chained to two of the soldiers (see v. 6), while the two others were stationed as guards at the door of the dungeon. The apostle Paul often spoke of the times he was in prison and in chains, as he did in the following verses:
• (Acts 28:20) "For this reason I've asked to see you and speak to you. In fact, it is for the hope of Israel that I'm wearing this chain."
• (Ephesians 6:20) "I am in chains now, still preaching this message as God's ambassador. So pray that I will keep on speaking boldly for him, as I should."

The reason for all this caution, and for such a strong guard, might be, because someone with authority remembered a time some years ago when Peter and the rest of the apostles were delivered from the same prison after being committed there. The utmost precautions were taken so that he would not escape; it was Herod's way of providing the Jews ample assurance of his intention to keep Peter locked up, and to bring him to trial.

Intending after Easter
This is an unfortunate translation, because the original is simply "after the Passover." The word "Easter" now signifies the holiday observed by many Christian churches in honor of the resurrection of the Saviour. But the original has no reference to that, nor is there the slightest evidence that any such observance was held at the time when the Book of Acts was written. The word "Easter" is of Saxon origin, and is thought to be derived from "Eostre," the goddess of Love, or the Venus of the North, in honor of whom a festival was celebrated by our pagan ancestors in the month of April. Since this festival coincided with the Passover of the Jews, and with the feast observed by Christians in honor of the resurrection of Christ, the name came to be used to denote the latter. In the old Anglo-Saxon service-books, the term "Easter" is used frequently to translate the word "Passover."

Perhaps "Feast of the Passover" would have been a better translation, since it would indicate that the whole seven days are intended. This is the meaning in John 18:28:
• Jesus' trial before Caiaphas ended in the early hours of the morning. Then he was taken to the headquarters of the Roman governor. His accusers didn't go inside because it would defile them, and they wouldn't be allowed to celebrate the Passover. (John 18:28)
And it is certainly the meaning here. The term "Easter" should only be used for the Christian festival which took the place of the Passover, at a later date.

This is another characteristic trait of the religion of Agrippa, and of his sympathy with the feelings of the Jews about the Law, that he would not allow a trial on a capital charge, or an execution, to take place during the Feast of Unleavened Bread.

To bring him forth to the people
Agrippa, evidently, had in mind to put him to death publicly, in order to gratify the Jews. Agrippa wanted "To bring him forth to the people," which shows that the same desire was still uppermost in his mind; to appease the people by gifts or demonstrations, or by blood. He may have intended to bring
him on to a stage or on some high ground, where all the people could insult and abuse him, and see him condemned, and perhaps even put to death, which would be as enjoyable to them as a gladiatorial slaughter to a Roman audience (see verse 11). The providence of God in regard to Peter, in consequence of how it turned out, is remarkable. Instead of his being put to death, as was James, he was reserved for a future trial; and that provided an opportunity for the prayers of the church, and for his subsequent release.
5 Peter therefore was kept in prison: but prayer was made without ceasing of the church unto God for him.
Peter, therefore, was kept in prison
The eight-day festival of Passover is celebrated in the early spring, from the 15th through the 22nd of the Hebrew month of Nissan. It cannot be determined when Peter was arrested, only that it was while the celebration was going on. Herod had already resolved to put Peter on trial on the day immediately following the end of Passover.
But prayer was made without ceasing of the church unto God for him
The key to understanding this verse is found in the meaning given to the expression "without ceasing," whether it refers to the "duration" of their prayers or the "intensity" of them. If we suppose it refers to "duration," then there are several possibilities. They could have prayed together as a body, or in several groups at different places, or those who prayed could have been the principal members of the church at one certain place. They could have begun to pray at the beginning of the celebration and continued until the end, in which case they probably prayed in shifts, which would provide time for eating and sleeping.
Now, if the expression "without ceasing" doesn't refer to the duration of their prayers, then it must mean that they prayed "earnestly" or "fervently." Compare these verses:
• (on fervently) "Seeing ye have purified your souls in obeying the truth through the Spirit unto unfeigned love of the brethren, see that ye love one another with a pure heart fervently." (1 Peter 1:22
• (on more earnestly) "And being in an agony he prayed more earnestly: and his sweat was as it were great drops of blood falling down to the ground" (Luke 22:44)
As the last of the days of unleavened bread approached, the prayers of the Church would be more and more intense in their earnestness to see Peter released. We only need to read the preceding chapters to see how precious the life of Peter must have been to the Church. It is probable that their prayers were both "without ceasing," and intense, for the persecution which put Peter in prison, would now render public Christian services dangerous, as we know was often the case in the early days of Christianity.
"The fervent prayer of a righteous man availeth much"
6 And when Herod would have brought him forth, the same night Peter was sleeping between two soldiers, bound with two chains: and the keepers before the door kept the prison.
And when Herod would have brought him forth
The scene is being set for what follows: the time is established here as the evening before Herod intended to bring Peter out of the prison, present him to the people, and to put him to death, should they choose to do so. And by this, he hoped to gain popularity with the Jews.
The same night, Peter was sleeping between two soldiers
This is an example of remarkable composure, and an illustration of the effects of a conscience completely at peace, and of confidence in God. Peter, no doubt, knew what Herod's intentions were. James had just been put to death, and Peter had no reason to expect a better fate. And yet, in this situation, he slept as serenely as if there had been no danger at all. There is nothing that will give a person a calm and undisturbed sleep, as a conscience which is void of wrongdoing and the fear of evil men; and Peter, in the midst of imminent danger, places his confides in God and rests securely and calmly. Compare these verses:
• Psalm 3:5—"I laid me down and slept; I awaked; for the LORD sustained me." The sense is, that regardless of these troubles and dangers I had such confidence that God hears prayer, and such calm trust in his protection, that I laid down and slept securely.
• Psalm 4:8—"I will both lay me down in peace, and sleep: for you, LORD, only make me dwell in safety." His confidence in God enables David to sleep calmly and tranquilly, regardless of whatever dangers threaten him.
God had given His apostle the sleep of His beloved mentioned in Psalm 127:2: "It is vain for you to rise up early, to sit up late, to eat the bread of sorrows: for so he gives his beloved sleep." So, he sleeps undisturbed by the fear of looming suffering and death.