Peter Delivered: Part 3 of 7
by John Lowe
(Laurens SC, USA)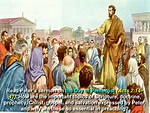 Bound with two chains

Roman prisoners had a chain fastened at one end to the wrist of their right hand, and at the other to the wrist of a soldier's left hand, leaving the right arm of the soldier free in case of any attempt to escape. For greater security the prisoner was sometimes, as here, chained to two soldiers, one on each side; his right arm secured as described and his left hand chained to the right hand of the soldier, on the other side him. This reminds me of the chief priests, who "made the sepulcher of the Lord sure, sealing the stone and setting a watch." But, "He that sitteth in heaven shall laugh at you." Jesus came out of that tomb, and those soldiers who were guarding it to prevent His disciples from getting in and stealing His body, could not prevent the angel from rolling the stone away and Jesus from coming out. Praise His wonderful name!

And the keepers before the door kept the prison
By "the keepers before the door" is meant "the guards before the door," that is, the two soldiers of the quaternion who were not chained to the prisoner (see v. 4). They were stationed at the entrance to the prison, and watched, so that nobody went in, or came out, without their knowledge.

We may understand by now that every possible precaution was used to ensure that Peter would still be in prison when Herod determined to put him on trial, and then execute him. Consider the following precautions:
1. He was in prison.
2. He was being guarded by sixteen men, who could relieve each other when weary, and thus every security measure was taken to ensure that he could not escape through any lack of attention on their part.
3. He was chained between two men.
4. He was, in addition, guarded by two others, whose orders were to watch the door of the prison.
It should be pointed out, also, that it was death for a Roman soldier to be found sleeping at his post. But God can deliver in spite of all the precautions of people; and it is easy for Him to overcome the most cunning plans of his enemies.

7 And, behold, the angel of the Lord came upon him, and a light shined in the prison: and he smote Peter on the side, and raised him up, saying, Arise up quickly. And his chains fell off from his hands.

And, behold, the angel of the Lord came upon him,
"Came upon him" means either that "the angel" was present with him or stood near him or stood over him, and is expressive of the suddenness and unexpected nature of the visit. The phrase is identical with that of Luke 2:9, when the angel appeared to the shepherds: "And, lo, the angel of the Lord came upon them, and the glory of the Lord shone round about them: and they were sore afraid." The expression "glory of the Lord" corresponds to "a light shined" in the next clause.

This angel was one of the ministering spirits sent by Christ, to minister to a servant of His. "Are not all angels ministering spirits sent to serve those who will inherit salvation?" (Hebrews 1:14). The persons they minister to, and for, are those, who shall be the heirs of salvation; that is, of eternal glory, which will be possessed by the saints, as an inheritance: hence it belongs to His children, and comes to them through the death of Christ, of which the Holy Spirit is the earnest or down payment.

And a light shined in the prison
Some have supposed that this was lightning. But light, and splendor, and shining apparel commonly bring to mind the trappings of the heavenly beings when they visit the earth:
• Luke 2:9—"And, lo, the angel of the Lord came upon them, and the glory of the Lord shone round about them: and they were sore afraid."
• Luke 24:4—"While they were wondering about this, suddenly two men
in clothes that gleamed like lightning stood beside them." Their garments were bright and glittering like lightning, to indicate the glory and majesty of these celestial spirits, and so that they might be known to be what they were; angels.
• Mark 9:3—"His clothes became dazzling white, whiter than anyone in the world could bleach them." And his raiment became shining—with the rays of glory and brightness which darted from his body through his clothes, and made them as bright as the light of the sun at noonday: and exceeding white as snow, of which nothing is whiter.
A light shined in the prison; but whether this light was from the bright body the angel assumed, or from some other source, we are not told, and therefore it is not necessary for us to know; but it is highly probable that the light was seen only by Peter, and to him this would be indisputable proof that what was taking place was divine intervention, on his behalf. Whether the light emanated from the angel—"was like lightning, and his raiment white as snow" (Matthew 28:3)—or as a separate phenomenon, cannot be determined; but it is supposed that the light was due to the presence of the angel who came with the glory of the Lord. It was, therefore, an uncommon light and a symbol of the presence, majesty, and power of God.
The word translated "prison" is not the same as in the last verse; here it means "cell" or "chamber." "Cell" was used by the Athenians as a synonym for a prison. It only occurs here in the New Testament, though it is a common Greek word. "A light shined in Peter's cell."
And he smote Peter on the side
This was, without a doubt, a gentle touch, blow or stroke applied to that side of the apostle which lay uppermost, in order to arouse him from sleep.
And raised him up, saying, Arise up quickly
"Raised him up" doesn't mean that he helped him to get up off his bed and rise to his feet; but rather, that he woke him up from his sleep. And he immediately said to Peter, "Arise up quickly;" today, we would say something like "Wake up! Get up quickly!—We gotta go!"
And his chains fell off from his hands
This could have only have happened through divine power. No natural means were used, nor could have been used without arousing the guards. It is a beautiful expression of the ease with which God can deliver his friends from danger. Compare the following verse:
• Acts 16:26. "And suddenly there was a great earthquake, so that the foundations of the prison were shaken: and immediately all the doors were opened, and everyone's bands were loosed."
There are many who say that Peter's "chains fell off" as the result of a similar earthquake, and they present a reasonable argument, except for one thing, which I will explain. In Acts 16:26, the chains of the prisoners were fastened to rings or staples in the wall, and the effect of a great shock would be to loosen the stones and so make it easy to escape. The fact that the "foundations of the prison were shaken" indicates that it was a very strong earthquake. But in the case of Peter, we know that his chains were not anchored in the wall of his cell, but instead, he was chained by each hand to one of his guards, "and his chains fell off from his hands." It was a miracle of God wrought by one of His angels. The soldiers, in the meantime, are kept fast asleep by the same miraculous power, so that they were not at all alarmed by the noise of the chains hitting the cell floor. Peter could now rise without necessarily awakening the soldiers to whom he was previously fastened, and who would feel no difference in the chain which was attached to them.
Chains cannot hold any whom God will have free; everything loses its force when God suspends or withdraws His favor.