Peter Delivered: Part 7 of 7
by John Lowe
(Laurens SC, USA)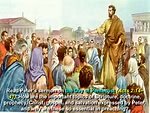 Then said they, It is his angel

There are several opinions concerning the assertion, "It is his angel:"
1. "His angel" infers that they thought it was a particular angel in Peter's shape, who had something to communicate to them: and this agrees with the thinking of the Jews, who believe that angels do assume the shapes of men on certain occasions. For support of the idea they refer to the time when Moses was in danger in Pharaoh's court: God sent Michael, the prince of the host of heaven, "in the shape of an executioner"; who brought him at once out of Egypt, and set him at the border of it, the distance of three days journey.
2. The language expresses the common belief of the Jews, that every true Israelite had a guardian angel specially assigned to him at birth, who, when he appeared in human form, assumed the likeness of the man whom he protected. Jesus words in Matthew 18:10, would seem to support this idea: "Take heed that ye despise not one of these little ones; for I say unto you, That in heaven their angels do always behold the face of my Father which is in heaven."
3. "It is his angel" may mean that they supposed that the "guardian angel," or angel appointed to attend Peter, had come to announce something respecting him, and that he had assumed the voice and form of Peter in order to make them certain that he came from him.


16 But Peter continued knocking: and when they had opened the door, and saw him, they were astonished.

But Peter continued knocking
Peter didn't become impatient and leave Mary's house and go to another where he might be readily received. He was persistent, and "continued knocking," believing that eventually, they would come to him. He was very desirous of seeing his friends, but he was aware that he was currently in danger of being captured and put in prison again, should any of his enemies come by and recognized him. But what kept him knocking on that door, more than anything else was his eagerness to declare the mercy of God towards him; this fire was kindled in him, and he sought to vent it.

And when they had opened the door, and saw him, they were astonished:
At long last, several of them went out together; they opened the door, and saw him—that it really was him, and they were astonished—were filled with wonder and joy, as much as they were, only moments before, filled with sorrow and fear concerning him. They could hardly believe their own eyes; it was amazing to them, that he was delivered out of prison, since they knew there was such a strong guard around him. They were, of course, ignorant of the manner in which it was done.


17 But he, beckoning unto them with the hand to hold their peace, declared unto them how the Lord had brought him out of the prison. And he said, Go shew these things unto James, and to the brethren. And he departed, and went into another place.

But he, beckoning unto them with the hand to hold their peace
This is what the Jews call "a hint," a beckoning, or making signs, either with the head or hand: and this was how Peter signaled them to hold their peace; to be silent, and not boisterous in their expressions of joy and wonder, since that may disturb the neighboring Jews and call attention to their gathering and to Peter's presence with them, for the consequence could be bad both to him and them. He wanted to relate the whole affair to them; which he did, after they had all entered into the house; which we assume they did, though it is not expressly stated here.

Compare the following for beckoning with the hand:
1. Then Paul stood up, and beckoning with his hand said, Men of Israel, and ye that fear God, give audience. (Acts 13:16)
2. And they drew Alexander out of the multitude, the Jews putting him forward. And Alexander beckoned with the hand, and would have made his defense unto the people. (Acts 19:33)
3. And when he had given him license, Paul stood on the stairs, and beckoned with the hand unto the people. And when there was made a great silence, he spake unto them in the Hebrew tongue, saying , (Acts 21:40)

Declared unto them how the Lord had brought him out of the prison.
And when they were in the house, Peter related to them how the Lord had brought him out of prison: how He had sent His angel to him in prison, that a light shone about him, how his chains fell from his hands, and how the angel conducted him
through the several wards, and when they came to the iron gate, it opened of itself; and how when he had brought him into the public streets, he left him. He ascribes this wonderful deliverance not to the angel, but to the Lord himself.
And he said, go show these things to James
Who is the James he refers to? He is either James the son of Alphæus or James the brother of the Lord (though some say this is the same person); for James the son of Zebedee, the brother of John, had recently been killed with the sword, by the command of Herod (see v. 2), and this other James very likely succeeded him as pastor of the church at Jerusalem, or at least had authority over the affairs of that church.
James, the Lord's brother (See Gal. 1:19), was not an Apostle. If he was to receive the message, it would indicate that he already held some important position, perhaps some office, in the Church. It may also imply that there were no Apostles in Jerusalem at that time. We note also that the 'many' who were gathered in Mary's house can have been only a small part of the whole. Here we get a little glimpse into the conditions of the life of a persecuted Church. Such gatherings as this one would attract attention and had to be avoided, and what meetings were held had to be in private houses and with the doors shut. But though assemblies were restricted, communications were kept up, and by underground ways, information of events important to the community spread through its members. There was a consciousness of brotherhood which was very strong because of the common danger; the universal peril had not made the brethren selfish, but sympathetic. We may note, too, how great a change had come since the time when the Christians were in the good graces of all the people.
James, the son of Alpheus, was commonly called James the Less. (See Acts 12:2; Acts 1:13; Matthew 10:2-3; Mark 3:18). He was one of the twelve apostles. To us, it appears that there are strong reasons for thinking that in this place the one referred to and throughout the Acts, is the apostle James, the son of Alpheus. James is singled out, because he had probably begun to take the oversight of the Church in Jerusalem, which we afterwards find him exercising (Ac 15:1-29).
And to the brethren
The rest of the apostles, and all the members of the church; He would have acquainted with all the details of his liberation, since he knew it would bring them joy and would be a means of strengthening them in the ways of the Lord.
And he departed, and went into another place
If he left the city, and went to some distant place for safety, very likely he went to Antioch; but the words do not necessarily oblige us to conclude, that he went out of the city at that time, only that he went from Mary's house to "another place," which could mean "another house," where another company of saints might be assembled, and where he might have more privacy and safety. What the "other place" was we can only guess. Some Catholic writers have hazarded the wild guess that he went to Rome, and having founded the Church there, returned to Jerusalem in time for the council in Acts 15. Others have assumed he went to Antioch, which is, perhaps, less improbable; but there are no traces of his presence there until after the council (Galatians 2:12). Some nearer city, such as Lydda or Joppa, might, however, have been a satisfactory place of refuge, and the absence of the name of the place suggests that it was comparatively unimportant where he went, and that Peter had carried on no conspicuous work there. The act was in accordance with the precept which had been given to the Twelve in Matthew 10:23: "But when they persecute you in this city, flee ye into another: for verily I say unto you, Ye shall not have gone over the cities of Israel, till the Son of man be come."
It should be noticed that from here Peter steps off the stage of Biblical history, and is scarcely heard of anymore. We have a glimpse of him in Acts 15:1 - Acts 15:41, at the Council in Jerusalem, but, with that exception, this is the last mention of him in Acts. How little this Book cares for its heroes! Or rather how it has only one Hero, and one Name which it celebrates, the name of that Lord to whom Peter ascribed his deliverance, and of whom he himself declared that "there is none other Name under heaven, given among men, whereby we must be saved."